Steampunk Tauranga are going blue for the boys this September.
The group are making prostate cancer awareness month their own by calling it 'Steamtember', and running an event called the 'Blue Tache Bash', where all funds raised are going to towards the New Zealand Prostate Cancer Foundation.
Steampunk Tauranga member Lindsey Morgan says every year the group hold an event in September, however this year they wanted to do something for a charity.
"Knowing that the prostate foundation of New Zealand do 'blue do's' in September, we just thought why don't we do a blue moustache, and then we came up with 'Blue Tache Bash' as a party where essentially you can come splendid in steampunk, you can come splendid in blue, or you can just come splendid in a blue moustache."
In New Zealand, over 600 men will die this year from prostate cancer. Lindsay says within the Steampunk Tauranga group, some have had family members affected by the cancer, and they want to raise awareness and encourage men to speak up.
Fellow Steampunk Tauranga member Leonie Turner says guys don't like talking about it, and they can be ashamed to be tested.
Lindsay says often prostate cancer awareness events are celebrated only by men, for men.
"The Blue September theme for this year is to go blue for the boys, and we thought that as women, we should support them by going blue."
The Blue Tache Bash is being held at the Black Sheep Restaurant on Saturday, September 14, and doors are open from 6.30pm.
Tauranga four piece classic rock covers band Shabang are also playing live music at the event.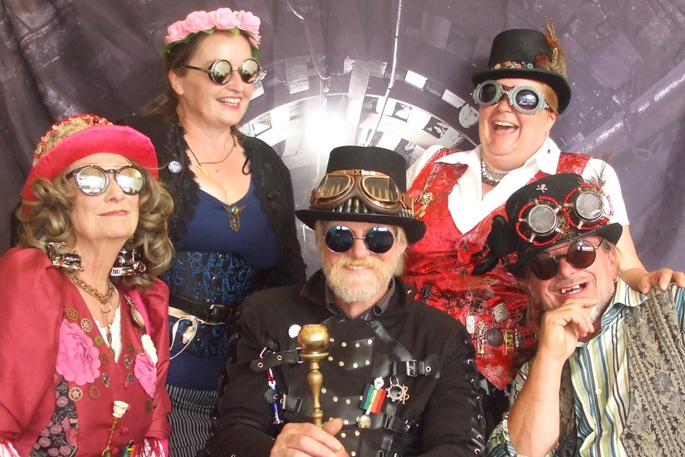 Some of the Steampunk Tauranga members. Image: Facebook.
As an added bonus, one Blue Tache Bash goer will win a brand new sewing machine thanks to Brother.
"The winner will be picked out of a splendid blue top hat," says Lindsay.
As part of the Steamtember shenanigans and celebrations, Steampunk Tauranga and the Atrium Gallery are collaborating to present 'Steamtember Artorama', a steampunk themed exhibition, which is in the same premise at the Black Sheep Restaurant.
The exhibition begins on Wednesday, August 28 and runs until Saturday, September 28.
For more information on the Blue Tache Bash, visit the Facebook page here.