A multi-million dollar replanting programme for greening Papamoa's Wairakei Stream is being lodged with the regional council for approval.
The draft plan, approved by Tauranga City Council, requires the council to spend $5.6 million on landscaping and planting in return for about $50 million in value of additional developable land.
Under the old plan, the council was required to hold extra land for flood mitigation. The new draft plan uses the Wairakei Stream as a flood overflow into the Kaituna River, reducing the need for the council to keep high maintenance stormwater ponds.
Aurecon found a way to reduce the stormwater storage from 100 per cent to 40 per cent, while reducing the expected land area for the ponds from 55.5ha to 32ha – freeing 23.5ha for development at a current value of about $2 million per hectare.
The new consent includes tangata whenua monitoring and a landscape plan for the stream corridor. The Cultural Plan is to be implemented through the Landscape Plan.
The draft Stage 1 Landscape Plan and Cultural Plan are now complete and are to be lodged with the regional council by December 31. Public consultation is required on the draft plan.
The total cost estimate for Stage 1 Landscape Plan is $5.63M of which $1.31M is already provided for in the 2015/25 Long Term Plan.
That's about $1.17M for about 11km of shared cycleways/pathways, another $3.06M for about 24ha of planting and, $0.34M for cultural and heritage interpretation.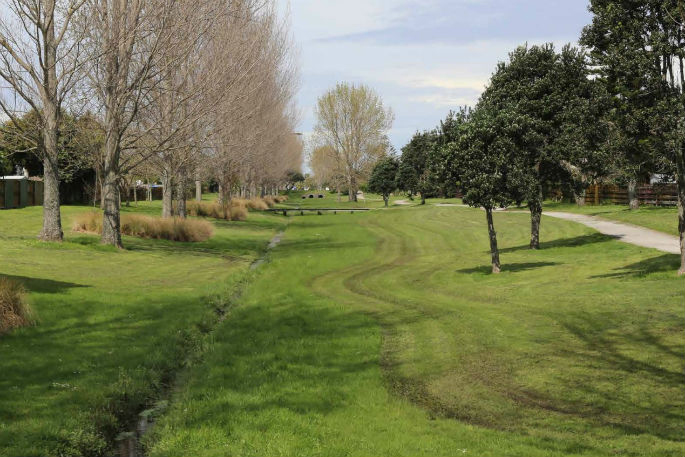 The 'before' picture. Photo: Supplied.
Cycle ways are eligible for a 50 per cent NZTA subsidy. If a funding request is successful, the total net cost will reduce from $5.63M to $4.79M - of which $1.31M is already earmarked in the LTP.
Gail McIntosh baulked at the costs, challenging the $3 million for planting, asking if it was only for plants. Staff confirmed it is only for plants, for 24ha.
"If you go down any state highway, anything NZTA's got anything to do with, it is overplanted," says Gail.
"You wouldn't do it like that if it was your money at home. That's a lot of money just on plants."
City councillors approved the draft plan, saying volunteer planting will reduce some of the costs.