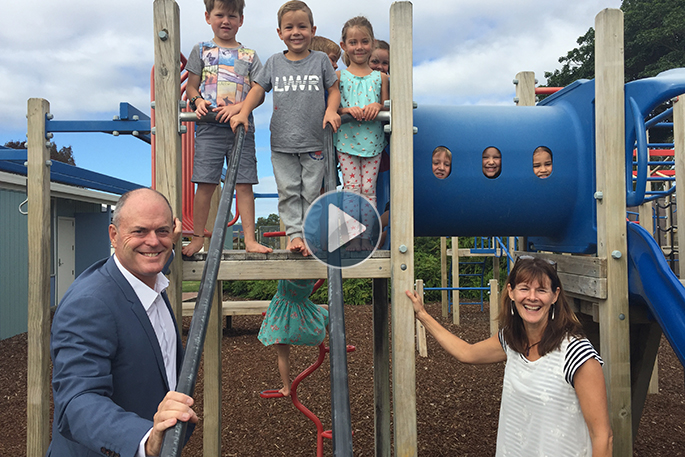 Click the image above to watch the video
Around $1.2 million will be invested to build three additional classrooms at Omokoroa Point School in Tauranga.
Associate Education Minister Nikki Kaye says Tauranga is one of New Zealand's fastest growing locations, and the government is committed to providing extra capacity to meet growing school rolls.
"Omokoroa Point School is situated in a fabulous part of the country, overlooking Tauranga Harbour, Matakana Island and the Kaimai Ranges.
"Nearby residential subdivisions and a recently announced Special Housing Area will have a significant impact on the school's roll, and we're acting now to accommodate this expected growth.
A feasibility study is currently underway to establish the best site for the new classrooms.
"If the site is suitable, the new classrooms may be modular buildings.
"Modular classrooms meet standards of modern, permanent structures but have the advantage of being very adaptable."
The announcement builds on other recent projects approved to help grow the Tauranga school network.
"Last month, Hekia Parata signed an establishment notice for a new school at Pyes Pa, an $18 million project that will accommodate a roll of 650 students," says Nikki.
"Over the past 12 months, new classrooms have also been approved for Oropi School, Welcome Bay School, Maungatapu School and Matua Primary School."
"This is about ensuring that students learn in high quality facilities, and families have access to local schools.
"Schools are a vital part of the community and where communities are showing sustained, long-term growth, we'll make sure the local school network can support that growth."
Bay of Plenty MP Todd Muller is 'ecstatic' and is labelling the investment a major win for the fast-growing local community.
"This announcement will help future-proof Omokoroa Point School for population increases and the associated pressure this puts on school rolls," he says.
The $1.2 million is part of the greatest spend ever on school infrastructure by a New Zealand government, which so far has seen over $5 billion committed for new and upgraded schools and classrooms since 2008.