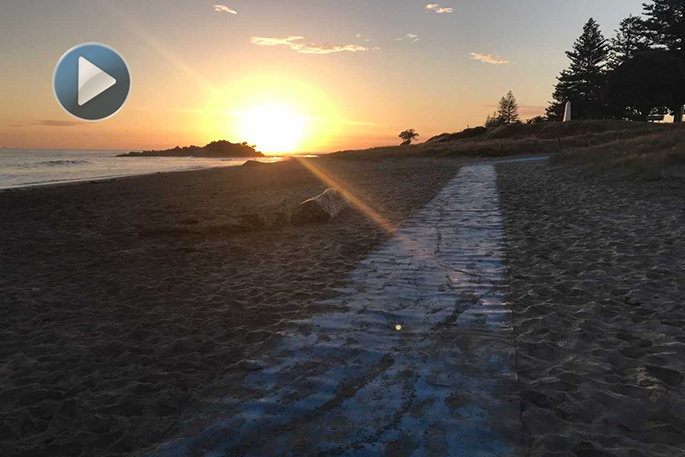 Click the image above to watch the video
In today's weather forecast we are expecting a mainly fine day, with cloud in the morning and at night and light winds.
It's a one-clothing layer day today with a high of 27 and an overnight low of 17 degrees.
Low tide is at 12.20pm and high tide is at 6.30pm. Sea temperature is 20 degrees. There's an average sea swell of .4m. Sunset tonight is at 8.29pm.
If you're going fishing today the best fish bite times are between 10.30am and 12.30pm.
This day in NZ history in 1905 the All Blacks' non-try handed Wales a historic win. A great rugby rivalry was born when a try by All Black Bob Deans was disallowed, resulting in the only loss of the 'Originals' tour.
In world history on this day, in 1773 to protest the tax on tea from England, a group of young Americans, disguised as Indians, threw chests of tea from British ships in the Boston Harbor.
In 1835 a fire in New York City destroyed property estimated to be worth $20,000,000. It lasted two days, ravaged 17 blocks, and destroyed 674 buildings including the Stock Exchange, the Merchants' Exchange, the Post Office, and the South Dutch Church.
In 1998 the United States launched a missile attack on Iraq for failing to comply with United Nations weapons inspectors. In 2003 President George W. Bush signed the CAN-SPAM Act of 2003, which established the United States' first national standards regarding email .
Today is the birthday of Ludwig Van Beethoven, born in 1770, a German composer best known for his 9th Symphony.
It's also the birthday of Jane Austen, novelist who wrote 'Sense and Sensibility', and 'Pride and Prejudice'. She was born five years after Beethoven, in 1775. And it's the birthday of Arthur C. Clarke, the English science fiction writer who wrote '2001: A Space Odyssey'. He was born in 1917 on this day.
Today's quote is from Jane Austen who wrote "There is nothing I would not do for those who are really my friends. I have no notion of loving people by halves, it is not my nature."
To see what activities and events are on today, please check out our What's On page.
Have an awesome day!