Hundreds of Papamoa residents took to the streets this evening to help look for two young missing girls.
The girls had gone off on an adventure to find Batman's Bat Cave.
The two cousins, Siena Saunders, age 6, and Trinity Prestige age 8, dressed in their light blue and turquoise pyjamas, were tucked up into bed around 7.30pm. Fifteen minutes later, when checked on by a parent, their beds were empty and the girls gone.
It was thought they had set off towards Papamoa beach to find the Bat Cave, as the parents knew they'd been talking about it. Keen Batman fans, the girls had missed seeing Batman at the Papamoa New Year's Eve event the night before.
Police were immediately contacted and friends quickly rallied around putting the word out across social media. Within minutes, hundreds of people across Mount Maunganui and Papamoa were aware of the search.
Police were provided with photos of the two girls, and completed a search of the house as well as starting a search of local streets, parks, schools and footpaths.
Residents across Papamoa quickly came out of their houses to join in the search, following the updates on Facebook.
Dogwalkers coming back from the beach reported that they had not sighted the missing pair. The local school grounds were also found to be empty.
Fortunately by 8.45pm the panic was over as the two girls were found in nearby Gloucester Street.
"A big thank you from me to whoever the woman was that found them and called police," says Siena's mother Sonja Krivan. "I want to thank everyone in our amazing community for helping and finding them. We are so very grateful and relieved they were found safe. It was very frightening."
"I wish I could repay the whole community for everything that they did," says Trinity's mother Tarnya Mcalister. "I'm trying to thank everybody individually, there are so many."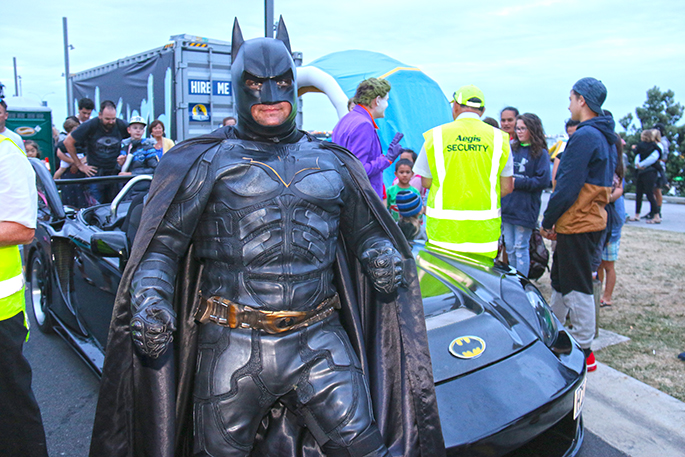 Batman with his Batmobile at the Tauranga waterfront on New Year's Eve (Photo:Rosalie Liddle Crawford)
SunLive would like children to know the safest way to get in touch with Batman is through www.primeproductions.co.nz and that he has an amazing team that organize his appearances. He is still getting over all his New Year Eve's celebrations so wasn't available for comment.