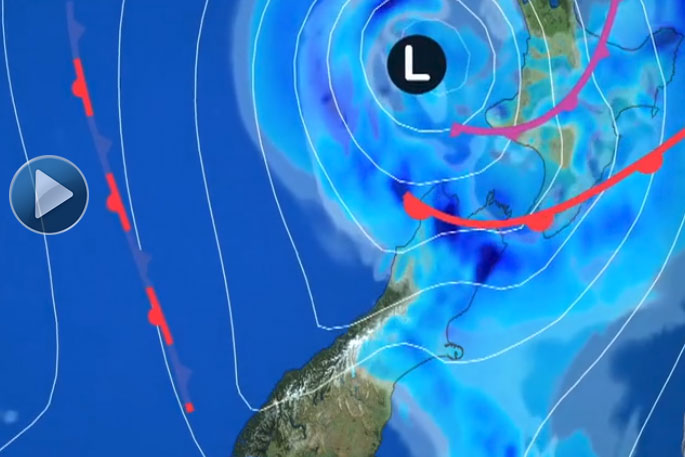 Click the image above to watch the video
Bay of Plenty Regional Council and Civil Defence teams continue to monitor weather updates following last night's rainfall in the Bay of Plenty.
From 4pm today to 6am on Friday, the region is now forecast to receive 100-150mm about the ranges and 70-100mm elsewhere.
Council flood manager Peter Blackwood says the region's catchments had up to 100mm rain last night, particularly those in the east, so they are no longer dry.
"Rainfall in the Rangitāiki catchment over the past 24 hours ranged from 13-68mm and averaged 45-50mm. Similarly we have had up to 100mm in the Waioeka and Otara catchments, with only very small rises in river levels and flows.
"It would be prudent for farmers beside the Rangitāiki River and all other Eastern Bay rivers to move their stock to higher ground before nightfall, as the first level warnings may be given during the night," Peter says.
"People camping in low-lying coastal areas or near rivers and streams should also be aware there may be coastal inundation."
In response to the rain in the Rangitāiki catchment and forecast heavy rain tonight TrustPower is spilling a small amount of water from the Matahina Dam. The total outflows of 160 cubic metres per second are no greater than the flow under full generation, but the generation flow is currently restricted.
Therefore, this spill will not flood additional land and there is absolutely no flood risk to Edgecumbe," Peter says.
The spillway was opened at 11am today and is releasing 30cu m per second, to reach a lake level of 73.15m by 3.55am tomorrow.
Prior warning will be given if the spill flow needs to be increased later.
MetService Update
A rapidly-deepening low pressure system in the Tasman Sea northwest of the country is set to move towards the North Island today, before moving over central New Zealand during Friday.
This system – the first significant system to affect the country since mid-September 2017 – is already bringing rain and wind to central and northern areas of the North Island.
There are Severe Weather Warnings and Watches in place for heavy rain and strong wind for a number of areas in the North and South Island, with rainfall accumulations in excess of 100mm in some places and severe northeasterly gales gusting 120km/h in exposed places.
Persistent rain will spread south over the North Island this morning, reaching as far south as Christchurch by Thursday evening.
Rain will then spread further south over the South Island on Friday, and become patchy in Northland, Gisborne, Hawke's Bay and Wairarapa.
"Significant accumulations are expected on Thursday over the upper North Island where areas like the Bay of Plenty could see up to 150mm of rain accumulate about the ranges.
"Auckland could see as much as 90mm, especially about the Hibiscus Coast and the Waitakere and Hunua Ranges. The upper South Island will see its heaviest rain from tonight, where up to 180mm may accumulate about the ranges of Nelson and Marlborough," says MetService Meteorologist Ciaran Doolin.
"The strongest winds associated with the system will be across the upper North Island with severe gale northeasterlies forecast in exposed places during Thursday. When the low crosses the country on Friday, a period of severe west to northwest gales will affect central parts of New Zealand.
"With the strong winds come large swells about the east coast of the upper North Island, from Northland to the Bay of Plenty. In combination with king tides, this may lead to coastal inundation in low lying areas, where waves could push further inland than normal and cover coastal roads, tracks and campsites.
"This risk is most elevated on Thursday evening and Friday morning but should ease by Friday evening.
"People need to take extra care this holiday period as heavy rain and severe gales have the potential to have a major impact on people's plans. Make sure to stay up to date with the latest forecasts and Severe Weather Warnings and Watches."
Rain and gale southwesterlies will gradually ease Saturday as the low moves away southeast of the country.
A ridge spreads onto the country on Sunday, making for a mostly fine day across the country, although a short-lived front makes landfall in the far south bringing rainy spells.
Coromandel Update
MetService is forecasting heavy rain and gale north-easterlies for the Coromandel from early this afternoon into tomorrow morning.
The Thames Coromandel District Council's Emergency Operations Centre has been set up to monitor this weather event and keep an eye out for flooding and slips.
A rapidly deepening low approaching New Zealand is expected to drop 100-150mm of rain over the Coromandel between 1pm today and 1am tomorrow, with peak intensities of 20-30mm/h, especially from the evening.
North-easterly winds are expected to become severe from this evening until dawn tomorrow, gusting to 120km/h in exposed places.
The council is monitoring reports of various drains filling and flooding due to the rainfall and high tide this morning.
The Kauaeranga River level is expected to be super-high and we also expect higher than normal sea levels around our wharfs due to king tides.
This combination of strong winds and king high tides in conjunction with the heavy rain may also cause coastal flooding at streams and rivers, including in the Firth of Thames.
Surface flooding is expected across the Coromandel in the usual areas that flood, so please take care and try to stay clear of low-lying areas if you're camping.
Kauaeranga Visitor Centre has advised us due to weather warnings they have closed the Pinnacles Hut and are strongly advising customers and campers to vacate the Kauaeranga Valley.
The high tides are due at:
Whitianga Thursday 4 Jan at 21:33 Friday 5 Jan at 10:10 and 22:28
Thames Thursday 4 Jan at 22:03 Friday 5 Jan at 10:37 and 22:57
Check MetService for the latest weather forecasts as this weather system develops.
"This is looking like it will be a short, sharp weather event that will pack a punch," says Garry Towler, our Civil Defence Controller.
A video update Mr Towler is available here.
Waikato Regional Council has set up an online hub for rainfall and flood related information to help people more easily keep up to date with severe weather events in the region.
It can be found at waikatoregion.govt.nz/flood-room
We will post regular updates on our Council's Facebook page as well as on our website and email newsletters.
"We'll also include updates on known local Council road closures here. If you see a Council road that is impassable due to flooding or a debris, call us on 07 868 0200.
"If the issue is with a State Highway (eg, the Thames Coast Road, Kopu-Hikuai Road) please tell NZ Transport Agency on 0800 4 HIGHWAYS (0800 44 44 49) to speak to the call centre team who can also provide traffic and travel information."
Check NZTA's website before you travel for the latest information about road closures or work underway. You can also use their journey-planning website www.onthemove.govt.nz to plan the best route for your journey, taking into account known issues and traffic on state highways.
To report a power outage, contact Powerco.
"And, although we're in for heavy rain, we still have a Total Fire Ban in place until at least 8 February, which includes bonfires and fireworks. See www.tcdc.govt.nz/fire for more information.
"The rain should help replenish reservoirs and water tanks, but we're still facing water restrictions due to high use and also filtering sediment and silt that will be coming through from this weather event. We will be reassessing the reservoir levels within the next 24 hours to see if restrictions need to be changed. See what restrictions apply on our website www.tcdc.govt.nz/water."
Events
Sol3 Mio is moving by one day to tomorrow to Friday 5 January. The venue and timings otherwise remain the same and all tickets issued for today's show are valid for the new date. Gates open at 5pm, show starts at 6pm and concludes at 8.45pm. If patrons are unable to attend the new date they should contact the ticketer from whom tickets were purchased in order to apply for a refund.
The Colour Splash in Whangamata has been cancelled as well as the Matarangi Beach summer festival events for today and tomorrow.
Pauanui Summer Series, The King of Tangi will now be held Sunday 7 January instead of tomorrow.
All other events are going ahead as scheduled at this stage and MetService is forecasting finer weather after the low passes on Friday.
Check our What's on in the Coromandel listing for updates on events.