A storm just offshore from the western upper North Island caused power cuts, brought down trees and closed roads due to storm surge flooding overnight.
Today the low makes landfall and starts to slowly unravel, says WeatherWatch.co.nz
"The peak of the winds was this morning and will start to ease back a little into the afternoon, but as the low tracks into land this will push windy weather into new areas.
"It will be a windy day in many regions with gales in a number of exposed coastal areas. More power cuts are possible across the North Island."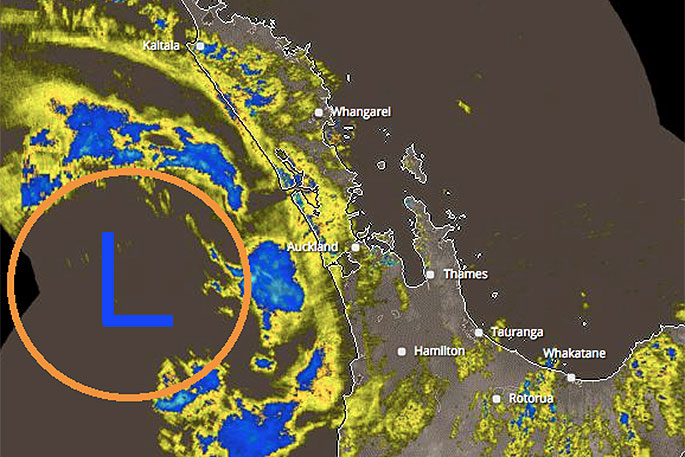 In the tax funded rain radar image above note the area of rain between the centre of the low and Northland and Auckland - this is where the strongest of the winds are also.
These winds travel with the centre of the low and peaked earlier this morning.
"As the low starts to weaken today these peak winds around the centre will start to ease back also.
"The centre of the low is tracking SE towards Taranaki, it should make 'landfall' there this afternoon and then weaken further as it crosses land in a SE direction," says the MetService.
"Dangerous sea and beach conditions will remain around a large portion of Friday and Saturday in both islands.
"As the low tracks further south it will push heavier bands of rain into Canterbury and some other South Island areas before clearing the country over the weekend."
High pressure returns to New Zealand for the start of next week.
High winds and heavy rain brought down power lines in parts of Rotorua and caused slips on some roads, with a few trees also coming down in Rotorua and Whakatāne.
The Bay received around 100mm of rain, with winds gusting up to 85km in Whakatāne and 45km throughout the wider region.
The Waimana River reached its first warning level, with the Kaituna reaching its second warning level this morning.
The Tarawera River will peak about mid-morning today, but at a level that is a two-year flow.
Bay of Plenty Regional Council duty flood manager Mark Townsend says there is no cause for concern.
Lake Matahina has risen slightly, causing TrustPower to resume spilling water from the Matahina Dam during the night.
The amount of spill will gradually increase to keep the level of Lake Matahina below 73.15. Again, there is no cause for concern, Mark says.
State Highway 2 through the Waioeka Gorge is closed due to a slip.
Motorists are advised to postpone any non-urgent travel and use State Highway 35 as an alternative route.
There has also been a slip on State Highway 35 east of Opotiki that is blocking a lane, and slips in the Rotomas.
Please take care on the roads and drive to the conditions. Visit www.nzta.govt.nz/traffic for more roading information.
While the storm has peaked, heavy rain bursts are possible this morning and wind gusts of 120km/h are still expected in exposed places until this evening.
High swells are also still expected, and these may still lead to coastal inundation and surface flooding in some areas.
Road Closures
Due to a large slip, the Waioeka Gorge is closed.
Motorists are advised to postpone any non-urgent travel and use State Highway 35 as an alternative route.
SH2 WAIOEKA GORGE - SLIP - 6:30AM

Due to a slip SH2 Waioeka Gorge is CLOSED. Motorists are advised to postpone any non-urgent travel & use SH35 as an alternative route. Drive to the conditions & take extra care as there is also a slip blocking a lane on SH35 east of Opotiki. ^LC pic.twitter.com/HzCTZFWdvJ

— NZTA Waikato/BoP (@NZTAWaiBoP) January 4, 2018