Firefighters and the Civil Defence is currently in the process of evacuating people from the Kaiaua area.
"Due to an inundation from the sea, people in low-lying areas of Kaiaua Village and East Coast Road are advised to urgently self-evacuate to higher ground," says the Hauraki District Council.
"Local Fire force crews are currently assisting residents and civil defence crews are also on their way to help evacuate residents.
"East Coast Road has been closed in this area. At this stage this is all we know, but we'll update you with more information as it comes to hand."
Update: 11.30am
Front Miranda Road and East Coast Road in Kaiaua are now both closed due to flooding. It's expected they will remain closed for at least 3 hours until the water drops with the tide, which has now peaked and is starting to go out.
Local controller Steve Fabish says civil defence teams and the local fire force are operating in the area but some communities are still isolated.
"People are asked to self-evacuate to higher ground, look after each other and keep an eye out for neighbours until the water recedes enough for our teams to get in."
Once the flooding has receded a Civil Defence centre will be set up for people to evacuate to.
Police are advising motorists to avoid Thames Coast Road, which is set to be closed due to weather conditions.
"Due to the high tide, waves and rocks are coming up on the road making driving conditions unsafe.
"We'll update you when the road reopens."
"We are receiving reports that the wind is pushing the swell onto the Thames Coast Rd (State Highway 25) and high tide is still on its way, around 10.30am this morning," says the Thames Coromandel District Council.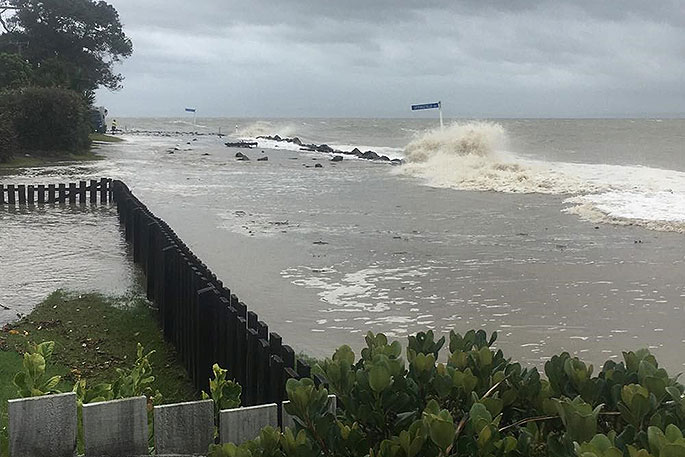 "Keep your speed down and watch out for traffic coming into southbound lane to avoid sea spray.
"We have informed the New Zealand Transport Agency who are sending out a crew to assess the road and are advising the public to travel with caution.
"The next point risk is high tide this morning."
The high tides are due at:
Whitianga Friday 5 Jan at 10:10 and 22:28
Thames Friday 5 Jan at 10:37 and 22:57
"Please take care on the roads with the high winds," says our Civil Defence Controller, Garry Towler.
Power is also out in Cooks Beach, Colville, Thames and Opito Bay.
The below photos shows what is happening in Whitianga.