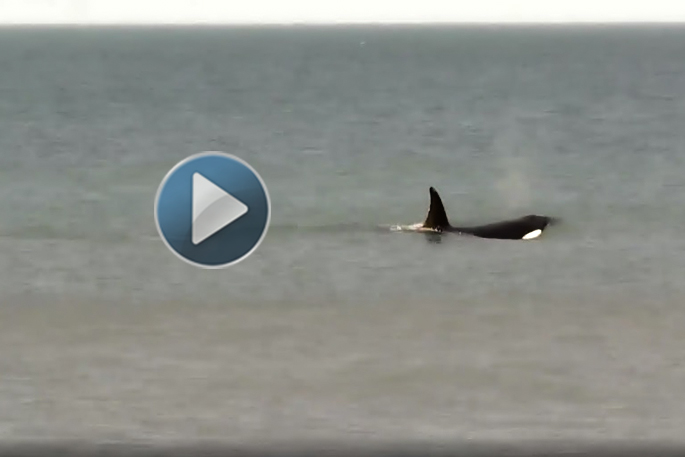 Click the image above to watch the video
Hundreds of people poured out of houses in Papamoa this evening to watch as a group of orca cruised past along the beach.
Some ran in their pyjamas not wanting to miss seeing the three orca close up.
About an hour before sunset Nikki Antonsen spotted the small group in the water and posted to Facebook the message "Orcas heading down to Papamoa East. Gone past Dickson Rd."
Over the next 90 minutes Simon Carter and others kept everyone updated on where the orca were, providing a live social media commentary. This enabled parents and families to get to parts of the two to three kilometres stretch of beach and and watch as the orca swam by.
One post read:
"About 3-4km past pap east last beach entrance. People are following them to make sure they don't beach."
Logan Taylor and Maddison Haslam were among those enjoying an evening on the beach near Karewa Parade. About 8pm they noticed that the beach was becoming busier.
"We were surfcasting and saw people further along coming down to the beach," says Logan. "We wondered what's all the commotion."
They soon realised what was happening as the orca cruised along past them.
Judy Entwhistle pointed out an interesting fact.
"I can't believe it," writes Judy. "It is exactly one year to the day since orca were spotted off Papamoa, 10.01.17. It just came up on my Memories on Facebook. Must be creatures of habit."
Throngs of people continued to watch, and updated their social media groups as the three orca swam past Taylor's Reserve heading east.
Excited comments flew around the beach and social media as people wondered why the orca were swimming close to shore.
"I saw a little stingy jump out of the water trying to escape, amazing!" wrote one.
Orca are known to enjoy feeding on stingray which like to hug the shoreline.
Some people worried about the youngest orca beaching itself, while others were ready to assist just in case it did.
Anna Farley was out walking and thought the streets seemed unusually quiet.
"I just put it down to the time of night," says Anna. "As I was walking home along Kawera Parade I stopped to look at the beach and there's everyone! Watching the orcas, power of Facebook, was cool too see, chasing stingray, saw them jump out of the water and one orca take chase."
Another posted "We saw these beautiful orca & their baby up close at Taylor's tonight."
About 9pm Simon Carter reported that the orca family had nearly reached Kaituna River Cut.
People returned to their homes grateful and happy. Grateful for others using social media to spread the word. And happy for the opportunity to see a family of orca so close to shore.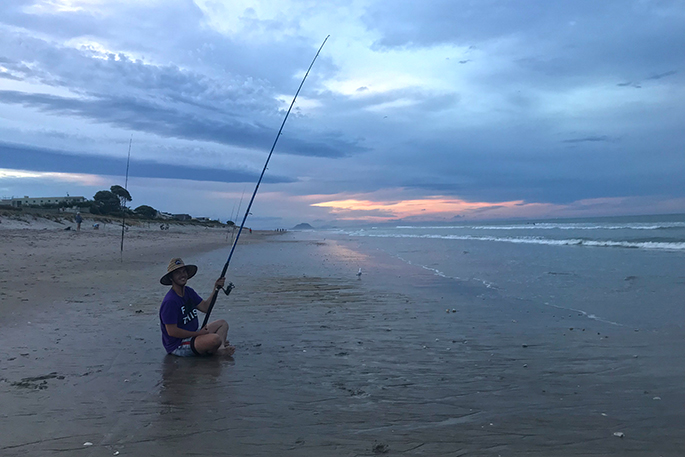 Logan Taylor quietly fishing again after the three orca had passed by and people left to go home,