UPDATED: 11.45am:The search for the gas leak on The Strand is focussing on the intersection of Hamilton Street and The Strand. The intersection is taped off and gas company staff are digging into a drain outside The Cornerstone tavern.

Harington Street has been re-opened to traffic. The Strand is closed at Harington Street and Wharf Street.
Earlier:
The Strand and surrounding streets have been closed to vehicles and Tauranga City Council is advising people to keep clear of The Strand/Harington Street area until the gas leak is resolved.
A strong smell of gas was reported in the area earlier.
Street closures
• The Strand

• Hamilton Street between Willow Street and The Strand

• Harington Street between Willow Street and The Strand

• McLean Street – one-way direction reversed to keep traffic flowing
Tauranga City Council will npotify the public when the streets are reopened to traffic.
Earlier:
Reports are coming in of a strong gas smell in the Tauranga CBD.
A caller to the 0800 SUNLIVE news hotline says firefighters are on the corner of Harington Street and The Strand.
"There is a strong smell of gas and firefighters are asking people to stay away from the area.
"Police have also been called to close off the road."
Fifefighters are investigating the cause of the smell, says Northern Fire Communications shift manager Paul Radden.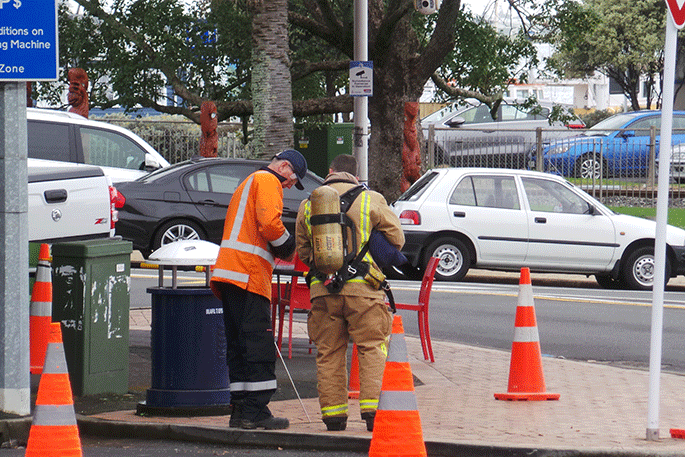 With Harington Street closed for traffic, McLean Street was returned to two way use while the cause of the gas leak was being investigated. Traffic managment was put in place after these pictures were taken.