Teacher Mr Henderson wanted Lulu's signature. She thought that was funny.
When Lulu Boorman appeared on the front page of The Weekend Sun recently, Mr Henderson presented a copy to the freckled nine-year-old and, like an adoring fan, asked for her mark.
Then she had to stand before 500 of her peers at school and explain how she'd achieved a modest level of celebrity status over the school holidays. "I was a wee bit nervous," she admits.
Lulu told the school assembly that she was the supreme winner in the 2018 Trustpower Photographic Exhibition. Her wining picture, entitled "Splash", was a selfie of Lulu romping in the surf bubbles at Papamoa Beach.
The judges commented that "everything in Lulu's image was crisp and sharp…there was such clarity in the water and lots of detail in the bubbles. And even though you can feel the crash and energy of the wave, Lulu is perfectly in focus."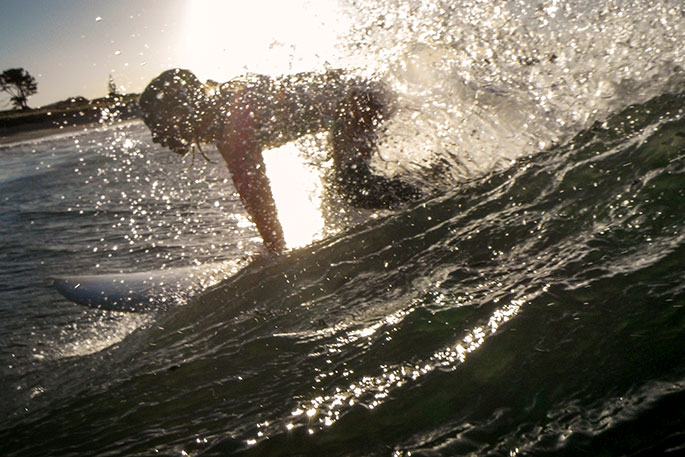 They called Lulu an extraordinary talent. And that's why she featured on the cover of The Weekend Sun. "That was a surprise, and it was cool," says Lulu.
But was the winning shot a one-off, one shoot, one photograph which just happened to be a winner?
We asked Lulu if she had other pictures she was proud of. She did, and she was happy to share them with us.
One is similar to the winning shot. "I like this one because I was very happy that day." But she is always happy. And when asked what she might want to be when she grows up, she says "happy".
The second shot Lulu chose features two girls stranded on a rock with the surf swirling about them. "I like their expressions – they're screaming."
One of the subjects is sister Mischa. She's on the left, and the other girl is Alla. "She's a kind of sister. She lives down the road but is always at our place."
Mischa also features in the third. "I love the light in this photograph," says Lulu.
Lulu's family quite often head for the beach after dinner, and it was on such an outing, when the sun was low in the sky, that Lulu photographed Mischa on her surfboard.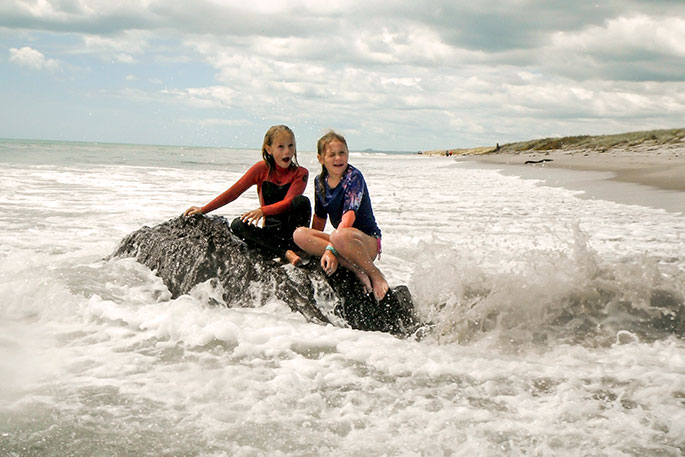 Mum Brydie Thompson is an accomplished photographer as well, having worked as a newspaper photographer for several publications around New Zealand for 20 years. Brydie was a category winner in the Trustpower 'Our People' category, with her portrait of an 87-year-old lifeguard called Sid at Omanu. "Every element of this image told a bit of a story about Sid" said the judges. But it was upstaged by her daughter's photograph.
"She was very proud of me," says Lulu. "She just gasped and gave me a hug." Outside of the beach, bubbles and her wee Fuji camera, Lulu's passion is PE. "That's my favourite subject at school. And my favourite sports are soccer and rugby."
The young snapper is humble and gracious beyond her years. "I am proud of my photographs," she says, "but I am also proud of all the photographs in the competition."
The work of the 20 finalists in the 2018 Trustpower Photographic Exhibition, including Lulu's "Splash", are currently featured along The Strand in Tauranga until March 25.
You can vote for your favourite image while you are there and be in with a chance to win a dinner for two in downtown Tauranga.