For most people, climbing Mount Maunganui on a sunny day is good way to exercise.
But for Mount local Stacey Roche, it's something she's never done before.
That's because Stacey has cerebral palsy, which had left her almost entirely reliant on a wheelchair as recently as a year ago.
However, through lifestyle changes and training with SwitchedOn Exercise and Wellness Centre, Stacey has improved her mobility, and wanted a goal to work towards.
"I see the Mount every day, and I decided I want to go up it," she says, choosing March 14 – her 40th birthday – as the date.
Helping her along the way has been exercise physiologist Brennan Mullan from SwitchedOn, whom she trains with five times a week.
"When Stacey first came to us, she was very reliant on her wheelchair. But we slowly worked to build up her balance and coordination – she's really determined."
Leading up to today's climb, Brennan says he worked with Stacey on her endurance and hip stability, so that she doesn't injure herself.
He and another team member helped Stacey on her climb by walking either side of her, in case she lost her balance – but they weren't lifting or carrying her.
"The climb is all her own," says Brennan, who adds they chose to go up the stairs as that seemed easier.
Tauranga MP Simon Bridges also turned up before Stacey started her climb to wish her well.
"I know a lot about SwitchedOn and Stacey's story, and I think it's inspirational. She shows if you have the right attitude you can do anything – you can literally climb mountains," says Simon.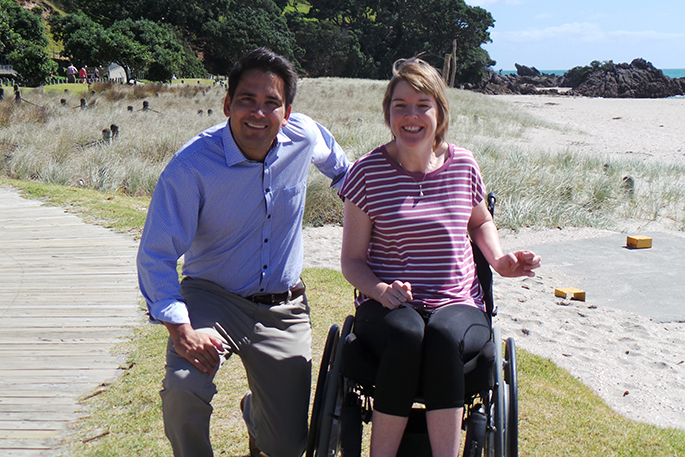 Stacey completed her climb in less than two hours, and enjoyed a glass of champagne at the top with her parents.
Her climb has also been a way to raise money for SwitchedOn, which is a charitable organisation governed by the SILC Charitable Trust.
Business development manager Liz Plank says they accommodate people with a range of physical disabilities and challenges, including the elderly and those who have had accidents in sports.
"We believe everyone has their own mountain to climb, so what Stacey's doing is fantastic."
A Givealittle page has been set up to raise funds for new equipment for the centre to help more people like Stacey achieve their goals.