A Bay of Plenty woman is one of 78 female leaders taking part in a unique gender forum in Antarctica this month.
Environmental engineer Amanda Kirk is currently participating in 'Homeward Bound' – a global initiative for women in STEMM (science, technology, engineering, mathematics and medicine) fields addressing the global deficit of women and scientists in leadership roles.
Amanda, who grew up in Tauranga and now works in Whakatane for WSP Opus, says she applied for the programme after reading an article about 'Homeward Bound' in February of last year.
'The programme brings together so many important issues into one programme: science, leadership, gender equity and global challenges such as climate change," she says.
The application process consisted of submitting a two-minute video and answering a number of questions relevant to the main themes of the 'Homeward Bound' programme.
Applications are open to all women with a science background around the world.
The women spend half their day on a ship learning and developing skills in the four key areas of the programme: science, strategy, visibility and leadership.
'The content is delivered by experts in their fields through lectures, workshops and open discussions," says Amanda.
The other half of the day is spent on land, exploring Antarctica and experiencing the wildlife.
'We have walked amongst colonies of thousands of penguins, seen seals on icebergs and watched humpback whales feeding in the ocean nearby.
'We have been fortunate enough to set foot on land most days of our trip. We have visited five Antarctic research stations: Carlini (Argentina), Great Wall (China), Palmer (US), Port Lockroy (UK) and Rothera (UK). Other days have been spent on islands and bays along the western side of the Antarctic Peninsula or cruising around icebergs in zodiacs."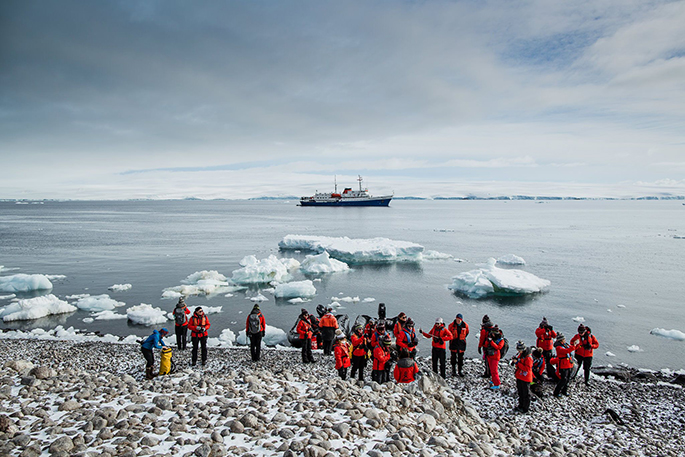 The women visiting Antarctica's shores.
The 21-day voyage, which ends on March 18, is the culmination of 12 months of preparation, and is an opportunity to bring together leading women in STEMM fields to discuss gender issues in their professions.
'Through the Homeward Bound programme I have become part of a global network of women working in science, many of whom are now close friends. As a collective we can reach a wider audience and advocate for important issues such as climate change and the need for more women in leadership positions," says Amanda.
'I have learnt invaluable skills in science communication, coaching, and the development and execution of strategy which I hope to use to be more impactful in my work when I return home."
Founded by leadership expert Fabian Dattner and co-created by a leadership team of six global experts in leadership, strategy, visibility and science, the project is also backed by many prominent women including primatologist and environmental campaigner Jane Goodall, marine biologist Sylvia Earle and former UN Executive Secretary of the UN Framework Convention on Climate Change, Christiana Figueres.