Bayfair Shopping Centre had more electric vehicles than usual on site today when the #LeadingTheCharge road trip came to town.

The visit was part of a national tour of electric vehicles organised by the Better NZ Trust, which seeks to promote uptake of EVs among New Zealanders.

Better NZ Trust chairperson Kathryn Trounson says it is part of a wider push for New Zealand to embrace zero-carbon technology.

"Driving an electric vehicle is one of the best things individuals can do to help the environment," she says.

The road trip began a fortnight ago in Invercargill, and will continue on to Auckland for the weekend, before the final leg of the trip to Northland on Tuesday.

In the past two weeks, Kathryn says 260 people have tried driving one of the electric vehicles taking part in the road trip, with many more taking rides as passengers.

SunLive took the BMW i3 for a spin around the side streets of Arataki, and found it to have excellent acceleration. However, unlike other automatics, there's no forward momentum for the i3 simply by being in 'drive' – the car only moves with the foot on the accelerator. And the foot has to stay on the pedal the whole time – as soon as the driver lifts it, the car comes to a halt a few seconds later without the need for brakes (depending on the speed).

It's great for those who want a highly-sensitive, responsive vehicle, but would definitely require a change in driving style for those used to a petrol/manual combination.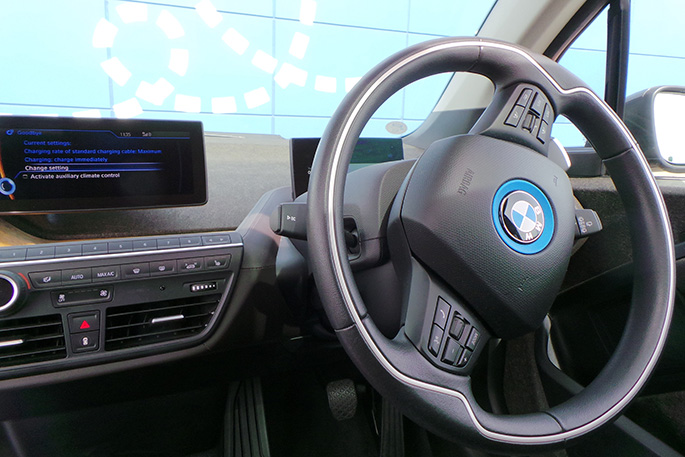 Bayfair Shopping Centre manager Steve Ellingford says the shopping centre is all about embracing green initiatives.

"A couple of years ago we decided to put in some EV charging stations for customers to use," he says. "It's about being ahead of the curve – we know there will be growth in this market. When we installed the charging stations there were around 830 registered electric vehicles in the country. Now, there are 6884."

Bayfair has an electric vehicle charging station on the ground floor of their parking building, which is free to use and takes a couple of hours to charge. Steve says it is in use most weekends.

Powerco also has a charging station at the same location, which will charge vehicles much faster, but must be paid for.

The Energy Efficiency and Conservation Authority estimates that using a residential off-peak electricity rate means electric vehicle owners can charge their EV for the equivalent of 30 cents a litre.