Tauranga Musical Theatre (TMT) is, in my opinion, giving us their best show yet in their latest offering 'Catch Me If You Can'.
This musical is an adaptation of the 2002 Steven Spielberg film starring Leonardo DiCaprio and Tom Hanks, which was based on the real life story of con artist Frank Abagnale, Jr.
The story begins with a 1960s Miami International Airport scene, where Frank Abagnale, Jr. (Matt Lee), is cornered by bumbling FBI agent Carl Hanratty (Stephen Ormsby). Frank pleads with Carl to let him tell his story to the people around him – the audience – before he is arrested. Carl reluctantly agrees and then what follows is a high-powered, TV style variety show seen through the lens of sixties style music, with each step in crime taking us through jazz, blues and high kicking big swing band numbers.
From the moment he was confronted by his parents at the divorce court, Frank set off on a journey looking for what he'd lost – a sense of home. His world has changed overnight, and he runs from it.
It's an impressive stage performance from all. Matt, starting off as a naively innocent charmer, commands the stage as Frank Abagnale Jr. sculpting out the lead role with natural aplomb and poise. He has the gifted flair and smile necessary to sell the snake oil.
He switches smoothly through his chameleon roles, conning his way through life as a teacher, pilot, doctor and lawyer until eventually being paused in his tracks by love interest life Brenda Strong, played winsomely well by Sarah Coleman. His quest for 'home' becomes apparent again when he says to her 'now I know that home is where you are. The seven wonders can't compare with you.'
Brenda's New Orleans parents Carol and Roger Strong, played by Sarah Bate and Vincent Gambino respectively, welcome him into their family with 'Our Family Tree', one of the night's most exceptional songs, with Carol delighting the audience with her 'wa wa wa' muted trumpet rendition.
The Southern belles' mini-dresses, nurses' costumes and Pan Am uniforms take us through jaunty numbers by Kaitlin Spedding, Alisha Taylor, Rachael Somerville, Abbie Crossley, Shania Whale and Rosie Adams-Horsely. Theirs are highly polished performances, sexy, suave, glitzy, mellow and energized, with silky smooth scene changes and sparkling choreography.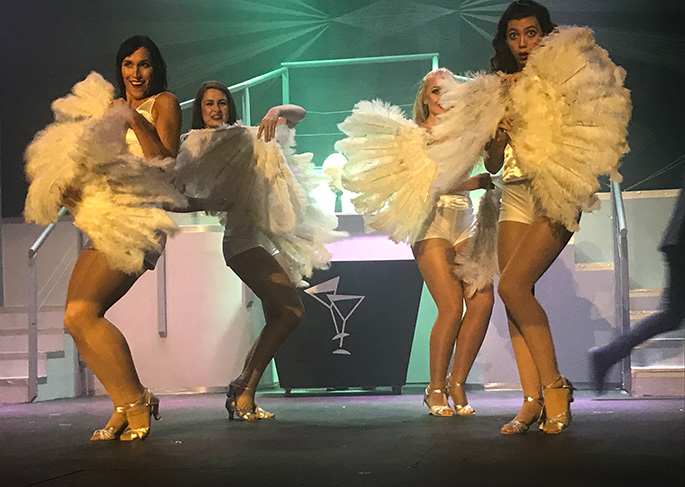 Dancers performing in 'Catch Me if You Can'. Photo: Rosalie Liddle Crawford.
Frank Jr.'s past starts to overtake him, with Carl hot on his trail. His smooth-talking façade breaks down in front of Brenda, and we see him again as that lost boy, who has tried on multiple identities in an attempt to fill the void of his broken family.
His parents have been woven poignantly through the story, appearing in various scenes, with initially wonder, then longing and loss from Frank Abaganale, Sr. (Jaden McLeod); and elegant ennui from his French mother Paula Abagnale (Michelle Parnell).
Michelle as Paula Abaganale is stunning and sophisticated in glistening jewellery and evening gown, reminding us of the mystique that first attracted and fascinated Frank Sr. by dancing her way through a stylish bossa nova with equally elegantly dressed male dancers.
Carl, the FBI agent, supported by an amusing and mildly comedic team of agents, also has his own storyline developed through the show. Driven in his quest to find and catch Frank, he is troubled by the awareness that his job is his life. As the story progresses we grow to love his compelling performance. The cat-and-mouse game between the FBI agent and Frank who he doggedly pursues, eventually turns into buddy comedy. And later, he has a duet with Carl about how the sins of the fathers are visited on boys.
Stephen Ormsby is aided by strong back-up performances by John Daverne, Matthew Henderson, Jonti Climo, Ethan and Callum Thorburn. The ensemble performances, often partnering with the six female dancers and singers, are well-rehearsed and fluid. My favourite parts of the show are actually their group dance numbers, and the cleverly crafted song 'The Man inside the Clues' sung to the blues.
Interestingly, the show has a father-son combo of its own amongst the cast, with father Ian Thorburn well-cast in his variety of onstage roles, and performing confidently alongside sons Ethan and Callum.
I love a lively show with high energy and momentum, propelling us through slick scene changes and musical dance numbers. The art deco styled stage is simple and classy, with subtle painted accents like the bar's two painted stripes, providing smooth and easy entry and exit points from various levels.
The story itself, not the performance, lets us down in a number of places. We don't get to see Frank Jr. and Brenda actually fall in love, and the real heart of the story is skated over, denying us a deeper attachment to Frank as we are launched into the snappy flash variety style numbers. The IRS difficulties, his father's money mismanagement, loss of their home, his French mother's infidelity, the divorce and custody hearing, and running away at age 16 – these crucial episodes flick by quickly. The father and son bond starts to resonate later.
Frank Jr.'s love interest is introduced late in the story, and we are left wishing we could see her character developed earlier. Sarah Coleman as Brenda finally gets to shine in the ballad 'Fly, fly away', singing with heartache and longing 'We didn't get to say goodbye…. This man without a name taught me how to feel…..was I the only one to ever see the boy?' As fast as he finds his home in her, he loses her again, entwined in the lies and false names he travels under. Ultimately he finds his way home in his growing relationship with Carl, who marvels that Frank is so young, saying 'He's a kid' wonderingly. Later he tells him 'You've got no one else to talk to. Sooner or later you'll get tired of running.'
The swing band sound lifts the show into a sophisticated ritzy feel, giving an appealing swanky canvas to the performers. Skilfully choreographed by Dani Miller, it's clear she has enjoyed her first outing with TMT.
"Act like you're brave. Act like you're confident," says Frank Sr. to his son Frank Jr. Director Liam Hagan and musical director Ashleen Fahy have brought this self-assurance to the TMT stage with a dashing, well-rehearsed and polished show. The best one I've seen yet.
'Catch Me If You Can' runs from April 14 – 28, 2018, at Westside Theatre in 17th Ave.