Police have located a body at Omanawa Falls.
The Police National Dive Squad was called in today to help locate a swimmer who went missing at the falls around 3pm on Sunday.
In a statement released this afternoon, police confirmed that a body has been located.
"A body has been found during the search for the missing swimmer at Omanawa Falls, near Tauranga.
"The body was recovered by the Police National Dive Squad around 1.30pm, says a police spokesperson.
"A formal indentification process will now be carried out and the death will be referrred to the Coroner."
The University of Waikato has confirmed the missing man was one of its students.
"Our thoughts are with the friends and family of the missing student, and we are offering them all the support we can at this incredibly difficult time," says Mike Calvert, the Director of Student Services.
"Our staff are in contact with the other students involved in the incident, as well as those who are on the same course as the missing man, and are making sure they have access to all appropriate student services and assistance."
The friends who were with the man swimming on Sunday, along with other students, have been at the scene all day on Monday. Police informed them at the scene that a body had been found.
​The man failed to surface about 3pm after spending time swimming and taking photos with friends at the waterfall.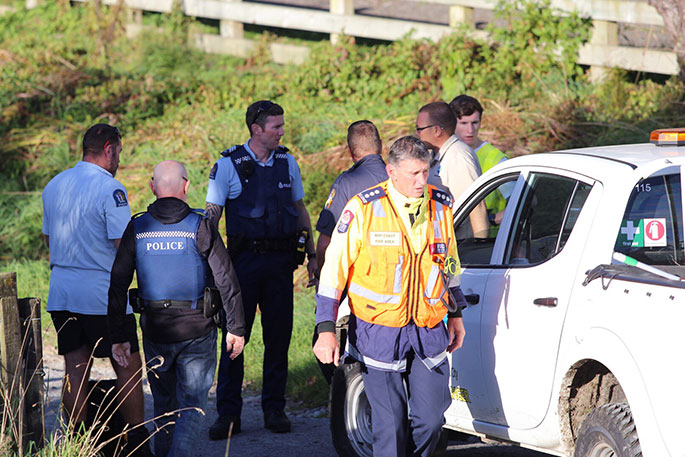 The person who called the emergency services asked not to be named but says she'd just left the falls in mid-afternoon when she heard someone running up the access path calling for help.
"The woman was German and didn't know the emergency number," she says.
"She said a swimmer had not come back up and I knew who she was talking about - we had just been with that group earlier. They'd helped us find a way down to the falls."
After calling 111, she ran back down to see what she could do.
But a friend of the missing man said there was no point.
"He had been under water for at least 10 to 15 minutes at that point," she says.
"I wish there was more I could do."
The woman said the group had been jumping into the water and taking photos, something she and her friend had just done.
"It was really freezing. You had to get out right away, it was so cold."
She understood he was not the strongest swimmer.
"They were looking for him, but he just wasn't there.
"I wish I was around. Maybe I could have seen him or kept an eye out."
-Additional reporting from Stuff.co.nz