A proposal to trial a one-way traffic system along Pilot Bay is being put to the community for feedback.
Tauranga City Council is proposing that The Mall would be converted to a single one-way lane heading towards Mauao.
The one-way lane would start on Salisbury Avenue near Victoria Road and end at the Adams Avenue/Maunganui Road roundabout.
It would be wide enough for buses and boat trailers, with parallel car parking on either side.
A two-way 'cruise way' would be installed along the beach side of The Mall, separated from traffic and parking.
The cruise way is similar to a cycle lane, but can also be used by people riding scooters and skateboards.
Tauranga City Council's transportation manager Martin Parkes says the trial is consistent with other work that the council is doing to make it safer and easier for people to move around the city.
Martin says the proposal came about after ongoing conversations and public submissions from members of the Mount Maunganui community.
"The Bike Mount group proposed a high level concept last year, and this year a community petition with over 200 signatures supporting a one-way system was presented to the Transport Committee.
"The trial been driven by the local community. We're asking ask for wider public feedback before taking it any further. We appreciate that this is potentially a big change for this area."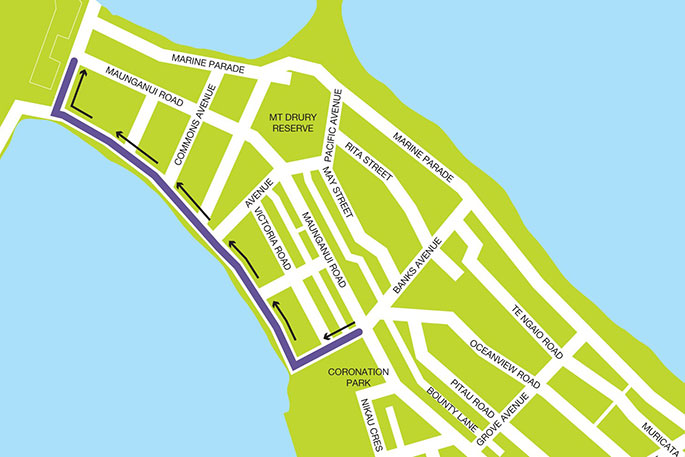 People can give their feedback by visiting www.tauranga.govt.nz/oneway on the council's website.
Letters are being sent to residents and a community drop in day is planned for Wednesday 9 May, 3 – 6pm at the Mauao Performing Arts Centre in Totara Street. Feedback closes on 16 May.
The Transport Committee will make a final decision in June about whether to proceed with the trial. Feedback form and more information about the trial