A mural representing the connection between local hapū has been unveiled within the Hairini Link project in Tauranga today.
Tukutuku patterns on the wall of the Welcome Bay underpass linking to stories and traditions of Welcome Bay hapū are unveiled today ahead of the open day in two weeks.
The 100m long 2m high pattern relates to the makomako trees that once were a ready source of medicine for Maori, before they were replaced by farmland.
Nearby Kaitemako Road - off Welcome Bay Road - is another reference, says hapū project co-ordinator Rondell Reihana. The trees were once abundant on the Kaitemako hills in Welcome Bay.
The small black and red triangles represent the makomako leaves; and the bare triangles represent the barren hills of Kaitemako after the Makomako trees stopped growing.
NZ Transport Agency Project Team Leader, John McCarthy says the agency is very pleased to have worked with the hapū to tell this important local story.
"This striking mural is special to this area and we'd like to thank Ngāi Te Ahi, Ngāti He and Ngāti Ruahine for working with us to share it with the people who will use this road and the shared walking and cycling path."
The unveiling is ahead of the public open day on May 27, where from 10am till 3pm the public will be able to walk and cycle the $45 million project before it opens for traffic next month.
Traffic is expected to be using the underpass shortly before the project's official opening mid to late June.
"We will be using the new road as part of our temporary traffic arrangements to allow us to complete the tie-ins on the existing Welcome Bay Road," says John.
"By doing that, it allows us to reduce the volume of traffic and to get in to areas safely.
"The temporary traffic arrangements at the moment are all to do with the tie-ins. They have to juggle them a little bit to try and effect the works while also minimising the disruption to traffic."
Asphalting is happening today on the Welcome Bay approach to the underpass and is expected to be completed before the community open day.
The local community and school are all taking part in the open day which will feature refreshments, stalls and entertainment. There will be park and ride available from Waipuna Park. The open day is also an opportunity for the public to explore the connecting cycleway from the Poike overbridge to the top of the hill by the garden centre.
Once completed, the $45 million Maungatapu underpass will be a two-lane link underneath the Maungatapu roundabout and a separated cycle and walk way, that will improve the traffic flow on the state highway around the Maungatapu and Hairini roundabouts.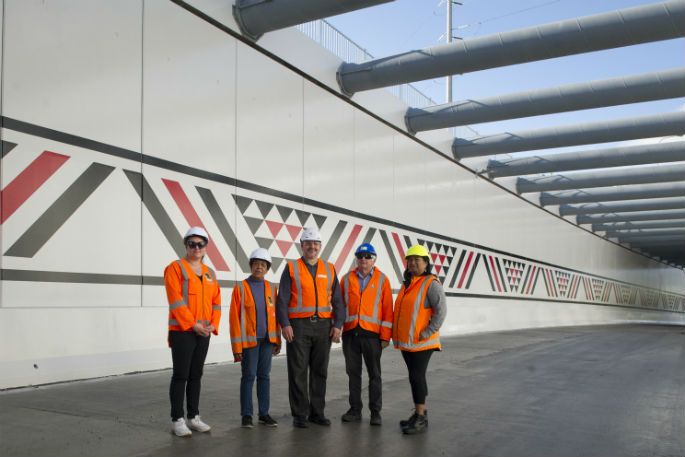 In the underpass, from left: Ngawaiiti Ririnui, Wakata Kingi, John McCarthy from NZTA, Keith Campbell from Fulton Hogan and Rondell Reihana,