Tauranga City Council has voted against having a museum in the city.
In the Long Term Plan deliberations this afternoon, councillors voted seven to four against the museum.
An amendment from Councillor John Robson which attempted to widen the location options and reduce the up-front cost, was also voted down.
The recommendation was for the city council to make a $15 million contribution towards the museum over three years, with another $5m in access improvements to Cliff Road.
Councillors voting in favour of a museum are councillors Larry Baldock, Terry Molloy, Max Mason and Kelvin Clout.
Those voting against are Mayor Greg Brownless, and councillors Rick Curach, Bill Grainger, Steve Morris, Catherine Stewart, John Robson, and Leanne Brown.
Museum advocate and city transformation committee chair Larry Baldock says he's so committed to a museum that he will happily commit to a binding referendum on the subject for the 2019 local body elections.
"Make it a binding referendum because referenda that are not binding are a bit of a waste of paper," says Larry. "I'm confident 40 per cent support would grow to over 50 by the time they got their head around the real facts.
"Because referenda that are held when there isn't real facts, when there is confusion, simply give a confusing result.
"Sure as God made little green apples we will be back here again and we will have wasted what is now more than a million dollars on this process that was instituted. And that bothers me a great deal. This is not the way we should govern this city."
The museum vote came after a decision earlier to cap the city rates, keeping the increase at 3.8 per cent, down from the 9.7 per cent consulted on.
The decision sets city rates back to a two per cent increase plus CPI after growth, a measure the council has worked with for the past two trienniums.
Councillor Leanne Brown said the rates cap influenced her vote. Steve Morris and Bill Grainger said the council had to pay attention to the non-binding referendum result.
Steve says the issue will not go away.
"It will be here in three, four years' time. I think we were all surprised by over 40 per cent in favour of the museum. I don't think that's the high water mark," says Steve.
He argued that approving $15m for the museum would alienate the community which would remember in 16 months' time.
Steve Morris and John Robson say they personally favour a museum. John says the referendum result is clouded by there not being required background information provided.
"I want a museum here but the irony for me is so many of the museum proponents haven't learned from recent history," says John.
The 2007 vote against the waterfront museum was an example of what happens if you reach for the stars in a way that is not reasonable.
"You will get nothing."
If the ask is reasonable there is a better chance of getting it, says John.
The majority want a museum, but when asked for a $55m museum, reservations begin to be expressed.
"If you want to sell it, if you want a museum or a place to tell your story, temper your ambition. Why the word iconic?
"Why does it have to be iconic. Why can't it just be a place to tell our story?"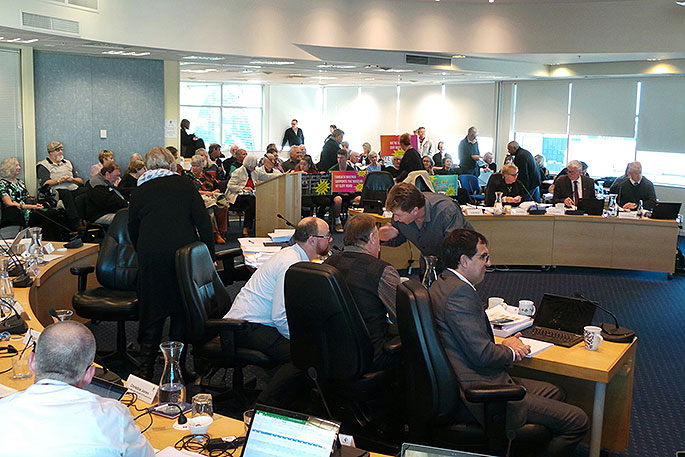 Kelvin Clout says the $55 million museum was overstretched and damaged the museum case.
The $15 million is much more reasonable.
"I was very surprised that 41 per cent were in favour. To me that gave a lot of confidence," says Kelvin. "I'm going to represent the 41 per cent who put their hand up - at potential risk to my own future."
There was a large and vocal public gallery which applauded those in favour of the museum and made their feelings known when councillors spoke against it.
Many of those 770 museum supporters made intelligent, impassioned presentations to council during the LTP submissions process, says Larry.
They were imploring councillors to show leadership by providing the leadership to take our city forward, says Larry.
"Tangata whenua leaders representing thousands, Bruce Farthing, Dr Kelly on behalf of the Museum trust, The Elms, Taonga Tauranga, Mainstreet Tauranga and many, many, others.
"Perhaps the most impressive were Louis and Sam, 16-year-old students who told us that if their age group had been able to participate in the referendum the result could have been very different. Their voices should be heard as it is for their generation that we build this city."
Regarding going forward with the museum, he thinks it will be wise to admit there is still some work to be done in communicating accurately across the community what the real costs will be and how the museum will be delivered and managed once built.
"When you read the comments of many who submitted in oppositions it is clear many of them based their opposition on information that was wrong," says Larry.
"I believe it would be a mistake for us to try and cobble together any complicated budget-cutting resolutions or cheap solutions today. In my view council should not be the main agency in delivering the museum ultimately. I believe now is the time to indicate our support with the capped amount of $15 million. We should not ignore the controversy by rushing ahead with plans now. We should take time now to work with tangata whenua and the community where many capable museum enthusiasts may be prepared to partner with us and take more of the lead in the project."
"My motion asks that you resolve to leave the $15m in the long term plan that we, by a vast majority, agreed to consult on in December.
"It need not cost ratepayers any further expenditure in the coming year. Any expenditure in years two and three would be dealt with by Annual Plans that had community support."