UPDATED: 7pm.Tauranga City Council Elected Members have voted in principle to purchase the 21 Bella Vista Homes properties, which were part of the failed subdivision at The Lakes in Tauranga.

Mayor Greg Brownless and Council staff met with homeowners this evening to deliver the decision, which Elected Members say they felt was the right way forward for all.

"The homeowners have, in their words, been 'to hell and back'. First, with the liquidation of the developer and watching work stop on their properties, to then being evacuated, and living with the uncertainty of what would happen.

"We have listened to homeowners, who told us that purchasing the properties was their desired outcome," says Mayor Brownless.

"Councillors had to consider all of the options, but based on the advice we received, we believe this is the appropriate way forward."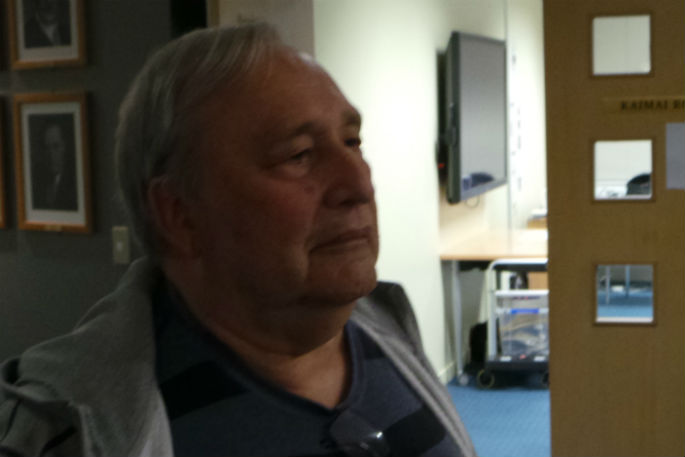 Lee Konowe, speaking after the decision. Photo: Supplied.
Homeowner Lee Konowe, one of the four home owners planning to sue the Tauranga City Council over the affair, says the response from home owners to the decision was muted.
"Reaction in the room? I thought the reaction was muted, since most of us understood that that was the most likely outcome. I think we were all reasonably sure that something like this outcome was coming. It is the quickest way to wipe the slate.
"We are probably 65 per cent down the road, but we are certainly not at the end of the process," says Lee.
He would have been more satisfied if terms like 'market value' and 'damages' been used by the council.
Home owners who need rental support will now receive that says Lee, but people do not yet have the money to go and buy another house, and they do not know when they will be able to do that.
"It's still a very emotional issue. A home we designed, shepherded through two and a half years is now going to be ripped apart and that is hurtful. But that is the process we are committed to and we understand it."
Paul Heath QC was hired by the council as an independent investigator. His report calls for further investigation to find out why the council failed to adequately perform relevant regulatory functions.
But he adds that his findings that the council didn't perform its resource consent and Building Act regulatory functions adequately, does not mean the council is necessarily liable to home owners who have suffered loss.
Bella Vista home owners were evicted from their properties four of which were fully consented and compliant, since March 9. The council initially paid for the home owners' accommodation but later stopped that.
Paul Heath finds the four properties that did receive code of compliance should not have, and that it was appropriate for the council to declare all the buildings in the Bella Vista sub division either dangerous or affected on the basis of the advice it received.

Earlier today, homeowners, or their representatives, had an opportunity to present to Elected Members.
Council has also today formally received the independent investigation report by former High Court Judge Mr Paul Heath QC, who presented to Councillors via video link from Singapore. Elected Members had the opportunity to ask questions of Mr Heath QC, before they went into three hours of deliberations.

Mr Heath's report recommends that "Council takes immediate steps to resolve outstanding differences between the homeowners and itself." It notes that "…the benefits of early resolution far outweigh any desire to have the homeowners' claims tested in Court."

Mayor Brownless has acknowledged homeowners for their patience over the past five months.

"We want to thank the homeowners, their families, and the public who have supported them throughout this ordeal. We also acknowledge the efforts of our staff who have worked hard to get to this point," says Mayor Brownless.

Council will now look to begin negotiations with individual homeowners to achieve full and final settlement. While there is no time frame set for the negotiations, Chief Executive Garry Poole says Council will move as quickly as possible to have the matter resolved.

"We know that this has been a difficult situation for homeowners and residents, who have been living in temporary accommodation since March, but we hope that today's decision lifts some weight off their shoulders," says Mr Poole.

Council has released the full report by Mr Paul Heath QC, which finds that while Council dealt adequately with resource consent applications made in relation to the Bella Vista subdivision, but that he believes in other areas it failed.

Mr Heath QC has recommended that a further investigation be launched, once the issues with these homes are resolved, to identify "why" this happened. Council intends to look further at this recommendation.

The cost of purchasing the 21 properties is unknown and will be part of the negotiations.