The base of Mauao has been a busy hub of film professionals this week, as the Regional Film Offices of NZ – RFONZ – met for their annual two-day conference.
"I think it's a real testament to BOP Film and the work that's been done to put us on the map nationally and internationally to have the conference here," says BOP Film manager Anton Steel, outside the Mount's Pacific Hotel.
"It was really awesome to bring all the regional film offices from around NZ here, to share with them this fantastic place at the base of Mauao, the beautiful weather. and to work together collaboratively to make NZ a fantastic place to come and make films in."
RFONZ is the umbrella organisation for individual regional film office members, each engaged to stimulate economic growth for their region through sector development initiatives and screen production attraction and marketing, and to undertake facilitation and permitting activities.
The Chair of RFONZ and manager of Screen Auckland, Michael Brook feels that film production around NZ is very vibrant.
"Members are really busy, which is fantastic," says Michael. "The RFONZ is a collective of regional film offices. These offices are normally tasked with bringing in international film production into their regions, looking at things like skills, infrastructure, industry development, and facilitation which is helping people shoot in their region whether it's finding locations or providing permits."
"We're in a highly competitive global environment so we are competing against other countries in terms of production coming into our country and then into our regions."
One thing that brings the international productions here are the locations available, and the diversity of locations in a relatively small country, with small regions.
"We have fantastic crews," says Michael. "And we have a track record of producing high quality films and television. It helps us that we have alternate seasons, so a lot of northern hemisphere companies might want to come and shoot a production in a certain season, which with our opposite seasons may help them with their time schedules."
Michael believes that the whole package NZ has it top class.
"One of the really good advantages of RFONZ is that we collaborate. We have a client-focussed approach, so when we're putting together packages, and answering enquiries from clients, it's really what is best for them."
He finds that the proximity of the Bay of Plenty to Auckland works very well for Screen Auckland, in terms of locations and planning shoots.
The CEO of the NZ Film Commission – NZFC - Annabelle Sheehan brought a delegation from Wellington with her to the second day of the conference.
"The NZ Film Commission is committed to growing the screen industry across the nation," says Annabelle. "Of course, there are the strong centres of Auckland and Wellington as the two major cities, but the fact that the Bay of Plenty has put together such a strong commitment to attracting production and creating ease of production in their region is good for NZ."
The NZFC (Te Tumu Whakaata Taonga) is a New Zealand government agency, formed to assist with creating and promoting New Zealand films. Established under the New Zealand Film Commission Act 1978 it has reached its 40-year milestone in 2018 having funded more than 650 New Zealand short and feature films.
"The conference here today represents all the offices across the nation, getting together to talk about ways in which we can best both activate production across the nation, and attract production," says Annabelle. Her own film background includes post-production work as Supervising ADR/Sound Editor. Her credits include Mad Max – Beyond the Thunderdome, Lorenzo's Oil, Dead Calm and The Piano, receiving industry awards for the latter two.
"We're always interested in ensuring that New Zealanders are making films for New Zealanders and the rest of the world," says Annabelle, "and we're all very keen to support the attraction of international productions to our shores as well. Both work together to create a really strong industry and to build the capacity and skills of all our New Zealanders."
This shared purpose of both the NZ Film Commission and the regional film offices was formalised in November 2017 with the signing of a Memorandum of Understanding between the NZFC and the RFONZ.
The MOU outlines key commitments between the parties and is primarily a tool of maintaining positive collaboration. The goal of the MOU is to ensure a cohesive and client focused service for international screen sector clients, as well as efficiencies for all joint activity.
The NZFC is responsible for marketing and promoting New Zealand internationally as a screen production destination. The NZFC's attraction work tied to this, and to Ministry for Business, Innovation and Enterprise (MBIE) funding, is underpinned by the NZFC's specialist enquiries service for potential clients of New Zealand.
The NZ Film Commission fields many international queries that go out to the regional offices, which include Screen Auckland, Screen Wellington, Otago, Southland, Dunedin, Canterbury, Venture Taranaki and Bay of Plenty.
"International productions are always looking for new ways to shoot and new places to shoot," says Annabelle, "both for unique story telling reasons and business reasons around incentives provided by countries all over the world."
Film has gone hand in hand with tourism over the years with significant films created right here by New Zealanders, such as Lord of the Rings and Hobbit. And then there have been the international films that showcase parts of NZ.
The NZ film industry is clearly thriving. Annabelle agrees.
"It reflects the diversity of the nation and communities across the nation," says Annabelle. "and an interesting commitment to screen content that we have in NZ.
"This is such a great industry, in terms of an industry for building production here and also for international trade. Selling our screen content to the rest of the world as well as ensuing that New Zealanders see it. And it projects NZ around the globe, which is great for trade and tourism."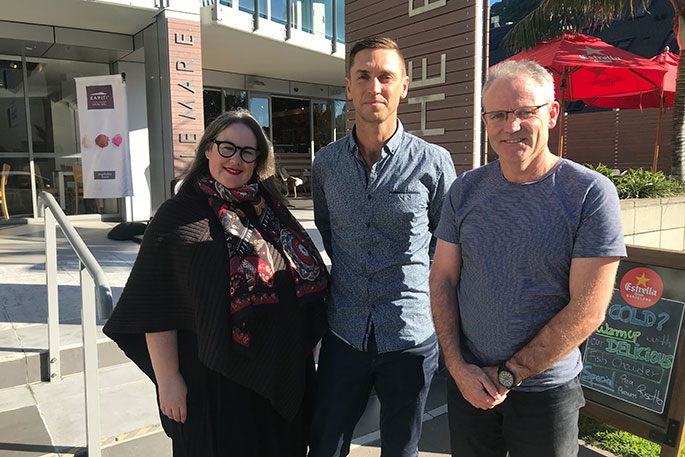 Kristy Robinson and Anton Steel of BOP Film, with Michael Brook, chair of RFONZ