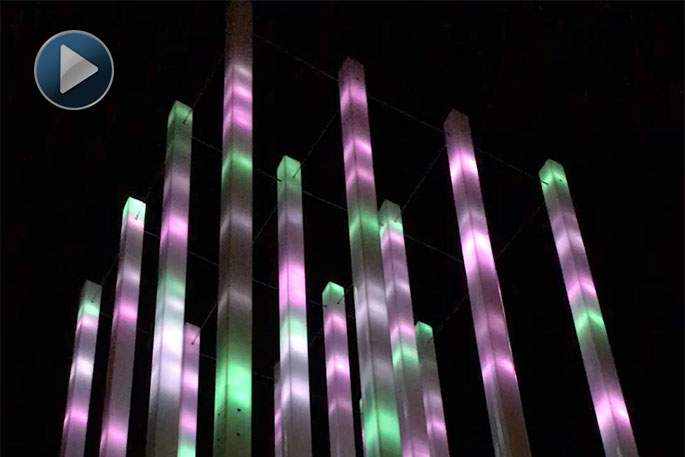 Click the image above to watch the video
Tauranga's heart of the city will come to light at this year's midwinter celebration Winter Nights Winter Lights.
The free, all-ages event, presented by Tauranga City Council, showcases a spectrum of interactive light installations, live entertainment, food and more on four consecutive nights from Friday July 13 to Monday July 16, from 6pm to 10pm.

Internationally and nationally well-known lighting designer Alexandra Heaney will illuminate the central city's waterfront with her iconic, interactive light installation Sweep.

"We've created this piece for Vivid Sydney, where it was on show for the first time," says Alexandra.

"It's fascinating to watch people experiencing Sweep for the first time – it's a pretty special moment and I'm looking forward to see the people of Tauranga interacting with it.

"The slowly moving installation invites the viewer experiencing it from near and far. When viewed from a distance it provides the illusion of suspended light rods bobbing softly and gracefully from side to side.

"Imagine a school of fish in a deep current. However, when viewed up close the effect is very different. If you walk through Sweep you will feel confused and get a sense of intimidation as the large individual lights move ominously above and around you.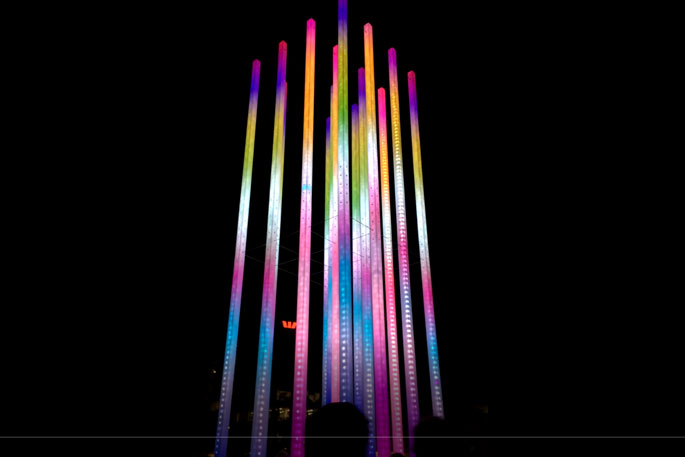 "I love seeing people wonder as they stare at Sweep. The large scale of it really intrigues children, and I love that."

The installation comprises one hundred acrylic tubes, standing four metres tall with three sections of light implanted inside (all LED- controllable) each stem.

In addition to Sweep, an outdoor projection will turn a key wall in the city centre into a temporary art installation, unique to Tauranga. The animated projection by local artist Sam Emerson will pay tribute to our beautiful city, its distinctive spaces and places and our vibrant community.

Visitors can experience iconic features of the Tauranga waterfront in a new light.
They will be lit up by an array of fairy, festoon and multi-coloured lights, turning the area into a magical night-time wonderland.

A range of live entertainment invites residents and visitors to not only watch, but to participate in the activities.
Tango in Tauranga will perform one show on Friday and Saturday night with the finest Argentinian Tango dancers on the Dance-O-mat down at The Strand.
Everyone is welcome and encouraged to join in for a dance under the lights.

A local group of bucket drummers from Fuse Drumming will inject light and rhythm into Wharf Street.

Winter Nights Winter Lights offers the chance for everyone to become a piece of art thanks to glow in the dark paint.
The little ones as well as the grown-ups can get their face painted for free with the facial artworks coming alive in the UV zone at the Edgewater Fan.


A range of food trucks will park up at the waterfront and serve all types of cuisine adding to the range of restaurants in the central city.
From doughnuts, crepes, churros, dumplings and sushi there will be something for everyone.
People can come into town at any time they wish between 6pm and 10pm, grab a bite from the food trucks or from any of the many bars and restaurants in the central city and enjoy the night.
Stay up-to-date with the Facebook event: https://www.facebook.com/events/2085560048322081/