A man shot dead at a house in Hamilton overnight was in bed with his partner at the time.
Robert Nelson, 23, has been named as the victim of the shooting at a house in Matthews Crescent in suburban Melville early on Sunday.
A 20-year-old woman, understood to be his partner, and 17-year-old man, both from Hamilton, were seriously injured and are in Waikato Hospital.
A hospital spokesperson said the woman was in a serious condition in the High Dependency Unit and the man was critical in the Intensive Care Unit.
The shooter remains at large.
Two armed police officers guarded the brick home in the small suburban street of no more than 10 houses on Sunday.
Waikato police reported they were called to 4 Matthews Crescent around 1am on Sunday when one of the victims called 111 after shots were fired inside the house.
On Sunday, Erin Nelson confirmed her brother Robert was fatally shot.
A Matthews Crescent neighbour who declined to be named said she heard three loud shots about 1.50am. She was up watching videos in her son's room, looked out the window and saw a person running to a waiting vehicle. The vehicle had a driver waiting.
She said the vehicle was like a people mover, but with a flat top. She wasn't sure of the colour. She spotted just the two occupants.
The vehicle took off and turned right into Minifie Avenue.
The neighbour knew the family involved. Nelson, who was killed, was "a really nice guy".
"I know the young guy. I used to talk to him many times."
She confirmed the occupants are connected to the Mongrel Mob, but said they were very quiet and never caused any problems.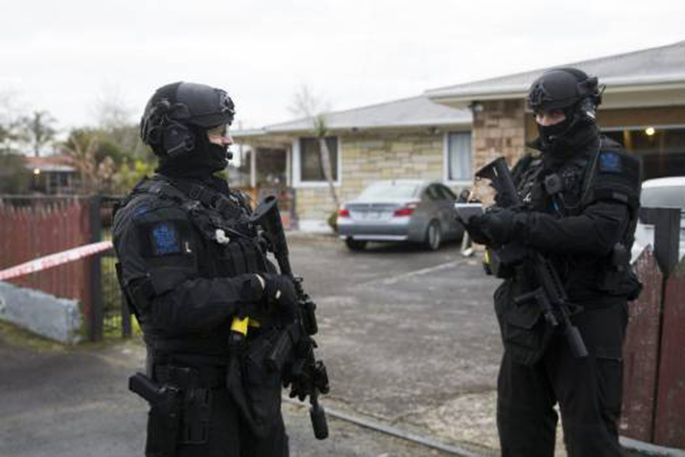 A second woman who lives in the small crescent also described the occupants of the house as lovely, particularly the Mongrel Mob member in his 40s who lived there. She didn't take much notice of who came and went, however, and was unsure how many people lived in the house.
They'd been in the house for several years, she said, and had never had a party or created any disturbance in the street.
At least four AOS members in full bulletproof gear and armed with rifles were at the scene overnight. Two late-model BMWs - one silver, one white, a 1351 - are sitting in the driveway.
Three young family members who looked to be in their 20s, related to one of the victims, left the house about 8.20am on Sunday. They refused to comment.
Detective Senior Sergeant Ross Patterson said a scene examination by ESR scientists will take place on Sunday.
Anyone who has with information relating to the fatal shooting is asked to contact the investigation team at the Hamilton police on 07 858 6200. Alternatively, information can be left anonymously with the Crimestoppers on 0800 555 111.
- Stuff