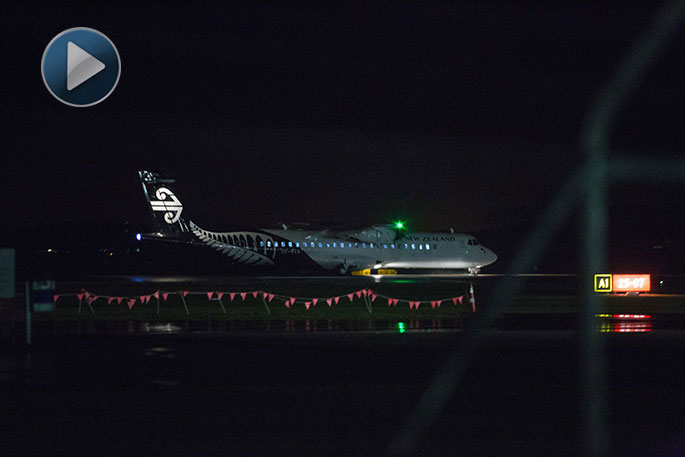 Click the image above to watch the video
A plane struck by lightning has landed safely at Tauranga Airport.
Flight NZ8262 was inbound from Wellington when it was hit by lighting just before it landed in Tauranga.
A full emergency was declared around 8.30pm.
A passenger on the flight told a SunLive reporter they got hit by a lightning strike.
"There was a big flash and a very loud bang and the aircraft landed safety about 20 minutes later."
Another person has told SunLive that the lightning strike affected some of the plane's systems.
A video given to SunLive during a police chase in Brookfield shows a lightning strike happening at the same time the plane was said to have been struck.
It can be seen at about eight seconds into the video.
"Although it was terrifying being struck by lightening during last night's flight home from Wellington, I can't speak highly enough of our crew," says another passenger, who wishes to remain anonymous.
"As we were preparing to land there was a flash and load bang in the cabin, followed by a noticeable charred smell.
"Our lovely flight attendant was quick to reassure us that the flight crew would update us when they were finished looking after their immediate priorities.
"The pilots were quick to explain what had happened - lightening had hit the nose of the plane and that they thought everything was fine for landing.
"The flight attendant was eager to make sure all were ok, and to assure us that planes are designed for this.
"I think everyone let out a very deep breath when we finally landed at Tauranga Airport. As scary as everything was I really want to compliment to crew for not only getting us home safely, but doing everything they could to reassure a plane full of understandably frightened people."