The Bay of Plenty Steamers have gone down 31-19 to Canterbury in their Mitre 10 Cup clash at the Tauranga Domain, but forced the Premiership champions to dig deep for the win, and can fairly say a bounce of the ball in their direction at critical times might have produced a different result.
There was plenty to be proud of for the Steamers, who had Canterbury on the back foot for long periods, spurred on by a magnificent crowd of 5113 enjoying brilliant Saturday afternoon sunshine. It was just the greater ability of the visitors to hold their composure when the heat went on in the final quarter which saw them through for the win.
The critical moment in the game which enabled Canterbury to take a significant lead into that final quarter was a penalty try awarded as they had got the better of a scrum hard on the Steamers' line and were going for a pushover try.
Prior to that it had been a classic ebb and flow encounter, with both sides taking the ascendancy for substantial periods.
They had both just scored their third try - Canterbury re-establishing a slender lead at 21-19 with theirs after the Steamers had got their noses in front for the second time in the match.
It was a moment though which left Steamers head coach Clayton McMillan rather bemused, reinforcing his impression that his side were not getting the rub of the green.
His concern was prompted by the sight of his team, in their best period of the match midway through the first half, pinning Canterbury back on their goal line and winning a series of scrums. On several occasions the Steamers' pack looked to be heading for pushover tries only to be thwarted by a penalty infringement by the visitors, but no penalty try was given.
"My view on the game in general is that when you play the Canterburys and those teams that are traditionally strong you've got to make your own luck," he says, "because I generally feel that the 50-50s don't go your way.
"At the end of the first half I saw four or five scrums that looked a lot like that one that they got a penalty try for, and we didn't get one."
Crooked lineout throwing was also a bone of contention for him, and another moment which may have raised his ire came in the second spell as his side were building pressure inside Canterbury's 22 metre line.
The visitors should have gone a man down when their blindside flanker Reed Prinsep cynically knocked the ball out of halfback Richard Judd's hands as he was receiving it from a maul that was marching towards the goal line. The referee gave a penalty but failed to sinbin Princep for a clear deliberate offence.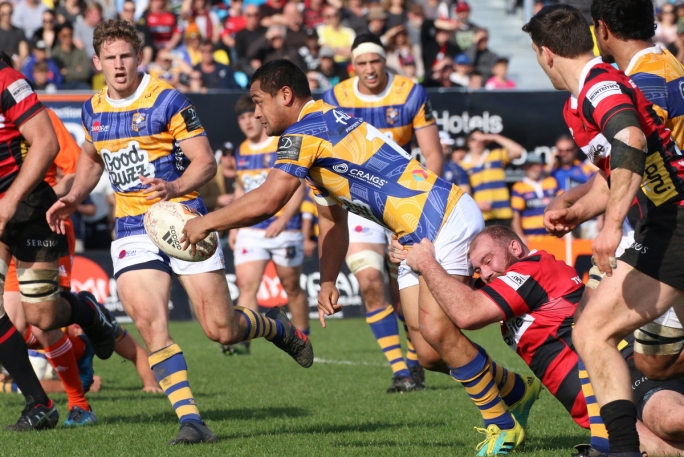 Wing Fa'asiu Fuatai offloads in the tackle of former Steamers hooker Greg Pleasants-Tate
As if anyone needed a reminder of the pedigree of this Canterbury outfit they began the match in storming style, driving the home side back from the kickoff.
They could have had a try inside the first two minutes when winger Josh McKay dived for the left hand corner, but a desperate tackle from Steamers flanker Mitch Karpik drove him over the sideline.
Five minutes later though he did get over in the other corner at the end of a backline move when the Steamers ran out of defence.
From the kickoff it was the home side's turn to open the throttle.
Mike Delany missed a penalty attempt, but the scores were levelled when Chase Tiatia - on the left wing for this match after starting the first two at fullback – ran a smart inside line at a scrum and taking a sharp pass from Judd crashed through some weak Canterbury tackling for the try.
They then had a lead when lock Tyler Ardron found himself at the end of a backline move after the Steamers had laid siege on the visitors' line. The conversion attempt however was Delany's second miss of the day.
It was a shortlived lead, however, as another Canterbury touchdown to prop Daniel Lienert-Brown gave them a 14-12 lead at the break.
The Steamers third try five minutes into the second spell was almost a photocopy of their first, except that this time it was second five Terrence Hepetema receiving a sharp pass from Judd off the back of a scrum and crashing through the Canterbury defence.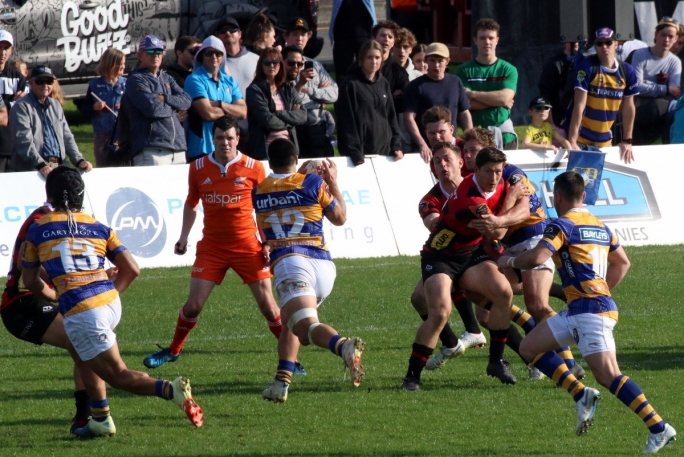 Terrence Hepetema finds a huge gap in the Canterbury defence for his try
Once again the home side were in the lead, but again the initiative soon swung back in the visitors' favour as McKay got over for his second try. Brett Cameron's conversion put them 21-19 up.
Then came the penalty try, and the final quarter that produced nothing for the Steamers other than a few harsh, but valuable, lessons. Two attacking lineouts were lost, and a number of handling errors killed their chances of taking at least a deserved bonus point.
"I don't know if it was a coach killer," says Clayton, "but we'll certainly look back at it and see that we got a little bit frantic. We made some changes and some young fellahs got an opportunity and would have learnt a lot off the back of that.
"Mostly I'm just frustrated because I wouldn't say it was a lost opportunity but I thought we were a bit better than the scoreline probably reflects.
"But it's our first loss and we can get hung up on the aspects of our game that were a bit off today, and there were some, but there were also some great positives.
"Our scrum was really strong in the first half. When we get our game going and we're clinical we can also be ruthless and there were times today when we showed that so our challenge is to just get there consistently."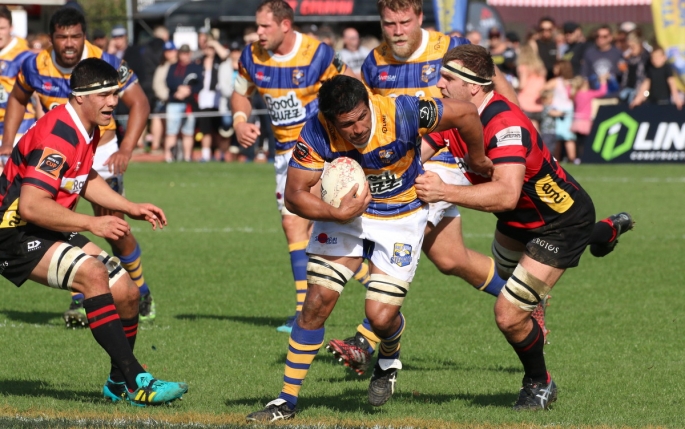 Tanerau Latimer played the full 80 minutes for the Steamers
"The last 15 minutes we just sort of fell to pieces," says co-captain Tanerau Latimer, who was 'blowing a bit' after playing the full 80.
"It's not the end of the world - there's some good learnings for us. We're a young team so we'll build on it, definitely."
He admitted Canterbury were a great team for them to model their game on, but also said he was proud of the good moments they were able to produce, notably at scrum time.
"Oh yeah certainly, especially against Canterbury who've obviously got a good setpiece. So we'll certainly take that and hang it on the hook.
"We'll learn lessons from it and look forward to a game against Hawkes Bay next Saturday."
Despite the loss it was still a memorable occasion for the much-travelled 32-year-old who started a match for the Steamers for the first time since 2013.
"What's not to love, great weather, great pitch and great crowd."
Bay of Plenty 19 (Chase Tiatia, Tyler Ardron, Terrence Hepetema tries; Mike Delany 2 con)
Canterbury 31 (Josh McKay 2, Daniel Lienert-Brown, penalty try tries; Brett Cameron 3 con, pen).
HT 12-14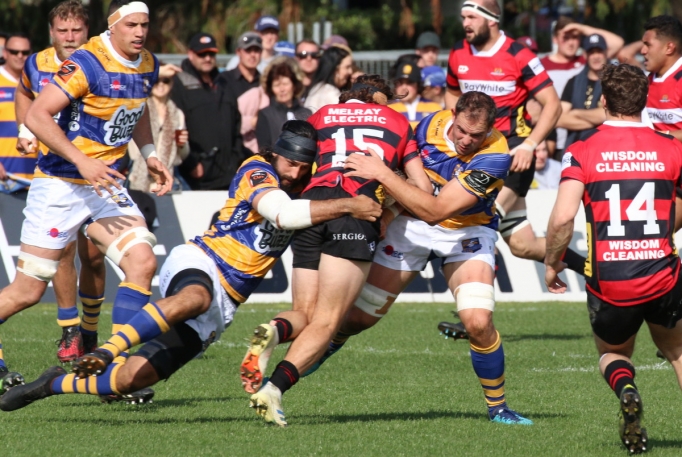 Canterbury fullback George Bridge is not getting past Hoani Matenga and Tyler Ardron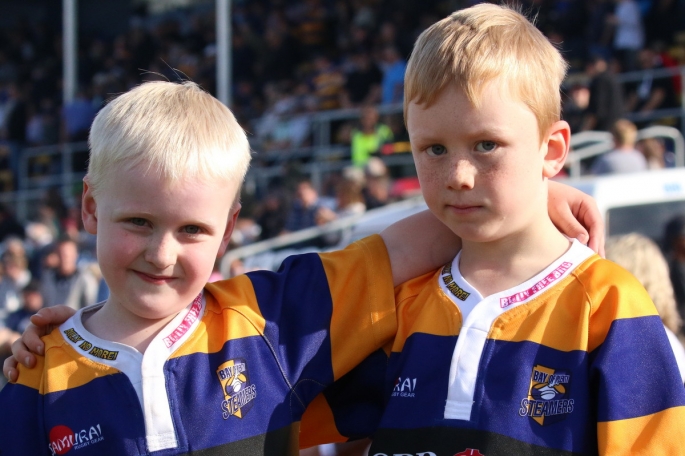 Cousins Lakayn and Liam Gartshore were part of the 5113 crowd at the Tauranga Domain