The more you look at it, the more you see and if you look close enough you might see Where's Wally.
Tauranga Primary School's new mural got unveiled today and it sure is a piece of art.
Students collaborated with local artist Timo Rannali to bring the mural to life, with Timo coming in and helping the students every couple of days.
Tauranga Primary School's principal Fiona Hawes says visual arts was a big focus in term 3.
"We have a brand new building with a big space which is perfect to put this brand new mural."
"The kids have been working on this for the past 7 weeks, everyday a few kids at a time would be painting away."
"It's a neat way for me to give back," says Timo. "A big influence on my art today was teaching art to kids – it helped to develop my style. So, I often go back to schools to talk to kids, or help them with projects like this one."
Timo says what he likes about the Tauranga Primary School mural is it's not just one small group of kids. "It involves the entire school. Every child in the school plays a part in painting the mural – even if it's just one brushstroke."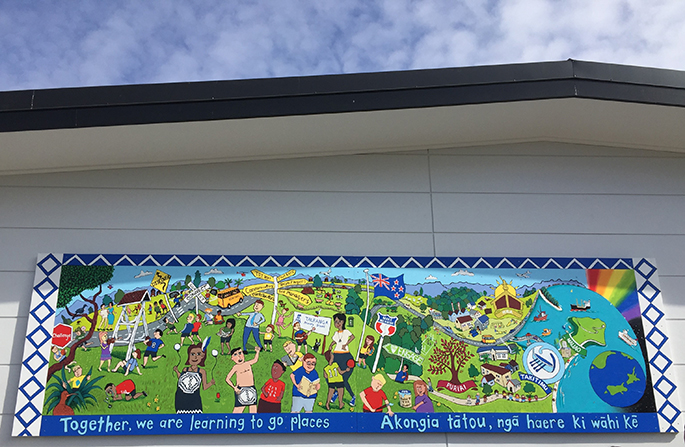 Every student at the school got the opportunity to paint a part of the mural and the junior school took to it so much that they are now working on their own.
Both senior classrooms where in charge of the mural which had split in two.
Teacher Ann-Marie Morris oversaw all of the painting that was going on in the classroom says the students have learned how to work collaboratively to create something beautiful that will last 50 years. It will be enjoyed by all of the Tauranga community."