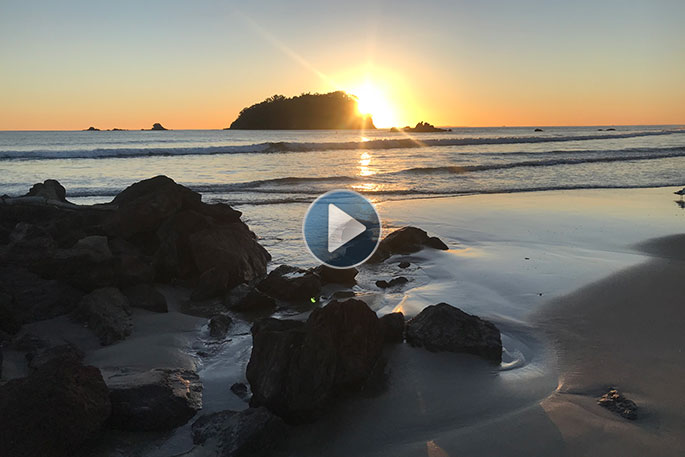 Click the image above to watch the video
In today's forecast we are expecting a fine day with light winds.
It's a three-clothing layer day today with a high of 17 and an overnight low of 7 degrees. Humidity is 79 per cent.
Low tide is at 2.30pm and high tide is at 8.50pm (Tay Street times). There's a sea swell of .5m with a sea temperature of 15 degrees. Sunset tonight is at 5.59pm.
If you're going fishing the next best fish bite time is between 1 and 3pm.
On this day in NZ history in 1914 forty-three miners were killed in an explosion at Huntly. At 7.20am an explosion at Ralph's mine on Raynor Rd rocked Huntly. It was caused by a miner's naked acetylene cap-lamp igniting firedamp - the methane gas given off by coal.
In 1981 the 'Flour-bomb test' ended the Springbok tour. The third and deciding rugby test at Eden Park, Auckland, is best remembered for the flares and flour bombs dropped onto the playing field. Outside the ground, violence erupted on an unprecedented scale.
In world history on this day in 1609 Henry Hudson sailed into what is now New York Harbor aboard his sloop Half Moon. In 1940 the Lascaux Caves in France, with their prehistoric wall paintings, were discovered.
In 1992 the Space Shuttle Endeavor took off on NASA's 50th shuttle mission; its crew included the first African-American woman in space, the first married couple, and the first Japanese citizen to fly in a US spacecraft.
Today is the birthday of singer and actress Jennifer Hudson. Her numerous awards include a Grammy, an Oscar, a Golden Globe and a British Academy awards. Born in 1981, she once said "My grandmother always taught me, 'If you don't have a home, family, and church, you don't have anything.' "
For activities and events, please check out our What's on page.
Have a great day!