A Tauranga business owner has retold the harrowing moment when his workshop was ravaged by fire.
Flames and smoke were seen billowing from the Midnight Motors workshop in Greerton last Thursday, which triggered a response from Greerton, Tauranga and Mount Maunganui firefighters.
"I don't want people to feel sorry for me," says owner Duane Leatham. "I need support and understanding. I don't want sympathy, I just want people to understand the reality behind this."
Greerton Fire from Sun Live on Vimeo.
Duane says he's been at the site of the fire every day for the past week, cleaning out all that remains of his once-thriving business.
"We're here out of respect to our landlord," he says. "I've paid my lease until the end of the month and I'll come back here every day until the end of the month until it's done if I have to.
He says Midnight Motors wasn't just a shop, but his entire livelihood.
"We built a life here and had earned our place as an established business. For it all to end like this just lives a bitter taste.
"I built this place from nothing over four years. It started as just an empty building with a concrete floor and over the course of a few years we built a mezzanine, two separate rooms, a bathroom and a toilet, an office, everything.
"It feels like those four years have just been ripped out from under me. Four years of living, working and dealing with people who love us.
"This was my only income and it's been a week now, so that's one week of nothing coming in. I could get a nine-to-five there's no problem with that, I'm just frustrated."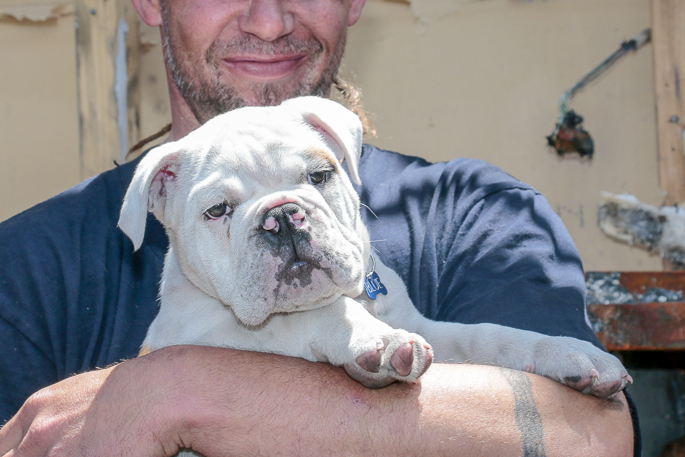 Blue the workshop dog was also in the building at the time of the fire.
Duane, who would occasionally reside at the premises due to a 24-hour call out service offered by the company, says he was upstairs when the fire started.
"I was with my puppy, Blue, when I heard a popping noise. I thought 'that's weird' so I went to investigate.
"As I came down the stairs I realised a fire had started in the corner of the workshop, so I ran back up, grabbed puppy and came back down in a moment of madness.
"In that short amount of time the fire had spread all along the back wall and it was starting towards the stairs.
"I started to panic, I thought 'I don't know what to do here, I can't control this'.
"I ran into the office, which was behind a sealed glass door and managed to grab three sets of keys but the heat was so much."
Duane says he then attempted to open the workshop's electric rolling door.
"I went to find the remote for the door and realised it was upstairs on the bench. I was in panic-station, hard.
"There was no way I could get back upstairs to get it. The whole corner was on fire because that's where we kept our cage of waste oil."
Above that were shelves which he says included standard workshop items, but flammable ones.
"There were 20 litre drums full of paint thinners and brake cleaner, workshop stuff, and all highly flammable. The fire just sort of took off because of it all, there was about 60 litres of flammable liquid spreading all over the floor.
"I think the only thing that saved my life in that moment was a hoist because it had a little hump in it so it helped to redirect some of the liquid to the other parts of the workshop where I wasn't standing. The heat was so much that it even charred the EFTPOS cards in my wallet.
"I had a hoodie on and my denim, I don't know how I didn't get burnt. My hair got a bit charred though."
Duane says during his terror he had forgotten the motor for the door had an emergency button.
"There was a pole standing up against the wall near the roller door and the motor has a little button on the bottom that you can push to lift the door.
"I grabbed the pole and stabbed it at the motor trying to get the button. Thirty more seconds and I would've been a charred mess."
But the door began to open.
"In that moment I felt a sense of relief throughout my whole core. I dove out the gap and got out.
"Anything could have happened, the power could've been cut as I was stabbing at that button, I could have been trapped there trying to get that door open; but for whatever reason I got out and I am very lucky."
In three to five minutes it was all up in flames, says Duane.
The next day he spoke with fire investigators. Their investigation found the fire had been sparked by a lithium battery, stored in a cabinet with a number of other power tools and their lithium battery packs, says Duane.
"The popping noise I heard was the end caps of the cells inside of the battery pack.
"The fire had actually spread a lot further without me realising. The investigator told me when I came down to see what was going on, the fire was probably already happening under the stairs below me.
"Because my line of vision was so focussed on the fire in the corner I wouldn't have noticed – that explains why it felt like the mezzanine all went up so fast."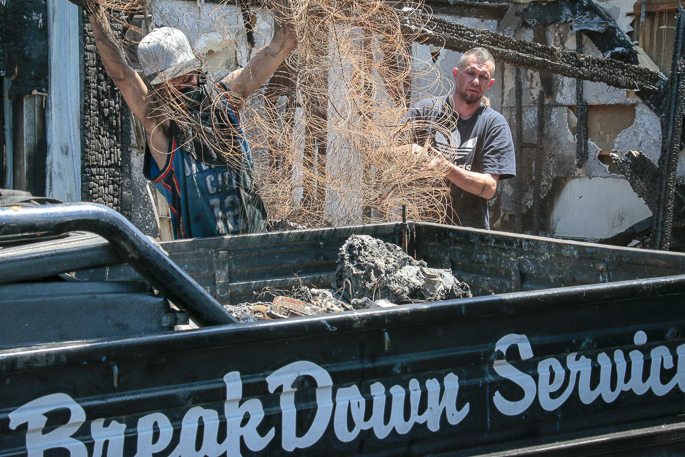 Clearing through the rubble.
He says while he's disappointed in what happened, he's ready to get on with life, to rebuild and restart.
"Blue is the whole reason I went back up the stairs – even my teeth were on the bench. I've lost everything; even socks and undies.
"I'm not in shock I'm p*ssed off and frustrated. I had a Hot Rod I was building, that was worth about $12,000 but now it's good for nothing. It's a charred up mess that I got $128 for from the scrap man.
"We've been around a long time and with our breakdown service it can be a bit time-consuming because you end up having to do so many jobs just so you don't hold up the next day's work, so there's a bit of pressure relieved for me there.
"Financially however, it's a struggle; we still have accountants and suppliers who need to be paid.
"That's reality though, things don't just stop when something bad happens. But like I said if I have to get a nine-to-five so be it.
"People die and life goes on, I'm just thankful that wasn't my fate."
A Givealittle page has been created to raise money to help Duane back on his feet.
Those who would like to donate can do so here: https://givealittle.co.nz/cause/help-midnight-motors