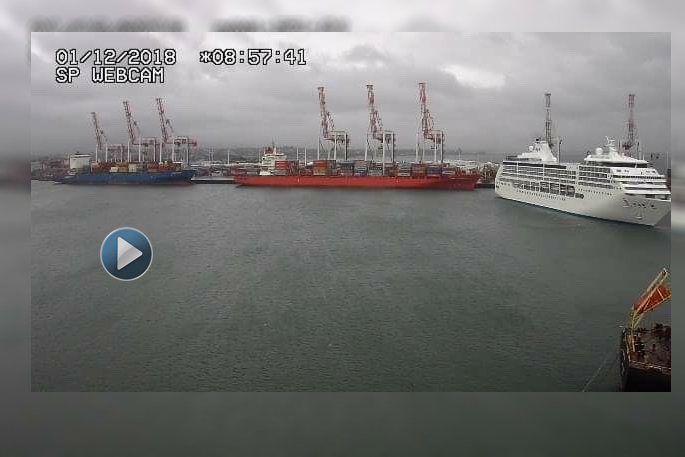 Click the image above to watch the video
Causal onlookers watching cruise ships dock in the Tauranga Harbour on Saturday morning, may have thought that the boat was going somewhere it shouldn't.
The Seven Seas Mariner is operated by Regent Seven Seas Cruises and in 2009, the boat made the news when it rescued an around-the-world-sailor from a crippled sailing yacht west of New Zealand.
An avid boat watcher, who wishes not to be named, says he saw what looked to be an unguided cruise ship, go way too far down the harbour.
"I have never seen a cruise ship do this before and it came very close to a cargo ship berthed at the container cranes.
"I have never seen cruise ships down by the container cranes before. I don't remember seeing this particular cruise ship in port before."
In a statement issued to SunLive from the Port of Tauranga, it says there was no problem with the Seven Seas Mariner cruise ship on Saturday.
"It may have looked unusual to the casual observer because the Port of Tauranga pilot on board used the southern turning basin instead of the northern one.
"This was due to operational requirements at the time.
"Wide, tide, other ship movements, etc are all taken into account."
The 17-year-old boat is currently on a 66 day voyage, one-way from Miami to Sydney which started on October 10. The Seven Seas Mariner docked in Tauranga on December 1.