Students at Papamoa Primary School have taken the front seat to support one of their own during a recent school visit.
The school had the chance to meet ex-student and Mount Maunganui D1NZ driver Kurt Blackie on Tuesday afternoon, ahead of the D1NZ National Drifting Championship 2019.
The four part series kicks off at Mount Maunganui with the NZ Summer Smoke Out event held at Baypark on January 12 and 13.
The visit to his old school saw Kurt hand out 400 free tickets to students, as well as host a meet and greet and an opportunity to see his car up close and personal.
"We wanted to visit one of the local schools and I thought we definitely had to do Papamoa Primary School.
"It's so cool seeing the student's reaction to the cars and being so interested in the sport.
"We want to step away from that boy-racer image that's often associated with drifting and make it more family orientated.
"We're a professional sport so we're wanting to show people this, we want them to know you can bring your families out to the event and actually have a good time."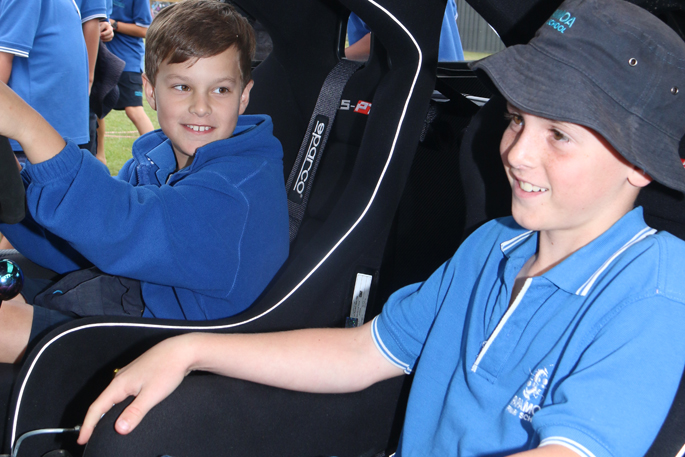 The D1NZ event will be Kurt's second year as a competitor.
"You always get nerves in the lead up, but they're a good thing, they help you out.
"I learnt a lot last year and it's definitely different coming into competitive drifting. You have judges in the competitive category, so you have to go out there and do what they want you to do, not just what you want to do.
"It's different but cool. And it's awesome having fans and crowds see what you do and love it."
He says he's building a younger following.
"I actually had a few children get in contact with me and request I come out to their school here."
Kurt was joined on his visit by sponsor and Cooper Tyres Mount Maunganui owner Ethan Bryant.
"I've been a sponsor of Kurt for the last two years, along with a few other drivers.
"As sponsors we try to support the sport as much as we can. Also as someone who has a car themselves and is actively involved I'm always pushing it and promoting it. That's why I've joined Kurt on the visit.
"We feel it doesn't have enough of a following, so we are inviting along families along to try and build that support.
"It's cool being able to give away tickets to the children, they really love it."
Deputy principal Wayne Whitaker says the school is pleased to be offered an opportunity like this.
"The children absolutely love it. Anything that brings what's happening out in the community into the school is always something we're willing to get behind.
"It's just another way to build community connection, so there was no hesitation when we were offered this.
"These drivers deserve a decent promotion too, they're bringing something new to Tauranga and of course we're always willing to welcome back our former students."