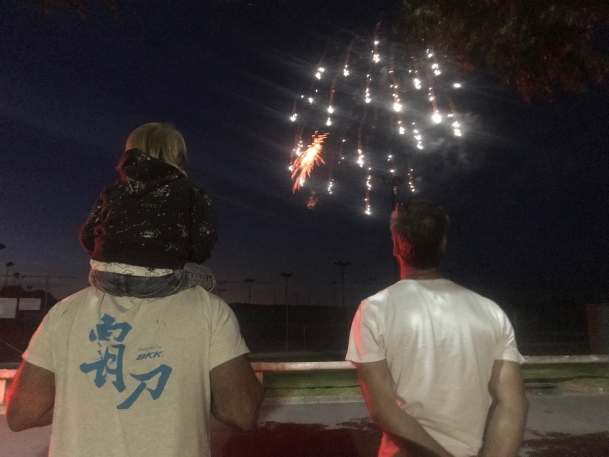 Click the image above to watch the video
The sky over Tauranga erupted with three sets of fireworks at 9.30pm and again at midnight.
The earlier fireworks were timed to bring the family celebrations to an end in Matua, downtown Tauranga and Papamoa.
At the Gordon Spratt Reserve in Papamoa at 9.30pm, Will Johnston from The Hits counted down from ten, with the crowd joining in. On reaching 'one', as he paused, looked up, and said 'Fireworks! Hopefully!', the sky behind him burst into a display that lasted about five minutes.
There were plenty of 'ohhhs' and 'ahhhhs' from children who had enjoyed over three hours of entertainment, music and fun.
The band on stage -The Generators - played 'Auld Lang Syne' on their guitars and many of the crowd moved through the carpark to get a closer view of the fireworks.
Fireworks were also let off at 9.30pm at the Fergusson Park and The Strand celebrations.
At midnight, fireworks again burst into the sky across Tauranga, ringing in the New Year.
On The Strand, hundreds gathered to watch, lining the Waterfront, standing on the pier and sitting on the steps.
The fireworks were set off a couple of hundred metres from shore, and easily viewed by all watching.
As the fireworks display continued, delighted revellers also jumped fully clothed from the waterfront pier into the harbour to the cheers of bystanders.
The midnight fireworks brought to an end the three very well organised evening events. Hundreds of people enjoyed the celebrations and there was a high level of satisfaction and enjoyment from those who participated.