The national disc golf championships have started in Tauranga as 98 players get their swing on to become winners in their field.
The 2019 NZ Disc Golf Championships started at McLaren Falls Park on Thursday with the mixed and open New Zealand Doubles Championships, and an opening ceremony to commence four days of disc golf festivities.
Disc Golf is a flying sport in which players throw a disc at a target. Using rules similar to golf, players complete a hole by throwing a disc from a tee area towards a metal basket, while avoiding obstacles like trees and water holes.
Players carry a range of drivers, mid-range and putting discs and the holes have par 3, 4 or 5 with the aim of making each target in as few throws as possible.
Tournament co-director Haydn Shore says this year's 41st national champs has attracted 98 competitors from New Zealand, Australia, USA and Europe.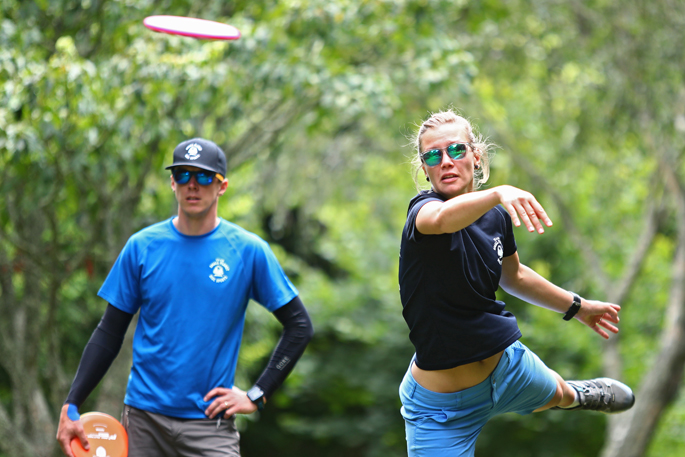 Queenstown players Liene Krastins and Roberts Krastins. Photo: John Borren.
New Zealand is ranked at number three in the world behind the USA and Canada and Shore.
Divisions include Mens Pro Open, Womens Pro Open, Mens Pro Masters 40+, Mens Amateur Open, Mens Masters 40+, Mens Masters 60+, Womens Amateur Open, Womens Masters 40+, and Junior under 15 Mixed.
Winner of NZ's Biggest Pro Purse will receive a prize currently sitting at $3500 and Gull NZ Disc Golf Putting Championships winners will receive $1000.
"McLaren Falls Disc Golf Course has everything a good course needs - plenty of variety of shots, challenging elevation changes, native bush, water hazards, an onsite lodge and beautiful scenery. The McLaren Falls course is rated as one of the best in the country," says Haydn.
"There's lots of courses around the country, but McLaren Falls has all of the aspects to make a world class course. It has gradient, so sometimes you'll be able to tee off what feels like a mountain top.
The course has also been extended to accommodate more players, and now sits at 30 holes instead of 18, providing additional challenges to an already demanding course.
As well as the main event, there will be field events including two exciting short formats - the Discshop NZ Longest Drive and Gull NZ Putting Championships. There will also be night golf, live music and a banquet on the Saturday night, with players invited to stay on and enjoy the festivities.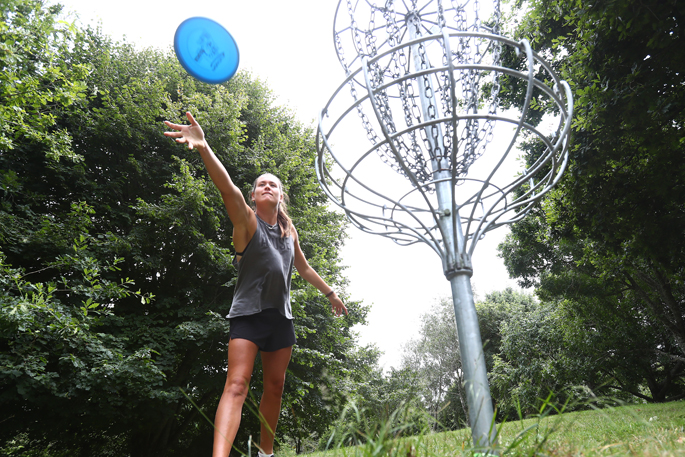 Tauranga player Julia Conway. Photo: John Borren.
There will be live video feeds, live scoring and a big screen for watching other players.
Spectators are welcome to come along to the events. The 2019 NZ Disc Golf Championships will be running until February 10 at McLaren Falls Disc Golf Course at 190 McLaren Falls Road.
Friday, February 8
10.30am- Gull NZ Putting Championships Qualifying Course Open
7pm- Discshop.co.nz Longest Drive Qualifying Closes - Top 10 Qualify
7.45-8.15pm- DiscShop.co.nz - Longest Drive Finals
8.30pm- History of NZ Disc Golf (short speeches by some of NZ's Disc Golf Legends)
Saturday, February 9
7.45am- Discmania NZ disc golf championships – 30 holes
10.30am- Gull NZ Putting Championships Qualifying Course Open

6pm- Gull NZ disc golf putting championships
9.15pm- Finals - Under lights on new finals course LIVE FEED
Sunday, February 10
7.45am- Discmania NZ disc golf championships – final 9 holes
2pm- Prize giving