Developers of Tauranga Crossing are delighted to announce the official grand opening of Stage Two of the enclosed mall.
Doors will officially open at 9am on Thursday April 4, with live music and entertainment, giveaways and an official opening ceremony with Tauranga's Mayor, Greg Brownless.
Joining international fashion retailer H&M at Tauranga Crossing will be a number of firsts to the country and region including Edge Clothing, who've chosen the mall as their first location in New Zealand, and Solect, a fashionable footwear brand opening their first ever store.
"We're stoked to open our first store in New Zealand at Tauranga Crossing," says David Englert, Marketing Manager at Edge Clothing.
"New Zealand has been on our radar for some time now and we choose Tauranga as the location for our first store in the country because of the growth of the region. We know the customers will really love our unique brand and product mix."
Shae Borman, Solect National Retail Manager, also explained why the brand chose Tauranga Crossing for their first store,
"For us it was an easy decision, we were looking for a location in the Bay that had a mix of local and international brands, extended shopping hours, dining and entertainment.
"A place with the ability to grow as the population continues to boom. Tauranga Crossing ticks all of those boxes, and as a local myself it's also very special to me that the first location for Solect in New Zealand is here."
Australia's leading fashion lingerie retailer, Bras N Things, and premium fashion brand City Chic will also open at Tauranga Crossing, their first stores in the area.
Popular footwear brands, Skechers and Maher Shoes and beauty clinic Nude Skin and Laser Clinic also chose the new mall as the location of their first stores in Tauranga.
The centre will also welcome some of New Zealand's most beloved fashion brands Cotton On, Cotton On Body, Cotton On Kids, Merchant 1948, Max Fashions, Just Jeans, Hannahs, Sunglass Style, North Beach as well as women's activewear specialist Aim'n.
In addition to the great list of fashion retailers, contemporary jewellery house Michael Hill, stationary experts Typo, florist Lily's Florist and beauty stores Shampoo 'n' Things, Vish Beauty Bar and Tauranga Crossing Dental and Life Pharmacy will open in April, along with Logo Express and Muffin Break.
"We've been working on Stage Two of the enclosed mall for some time now and we are delighted to announce the official opening date and welcome people into their new mall," says Steve Lewis, CEO of Tauranga Crossing.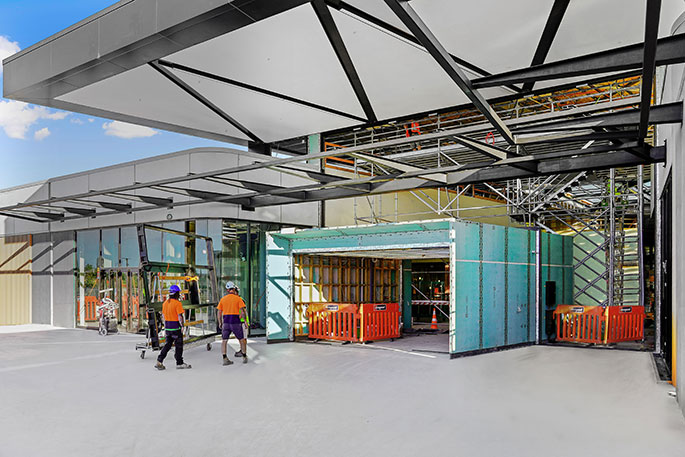 Stage two entrance.
"Tauranga Crossing is a retail destination for the people of Tauranga to be proud of and a place that visitors from across the country will want to experience.
"We look forward to welcoming our community to Stage Two of the enclosed mall at Tauranga Crossing on Thursday 4 April."
Tauranga Crossing Centre Manager, Andrew Wadsworth, added, "It's a testament to the growth of the region to have an international retailer like H&M opening in the Bay of Plenty and we can't wait for them and all of our other retailers, eateries and entertainment to open to the public next month."
Along with the eclectic range of retailers, Event Cinemas will anchor the entertainment precinct and feature the largest cinema complex in the Bay of Plenty region with 800 seats. The Event Cinema complex will include the first Vmax screen with full recliner chairs and double day beds to enjoy the latest movies, live sports and music concerts.
Located over two levels, the dining area within the enclosed mall will be located adjacent to the Event Cinemas complex. The upper level, known as The Observatory, will introduce a selection of firsts to the Bay of Plenty including Hawker and Roll, Bird on a Wire, Ramen Ippin and Mad Mex.
The lower level, known as The Garden Eateries, will provide a more casual dining experience in an internal and external garden setting, featuring a variety of delicious cuisine from around the world including Indian, Mexican, Thai, Japanese and more. Several eateries will be new to Tauranga including Epiphany Cafe, Krung Thep Thai Street Food, Otto's, Happy Valley and Kiwi Grill. We will also have local favourites Barrio Brothers and Hello Sushi, as well as well-known names Shamiana, Tank Juice Bar and KFC.
Muffin Break, Majestic Tea Bar and Boost Juice will also feature within the enclosed mall.
Following the opening on 4 April 2019, the 47,000 sqm shopping complex will house up to 80 fashion, general merchandise, and service retailers along with 29 restaurants and eateries within the two-level mall galleria and dining area. The shopping centre complex will be serviced by more than 1800 carparks.