The day stayed sunny with high clouds overhead as the Marra Sprint Triathlon returned for the 32nd year at Mount Maunganui on Sunday.
The event attracted an illustrious world champion and some younger competitors hoping to beat him to the finish line.
Hundreds of people came to watch and cheer on the 400 competitors who took to the water for the swim leg, and then continued encouraging them through the cycle and running sections of the triathlon event.
Husband and wife Javier Gomez (53:54) and Anneke Jenkins (58:35) won the men and women's Sprint races, respectively.
Dylan McCullough (55:06) was second in the men's race, and Malcolm King (56:50) third.
In the women's race, Ari Graham (1:00:30), and Issy Coombes (1:01:22) came in second and third.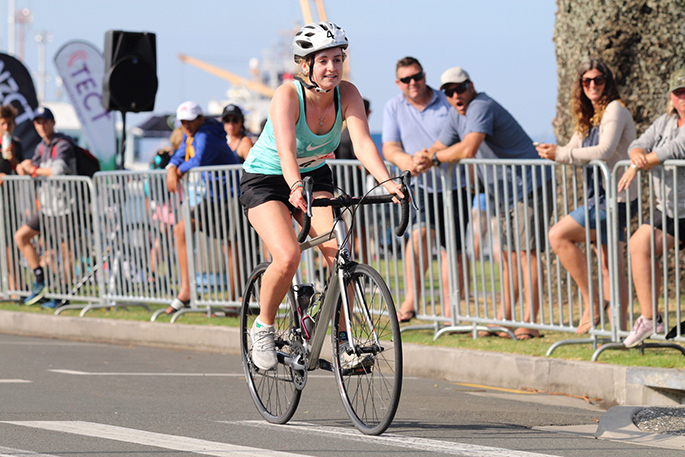 The Sprint race involved a swim of 750m, bike of 20km, and run of 5km. The Monster for 12 – 16 year olds and Short course for adults both had a swim leg of 400m, bike – 10km, run – 2km. The Mini for 6 – 11 year olds was a swim of 100m, bike – 2km, and run – 1km.
"Everyone was really enjoying it," says Triathlon Tauranga Events & Development Manager Paul Miller. "Some came up from Christchurch and Invercargill to compete in the junior elite race. Usually we have quite a few people turn out but it was a quieter day, with maybe only 500 spectators at most."
Paul says about 220 competed in the sprint distance race, and about 180 children and adults racing the short distance races.
"We had about 120 Juniors - the 6 to 12 year olds," says Paul. "And then our new race, a short course, had about 50 adults.
"The new short course race is to try and encourage adults to get into the sport."
The Monster and Short Course races started at the same time, following the Mini race. After that the Sprint Junior, a qualifying stand-alone race was run, and then the open race for men, women and teens 16 and over.
The Minis female race was won by Caoilinn Gray (11:52), second place went to Alexandra Tilby-Adams (14:27) and third place to Pearl Brodie (14:27).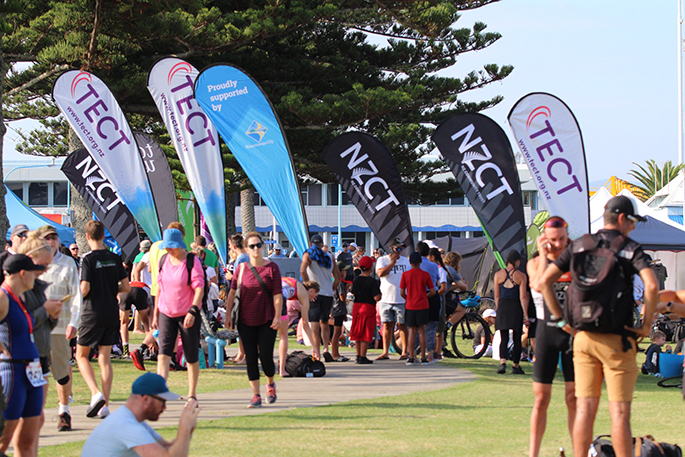 The Minis male race was won by Kadin Nogaj (12:04), second was Kyran Moyle (12:46) and third was Sam Coley (12:51)
The Monsters female race was won by Morgan Overington (32:37), second place was Seana Gray (32:43) and third Sophie Hay (34:30).
The Monsters male race was won by Sam Parry (29:27), second was Matthew Ney (30:16) and third was Kallum Mardon (30:57)
The Marra short course female race was won by Courtney Elliott (33:26), second was Annaliese Horne (39:47) and third was Jess Kerr (40:13). The short course male race was won by Shem Bambury (35:06), second was Michael Anger (44:50) and third was Tom Tanaka (46:47)
The Sprint Tri NZ Juniors female race was won by Hannah Knighton (1:01:45), second was Olivia Cummings (1:03:41) and third was Natalya Carter (1:04:26).
The Sprint Tri NZ Juniors male race was won by Reuben Thompson (55:13), second was Lachlan Haycock (56:24) and third was Jaxon Taylor (56:40)
The Marra Marathon was first held in 1988.
"There was a lady who raced today who was in the very first race back in 1988," says Paul. "She hasn't raced every year since then, but it was great to see her out there today."
It was clear though that the open race was the main talking point of the day's event with Javier Gomez from Spain seeking to qualify to go to the Tokyo Olympics in 2020. The club was delighted to have him racing at the event, adding quite a lot of athletic lustre to the day.
"Those athletes have to start qualifying now," says Paul. "They race in the world triathlon series to score points. It's an honour to have someone of his calibre here. He starts his campaign in New Plymouth in two weeks' time."
Dylan McCullough came second in the open despite, according to Paul, being eligible to race in the juniors.
"Dylan's already qualified for Switzerland," says Paul. "He won the gold at the Youth Olympic Games at Buenos Aires, and is an up and coming NZ triathlete.
"Two weeks ago he won the junior men's at the Sprint Triathlon Oceania Championships in Devonport, Tasmania. He was keen to race against Mr Gomez. He swam and rode with Javier and then got out run by him."
Paul also commented on what he felt was an extremely talented group of women who won the first three places.
"Anneke, Javier's wife, has been training with him in Tauranga over the last couple of months," says Paul. "It's been great having them both here."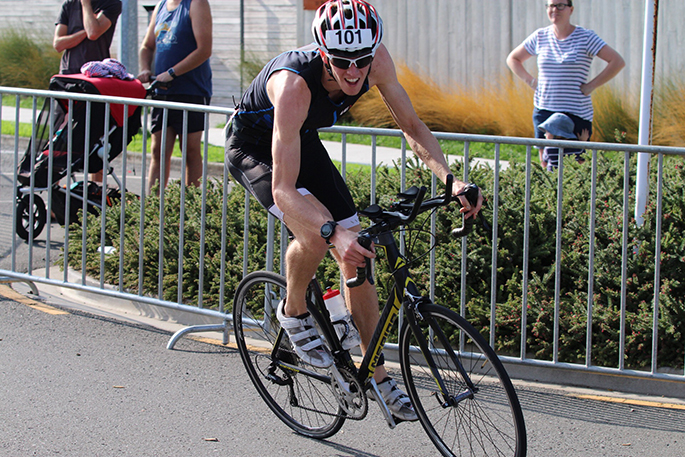 Former Otumoetai College student Anneke Jenkins met her future husband Spanish triathlete Javier Gomez while training in Wanaka. They married in December 2018. Gomez is a five-time ITU World Champion, an Olympic silver medallist and a triple ITU World Cup champion.
"Issy is quite new to the sport and used to play football. And Ari represented NZ last year in the Junior Elite. She's part of the Tri NZ High Performance Squad. Extremely talented bunch."
Christchurch born and bred, Ari has been living in Cambridge training at the Triathlon New Zealand high performance centre.
Despite the day being overshadowed by the tragic shootings in Christchurch, the club continued with the event.
"As sad as it is, we're not going to let what one person has done to get in the way of New Zealanders," says Paul.
"As a club we run four races a year and the Marra was the last one. It's been a successful season for us and as a club we're very happy. We're here to provide a service for most of the community, and it's about getting people out and active and participating in the sport.
"It's quite a good family event now as there's a race suited for everyone, and it's a good family morning out."
The next season starts in November.