As the Government promises gun law reforms in the wake of the Christchurch terror attack, some Kiwis have already started voluntarily surrendering their legally-held weapons.
Prime Minister Jacinda Ardern on Monday says that several "in principle decisions" on gun law reform have been made by Cabinet, after the mosque attacks which has left 50 people dead.
John Hart, a sheep and beef farmer for 15 years, says he took his semi-automatic weapon into Masterton police station on Monday as he "couldn't in all conscience" keep the rifle after seeing the loss of life in Christchurch.
"Until today I was one of the New Zealanders who owned a semi-automatic rifle. On the farm they are a useful tool in some circumstances, but my convenience doesn't outweigh the risk of misuse," he posts online.
Jacinda applauds those who have voluntarily surrendered their guns to police, and says others could do the same, Stuff reports.
"Within 10 days of this horrific act of terrorism we will have announced reforms that I think will make New Zealanders safer," she says.
John says he uses his rifle occasionally for pest control but semi-automatic guns were not really needed on his farm. "Since the events on Friday I had been thinking a lot about the firearms we have here on the farm... They [semi-automatic weapons] are not critical, not if the trade off is loss of life," he says.
While it can be useful "to have a second or third shot", that is "a minor inconvenience" compared to using a safer bolt-action rifle for the same jobs, John says.
Police figures show that nearly 7000 New Zealanders are endorsed to have military-style semi-automatic guns - similar to two of the guns carried by the accused mosque murderer.
Police are asking owners wanting to surrender semi-automatic or other firearms to call their local police station or arms officer first for advice on safe transport and to alert staff.
"Walking up the long courtyard to the Masterton police station, towards a stone-faced policewoman guarding the door holding an AR15 at the ready, while I'm carrying a rifle (in its case) was, let's say, a puckering experience," John says.
In the Bay of Plenty, there are 682 E-category gun licences held, which is the fifth highest behind Canterbury, Waitemata, Southern and Central areas.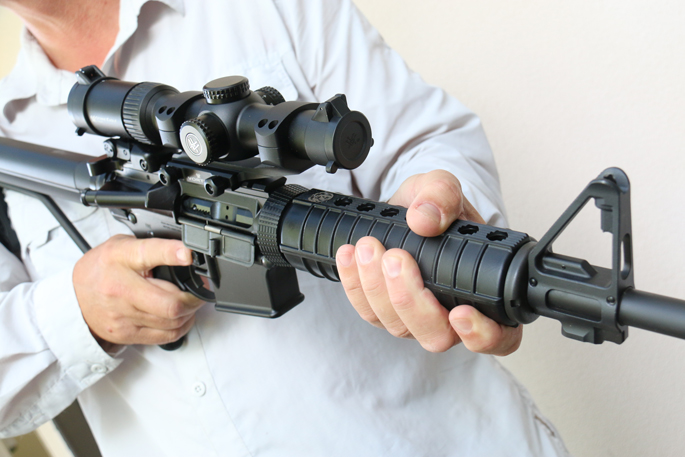 Twitter user Blackstone had also handed in his weapon. "Since I first heard about the atrocity on Friday afternoon I have reflected and reserved my thoughts. Monday morning - this is one of the easiest decisions I have ever made. Have owned a firearm for 31 years," he tweets.
"Thanks for all the kind comments... Quite overwhelmed by the positivity," he later adds. "This is Aotearoa. We are strong."
John has been similarly overwhelmed by the response online, of which the "vast majority has been positive", including from fellow farmers. "I had a message from a friend of a family who had lost someone in the Christchurch attacks," he says. "That brought me to tears."
John supports government action banning such weapons, saying that relying on a voluntary amnesty would mean they would "be around for decades to come". "I think the only way is to enforce a ban," he says.
Federated Farmers says there is still need for semi-automatic guns on farms, but not military-style weapons.
Spokesman Miles Anderson says A-category guns were used for shooting pests and "euthanising large animals such as cattle", but he said there was no need for E-category guns, which were already quite uncommon.
Council of Licensed Firearm Owners secretary Nicole McKee says the banning of a category of firearms would not necessarily stop similar shootings but, if a proper government inquiry found that was the case, her group would support a ban.
Hunting & Fishing New Zealand is pulling all military-style semi-automatic firearms from sale nationwide.
Jacinda has advised against prospective gun-owners making purchasing decisions in the coming days.