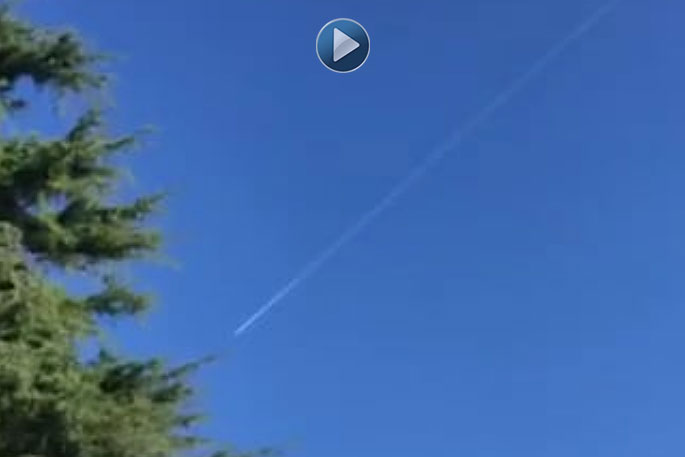 Click the image above to watch the video
A strange streak in the sky is being put down to a vapour trail thought to have come from an aircraft.
Chris and Amber Wyatt sent a video to SunLive show the trail, which appeared to be emanating from the sun.
"It was taken at 2.44pm on Tuesday in the Waikato. It looks like it came from the sun."
SunLive contacted the Tauranga Astronomical Society to see if they could shed some light on the video.
"It is indeed an aircraft contrail (condensation trail)," says David Greig.
"We don't often see contrails from Tauranga due to flight paths, altitude and temperature etc."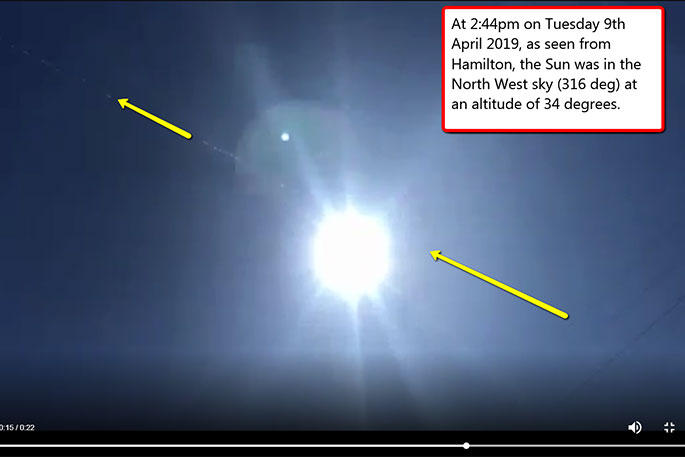 At 2:44pm on Tuesday, as seen from Hamilton, the Sun was in the North Western sky at an altitude of 34 degrees, says David.
"This indicates to me that the flight was most likely from Auckland and flying south, probably just one of the New Zealand domestic flights (to Wellington or Christchurch etc).
"I have not been able to identify the exact flight using Flightradar24 but I have no doubt whatsoever that it is just an ordinary aircraft contrail we see in the video."
The trail is reported to have been seen in Auckland, Raglan and Hamilton.
Other media have reported that the trail came from a Royal Australian Air Force C-17 aircraft.
About the Aircraft
The C-17A Globemaster is a high-wing four-engine heavy transport aircraft. It is fitted with a cargo bay ramp that allows it to airdrop cargo in-flight, and can operate from unsurfaced runways as short as 3500 feet.
Able to carry up to 77 tonnes of cargo, the C-17A's cargo bay can accommodate loads ranging from:
an Abrams Tank;

four Bushmaster vehicles; or

three Black Hawk helicopters.
It can also be converted to a medical rescue aircraft.
The C-17A can be refuelled in-flight by the KC-30A, extending its range further.