The Coalition Government will not proceed with the Tax Working Group's recommendation for a capital gains tax, Jacinda Ardern announced today.
"The Tax Working Group gave the Government, and the country, an opportunity to look at the fairness of our tax system and debate options for change," says Jacinda Ardern.
"All parties in the Government entered into this debate with different perspectives and, after significant discussion, we have ultimately been unable to find a consensus. As a result, we will not be introducing a capital gains tax.
"I genuinely believe there are inequities in our tax system that a capital gains tax in some form could have helped to resolve. That's an argument Labour has made as a party since 2011.
"However after almost a decade campaigning on it, and after forming a government that represented the majority of New Zealanders, we have been unable to build a mandate for a capital gains tax. While I have believed in a CGT, it's clear many New Zealanders do not. That is why I am also ruling out a capital gains tax under my leadership in the future.
Watch the full announcement here:
"The Tax Working Group was a valuable exercise that has delivered some useful suggestions well beyond just the debate on CGT, and I want to thank the Group for its work. In fact the majority of recommendations will either be investigated further or have formed part of our work programme.
"There are other things that can be done to improve the fairness of our tax system. As such the Coalition Government has agreed to tighten rules around land speculation and work on ways to counter land banking.
"Work will also continue to cut red tape for business and crack down on multi-nationals avoiding paying their fair share of tax in New Zealand. We have already made changes to address base erosion and profit shifting, and we will shortly release a discussion document on options for introducing a digital services tax.
"My job now is to focus on the things we can and are doing to improve the wellbeing of all New Zealanders.
"The Coalition Government is addressing the long-term challenges New Zealanders face such as mental health, climate change and child poverty and responding to the March 15 terrorist attack and keeping New Zealanders safe. Those challenges will be my priorities for the remainder of this term."
Govt responds to Tax Working Group report
The Coalition Government today released its response to the recommendations of the independent Tax Working Group report.
The report found that on the whole New Zealand's tax system was working well, but made a number of recommendations to improve fairness, balance and structure.
The Government is not adopting any of the recommendations on capital gains taxation and has agreed no further work is necessary on that aspect of the report.
"The final report covered all aspects of the tax system, and a number of the recommendations will now be considered for inclusion in the Government's Tax Policy Work Programme," says Grant Robertson.
"That includes exploring options for targeting land speculation and land banking.
"We intend to direct the Productivity Commission to include vacant land taxes within its inquiry into local government funding and financing," says Grant Robertson.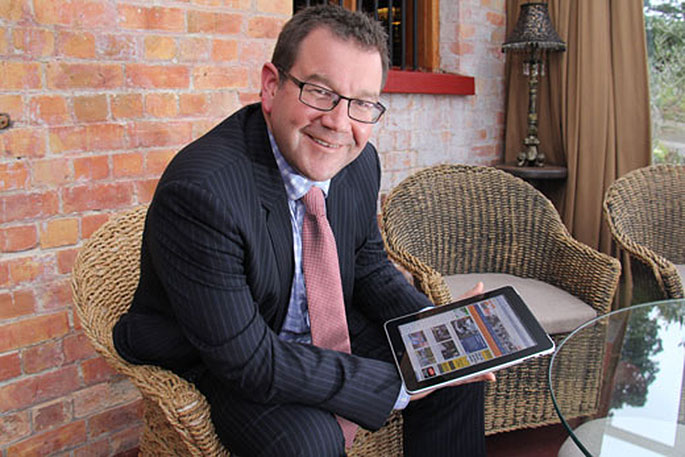 Grant Robertson.
"Officials have been directed to prioritise work on the TWG's recommendations on ways to encourage investment in significant infrastructure projects and improve the integrity of the tax system to crack down on tax dodgers," says Stuart Nash.
A refreshed tax policy work programme will be released mid-year.
The Coalition Government reiterated it will not introduce resource rentals for water or a fertiliser tax in this term of Parliament.
Other priorities for the Government this year include progressing legislation for research and development tax incentives; GST on low-value goods from offshore suppliers; a discussion document on a digital services tax, and further work to ensure multinationals pay their fair share of tax.
Grant Robertson and Stuart Nash thanked the Tax Working Group members for their work
A summary of the Government's responses to the recommendations is attached.