National New Zealand and Australian dancing champion Austin Taylor needs help to compete in Florida and London this year.
Representing New Zealand at Australia's Follow Your Dream competition, held in the first week of January in Melbourne, the 13-year-old Tauranga lad was crowned the Australian National Champion for his age category.
Part of the prize was winning entry into the Hall of Fame dance challenge in Florida in July 2019, and entry into the UK Nationals in London in September.
The challenge for him now is how to pay his own way in order to get there.
"It was an amazing experience winning the Follow Your Dream competition, and I absolutely loved it," says Austin. "I learned so much and I'm still buzzing from it."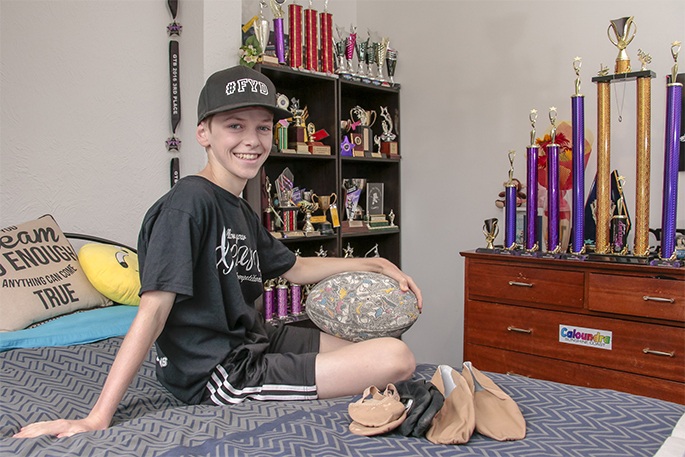 The shelves and drawers in Austin Taylor's room are stacked with awards. Tall purple, gold and red trophies, plus cups, certificates, stars and ribbons - they fill a corner and spread along two walls.
At the top of his bed, a sunny smiley cushion is propped up against another featuring the words: "If you dream big enough, anything can come true."
Whilst he dreams big, Austin also works very hard pursuing those dreams, spending around 15 hours a week practising.
His mother, Alisha, caught me up on Austin's dance results from 2018 alone.
"He was winner of the Follow Your Dreams Tauranga Regional pre-teen championship, which qualified him to go to the Australian Nationals in January," says Alisha.
"He was also the national winner of the Year 8 Dance NZ Made held in Palmerston North, and second runner up in the NZ Dance Awards for NZ Dancer of the year in Christchurch."
Austin has competed across a range of styles, including ballet and jazz. He was the most promising male ballet dancer in the Bay of Plenty in 2018, winning a scholarship, and also won the jazz championship at the Rotorua Dance Festival.
He came second in the NZAMD Jazz Scholarship held in Wellington, and was chosen out of 160 nominations to win a $1000 cash prize, which helped pay for his flights to the Melbourne competition.
He was a scholarship winner at the Kairous Dance Convention in Auckland and a guest performer at the Dance Force Grad Tour Show, also in Auckland.
He's been the guest performer at the Tauranga Russian Cultural Festival and the Fresh Moves Dance Festival. The pinnacle of all this has, of course, been winning the Australian Follow Your Dreams competition.
"The standard of competition was very high, with large numbers of dancers in each solo section in Melbourne," says Alisha.
"Austin was the youngest of six selected finalists from many video entries for the ballet trip to the San Diego Ballet company, and got to perform his classical dance in front of a representative judge who flew over especially for it.
"He was awarded a Judge's choice 'Golden Ticket', with only a few awarded throughout the week of the competition in Melbourne, and the competitors then had a dance-off for a trip to Los Angeles.
"His personal goal was to make it through to the top three in the 13 years dance section, and he was up against 34 other talented dancers. He was blown away to make it that far, and then he danced off in the final gala against two Australian girls and won the National Championship title!"
This year he's in Year 9 at Otumoetai College.
"Otumoetai is well-known for their performing arts culture, so I've been really looking forward to that," says Austin.
"I was in the Performing Arts Academy at Intermediate for Year 7 and 8, acting and singing, and I've been getting involved in a lot of musical theatre lately."
I went to see him perform in The Little Mermaid JR show at Tauranga Musical Theatre and was impressed with the ease with which he danced, sang and performed.
"When I was six, my cousin Karlia Taylor was dancing at Dance Avenue and got me into it," says Austin.
"She said 'come along to a hip hop class'. I went to it and started and ever since then I've absolutely loved it and moved on to different styles."
Clearly, dancing requires a strong athleticism.
"Dancing helps me so much in every aspect of other physical activities. I'm doing many different sports as well. I love cricket and rugby, and I've been playing a lot of football lately. Those are my top three sports. It also helps me with my running."
What about Austin's plan for the future?
"I'd love to study dance in Australia, go into a full time programme to complete a dance diploma and then travel the world doing dance," he says.
His prizes in January included winning cash, DVD and photography packages, a return trip and free entry to the Follow Your Dream Australian Nationals and NZ Regional 2020 competitions, Pink Lemmon custom-made dance wear, entry to Spectrum Summer School in Melbourne and, of course, entries into the Florida and London competitions.
Now he just needs help with fundraising to get there.