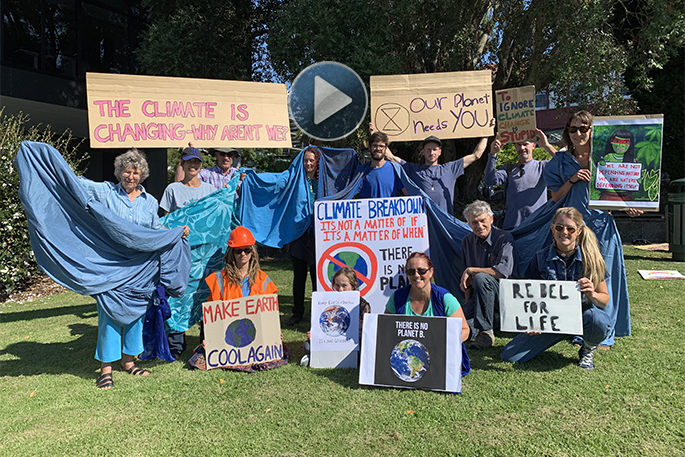 Click the image above to watch the video
Climate change activists took to the streets of downtown Tauranga today to alert jazz festival goers that the city will be under water in the future.
"We're representing the fact that Tauranga's going to be under the sea at some point," says activist Rosie Gee.
The mob flash group used the opportunity presented by the jazz festival to raise awareness of climate and ecological collapse, as part of a global action.
"This is the week of global action for extinction rebellion (XR), and Extinction Rebellion Tauranga are doing a theatrical piece down towards the Jazz Festival to bring attention to climate change, and to sea levels rising," says Rosie.
The Tauranga XR climate action group came together on Saturday at Aspen Park, before setting off along the Strand.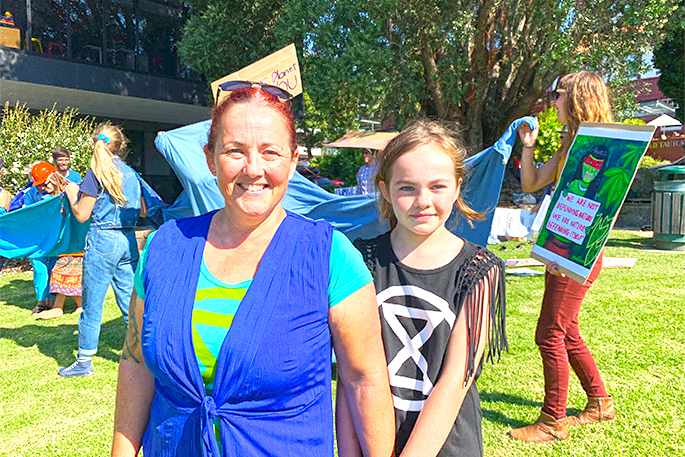 Rosie Gee and Stephanie Witcutt age 11
Their signs and long pieces of blue fabric are being used to create a theatrical peaceful presence amongst jazz festival goers while alerting them to the future of Tauranga going under water.
Activists are set to protest in seven centres around Aotearoa today to raise awareness of climate and ecological collapse following the release of a damning environmental report. 'New Zealand's environmental reporting series: Environment Aotearoa 2019' presents information on the state of New Zealand's environment and examines nine critical environmental issues in detail.
The report, jointly produced by the Ministry for the Environment and Statistics New Zealand, is a follow on from the last report in 2015, and says the way New Zealanders live and make a living is having a serious impact on the environment. It also says the benefits New Zealanders get from being in nature, though not measured or quantified, could be lost.
The Ministry for the Environment's Environment Aotearoa report details widespread biodiversity loss, the risk of further species extinction and the threat of climate breakdown. It shows that almost 4,000 of New Zealand native species are threatened or at risk of extinction.
"This week, as of the 15th April was the global week of action," says Rosie. "You've probably seen a lot of stuff on the news about what's happening in the UK with their mass movements."
"We're a bit smaller so we've got a lot of little actions happening today all around the country."
The Extinction Rebellion movement (XR) will protest in Auckland, Thames, Tauranga, Wellington, Nelson, Christchurch and Dunedin.
"The most important thing is we're to bring awareness about climate change, and we're non-violent action," says Rosie.
"So we'll be a little bit annoying, but not really getting in anybody's way. We want to help educate people."
The group has large swaths of blue fabric, representing the ocean, to weave and wave above their heads and around each other, creating a flash mob street theatre piece.
The Environment Aotearoa 2019 report has outlined nine priority areas which can be viewed here.