If you like a bit of Australia flavouring your Easter, then the place to experience Easter is at Bethlehem Baptist.
Gaz (Garry) and Shaz (Sharon) find themselves offering one of history's first recorded AirBnB's to a woman who is 'preggers', as Gaz says. Their Nativity Inn becomes the setting for the birth of Christ, which takes the enterprising Gaz by surprise, and leads him on to following the journey of Jesus.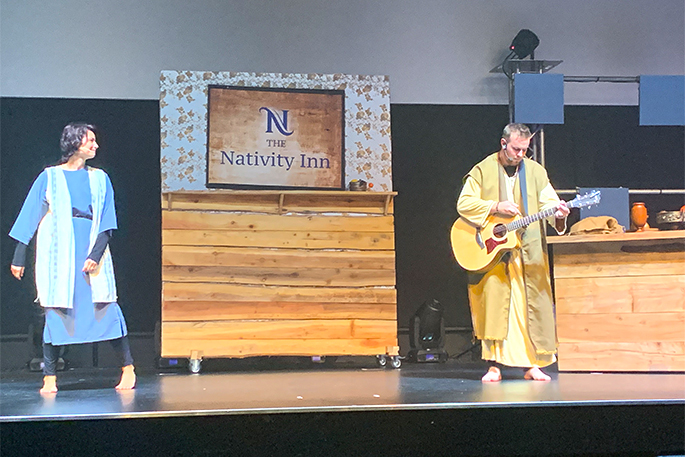 Shaz and Gaz, the Aussie innkeepers - 'I got you babe'
The innkeepers meet up with Jesus at other points through his life, mostly centred around their bars and inns. Gaz, in between accompanying Shaz on guitar with songs like 'I got you babe', becomes fascinated with Jesus.
He asks "is he who he says he is?" and "maybe he is who he says he is", although he becomes puzzled and asks "what kind of king rides into town on a donkey?" God turns up at the inn, sometimes invisible to the other actors, and other times chatting with Gaz at the bar.
Bethlehem Baptist creates an Easter experience most years, combining art, music, audiovisual and digital displays, often taking the public through a walk through history.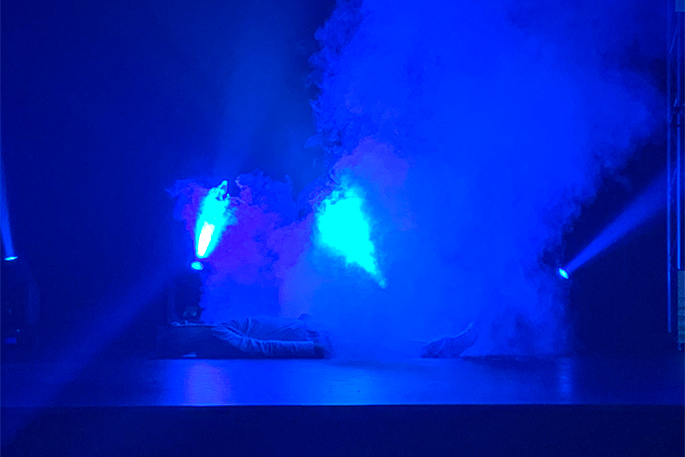 Jesus, in the tomb, rises to new life
This year, the unique theatrical musical experience showcases the acting talent within the church. God is played by Matu Pene, with about 20 actors playing Roman guards, Joseph and Mary, Judas, Jesus and other roles. The actor who played Simon Peter gave a stand-out performance, as he grappled with the changing environment and betrayal of his friend.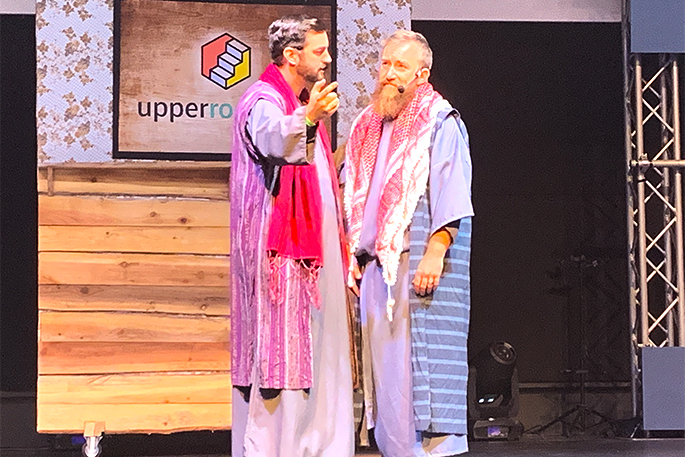 Judas and Peter
Bethlehem Baptist church pastor Craig Vernall opens and closes the presentation.
"This is an opportunity for us to revisit, refresh, remember, and repent. An opportunity to hear the Easter story," says Craig.
Hilarity, solemnity, humour, betrayal, tragedy and hope – it's all captured in this fresh look at Easter.
The Experience Easter times for Sunday April 21 are 9am and 10.45am at Bethlehem Baptist in Bethlehem Rd. More information here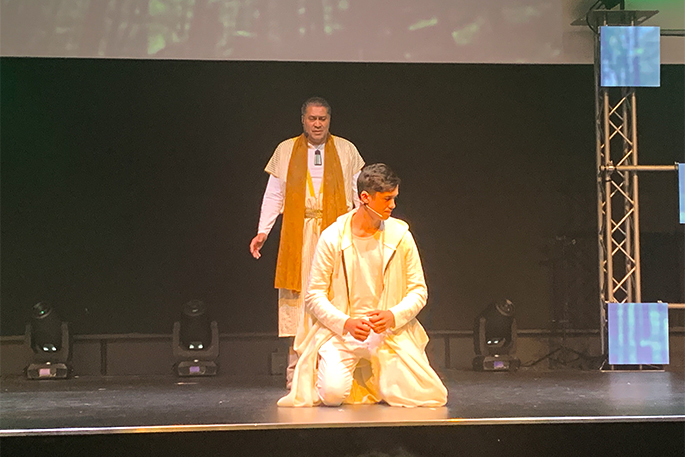 God, played by Matu Pene, as Jesus prays in the Garden of Gethsemane.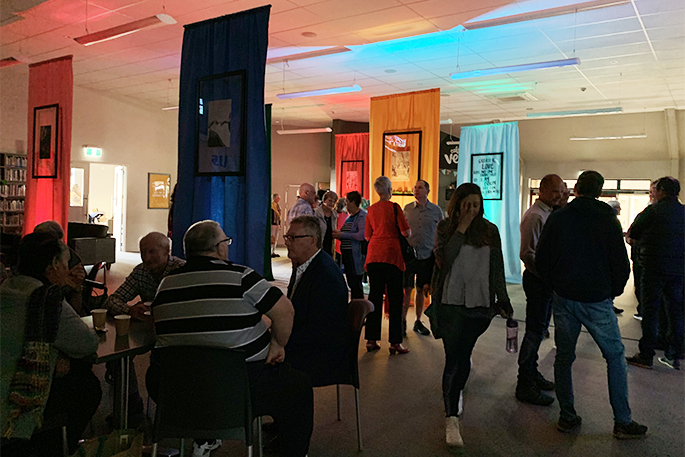 Bethlehem Baptist cafe