Alan Charles Keith Harper lies in a grave in the Cassino War Cemetery, his headstone no different to the other 463 New Zealand headstones here.
What sets him apart is that he was the only serving New Zealand chaplain to be killed in action in the Second World War.
Among the New Zealand Defence Force contingent in Italy to mark 75 years since the Battles of Cassino is Chaplain Class 1 Group Captain Anthony Hawes, head of the NZDF's 27-strong chaplaincy service. He laid a poppy on his counterpart's headstone and said a prayer for the man of peace.
"When I saw that grave, the realisation of a minister, a person of peace, killed in a violent way while serving his people, it hit me," says Group Captain.
"It feels quite poignant and powerful, and it feels good to pay my respects to him."
Major Harper had just buried a soldier when he was hit by a shell but Group Captain Hawes does not believe he would have been a target.
"On the battlefield artillery fire can be very random and doesn't differentiate between combatants and non-combatants."
Chaplains accompany New Zealand troops to all big deployments, and Group Captain Hawes has served six months in Afghanistan, as well as attending a number of battle commemorations internationally.
Cassino is special to him not because he had a family member fight there but because of the impact it had on his father, Jim Hawes, who was a teenager during the Second World War.
"He would often talk about the effect of it on his growing up years," says Group Captain Hawes.
"The Battles of Cassino were the ones he remembered having an impact on the people of New Zealand, for some reason. It left a real impression.
"So for me, I'm not visiting a family grave but I'll be thinking of my father. I'm kind of sorry because he would love to have known I was going."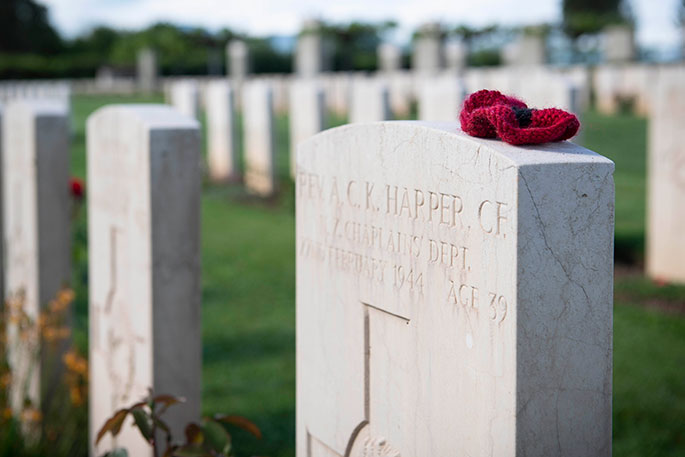 The headstone of Alan Charles Keith Harper, the only serving New Zealand chaplain to be killed in action in the Second World War, in the Cassino War Cemetery.
Group Captain Hawes, who grew up in Hamilton and now lives in Wellington, trained as an electrician when he left school, before becoming a Pentecostal minister. He joined the Royal New Zealand Air Force as a chaplain 15 years ago.
All NZDF chaplains have to be a church minister before joining, because they are expected to provide the required skills from day one.
Those skills include being a confidante and supporter for the men and women of the NZDF and their families, providing advice to senior personnel and conducting "divine services".
"That's chapel on a Sunday, a wedding, a funeral, a baptism, a house blessing – they all come under the heading of divine services," he says.
"Not a lot of people turn up at chapel on Sunday, and a large part of that is just reflecting the modern-day trend of people not being strong church attenders."
However, spirituality was on the rise, especially around tikanga Māori, he says.
"Ten years ago you wouldn't have had one-fifth of the karakia, the talk of spirituality, the prayers, the grace before meals – it just didn't happen.
"People now are a lot more open and respectful and willing to give room and take an interest in spiritual matters."
Group Captain Hawes' time with the NZDF is coming to an end, and he'll retire from the service at the end of this year.
He and wife Jenny, a nurse, will return to their Waikato roots, and it's possible he'll dust off his electrical tools.
"It's time for someone else to come through the chaplaincy ranks," he says.