Aquinas College students are experiencing a day in someone else's shoes.
Staff and students went about their day wearing bare feet for a social justice project, says religious education teacher and teacher in charge of the Aquinas College army, Mikaere Smith.
"We are taking the opportunity to wear no shoes today, so there are a few of us in the school not wearing any shoes to try and get a feel for what it's like for little kids to go to school with no shoes on during winter.
"Our school community has been asked through St Vincent De Paul, and what we call the AC army, to donate shoes."
Over the last few weeks, students have brought in pairs of shoes in a good condition, whether they are used or brand new, to give to those in need.
"Essentially, what we are after is pairs of wearable shoes to be brought into the school, and we are going to distribute those to primary schools in our region that require shoes for their kids," says Mikaere.
The school first became involved with the initiative three years ago, and Mikaere says they brought it back into their school focus this year.
Aquinas College student Bailey Berntsen says shoes are something most of us take for granted.
"At Aquinas College, we are fortunate enough to have shoes to keep our feet warm, but there are children in Tauranga going to school in bare feet, on cold frosty mornings.
"Over the last few weeks the AC Army and Young Vinnies have collected over 200 pairs of shoes that have been donated from families at Aquinas that will benefit children around Tauranga. Along with these donations, we held a bare foot day on May 22 so that students and teachers at Aquinas College learn what it is like for these children, even if it was for just one day.
"For us this was a choice, for these children, it is their life. They don't get the choice to wear shoes or not. We wanted to show awareness for our own community and provide support for these kids and express that we care about them.
"We pray that this small initiative will put huge smiles on children's faces. We hope that in our small act we can provide an opportunity for students to enjoy their school day."
Aquinas College's no shoes initiative is timely, as today the government confirmed the first official targets to break the cycle of child poverty.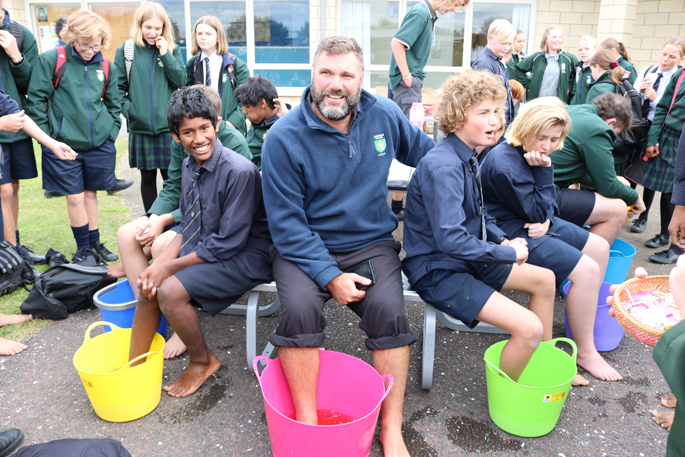 Teacher Mikaere Smith takes part in a frosty foot challenge. Photo: Alex Eagles-Tully.
Prime Minister and Minister for Child Poverty Reduction Jacinda Ardern says it's an important step in tackling head on the long term challenge of child poverty in New Zealand, to make our country one of the best in which to be a child.
"Evidence shows us that children in poverty are more likely to get sick, leave school without a qualification, sometimes struggle to get food and fall through the cracks. We know that to improve New Zealanders' wellbeing – so much depends on the early years."
Late last year, the historic child poverty reduction act passed with cross party support, and requirements for the government to report on child poverty rates every year in the budget were introduced, as well as setting clear targets to reduce the rates.
Interim targets were also announced last year. Following Statistic New Zealand's recent release of baseline rates of child poverty, official targets have been confirmed today.
"The Coalition Government's plan will halve child poverty within a decade and establish New Zealand as one of the best performing countries for our kids. That's what New Zealanders expect from a country like ours," Jacinda says.
"To maintain our ambition for halving the rate of material hardship within 10 years, we are seeking a reduction from 13 per cent down to 6 per cent, compared to the interim 7 per cent target. All other interim targets have been confirmed.
"The Government has already taken action on lifting between 42,000 and 73,000 children out of poverty through the $5.5 billion Families Package that gives a $75 a week boost to the incomes of 384,000 families when fully rolled out, and we've extended free GP visits to every child under 14.
"The Wellbeing Budget will continue to tackle the long-term challenge of lifting children out of poverty because it's the right thing to do for our communities and our economy," Jacinda says.
By 2021, the government aim to lift around 70,000 children out of poverty in low income households before housing costs from 16 per cent to 10 per cent, to lift 40,000 children out of poverty in low income households after housing costs from 23 per cent down to 19 per cent, and 30,000 children out of material hardship from 13 per cent down to 10 per cent.
The official targets have today been set by notice in the Gazette and published on the DPMC website.