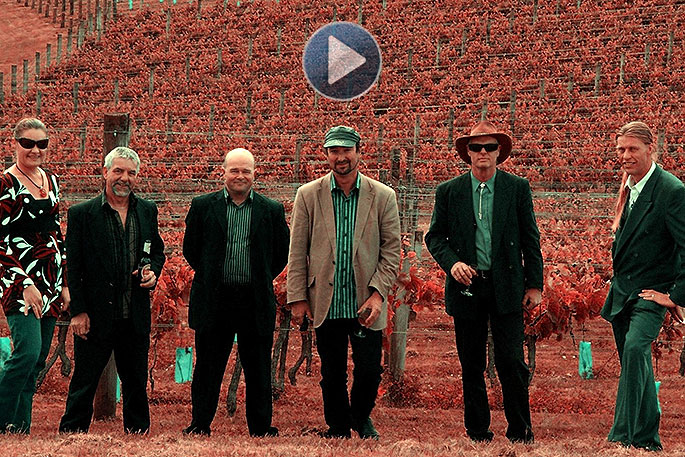 Click the image above to watch the video
It's been a long wait for Kokomo fans but the band are finally about to release a new album, with a tour planned to help promote their music.
While based in Tauranga, Kokomo have built a following throughout the country over nearly three decades of making music.
Their last official release was a double album boxed-set back in 2016 to celebrate the band's twenty fifth anniversary. Since then, while continuing to tour, it's been all quiet on the recording front.
"I'm not sure how so much time slipped away," says singer/songwriter Derek Jacombs.
"We had intended to have an album out last year but injuries and illnesses have been rife in Kokomoland!"
Last year not only did trumpeter Sonia Bullot, who returned to perform with the band at this year's Easter National Jazz Festival, take a break from playing, but drummer Ian "Beano" Gilpin had a fall while fishing and tore all the ligaments in one knee. That put him out of action for six months.
"Although we were able to use a different drummer for live shows," says Derek, "It seemed wrong to finish the album we'd started without having Beano and Sonia on board."
STARTING AGAIN
So, instead, Derek and bass player Nigel Masters gathered all the partly-complete recordings at Nigel's Boatshed Studio in Whakamarama. Half of them went back on the shelf. But the other half suggested a different direction for the band.
As Nigel points out: "The studio is really an instrument in its own right so we were able to create something a little more modern in terms of Kokomo's sound. Derek also had some more unrecorded songs so we approached them from this new direction. What we have ended up with is a really exciting path for the band."
The new album, Sunset Claws, combines the band's traditional sound – often referred to as "Kiwiana Blues" - with elements of electronica from through the years.
"We've embraced the bits we like, from anywhere we wanted," says Derek, "and we've mixed and matched with our usual signatures, like the blues harp and slide guitar, and songs that tell New Zealand stories. It was quite a liberating experience."
LIVE SHOWS
Kokomo play their first shows in Katikati and Mount Maunganui on June 15 and 16 before heading off around the country in coming weeks. Sunset Claws will be officially released then but is already popping up on digital platforms.
The first video is also out now, for the band's song "Holed Up In Karamea". The song follows an Auckland financial crook hiding out on The West Coast, with the video was created by the band's harmonica player, local artist, Grant Bullot.
Tickets for Kokomo's concerts are now available on Eventfinda.