Some Omokoroa residents are wondering what has happened to their large lizard sculpture that usually greets everyone as they turn off SH2 towards the 'paradise peninsula' township.
The lizard, made by sculptor and artist Warwick Lilley, has been attached to a large rock, but this last week seems to have disappeared, much to the puzzlement of some of the locals.
Police report that a member of the public have called them and informed them that the lizard sculpture is missing.
"We have advised the caller to contact the local council and make a formal report," says a Police spokesperson.
The beautifully crafted welcoming sign just off of the State Highway 2 entrance has been a feature of Omokoroa since April 2016. The statue was blessed by locals from Pirirakau, Te Puna, and the plaque unveiled by Janine Birch from the Omokoroa Public Art Group and Gwenda Merriman from WBPDC.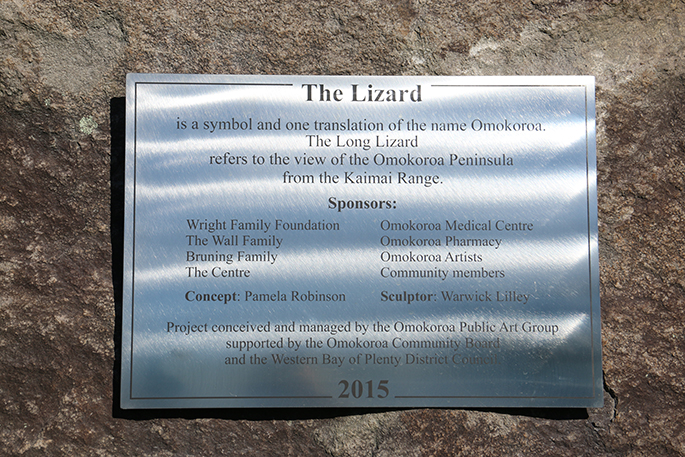 Sculptor and artist Warwick Lilley, who was commissioned for the piece by the Omokoroa Public Art Group, said at the time of the installation that he put a lot of time and effort into the designing and sculpting process for the Omokoroa lizard.
"I probably gave them about 20 different designs for the lizard, and the design on the lizard itself.
"I would have spent probably 100-150 hours all up [designing and sculpting]."
Warwick says the lizard was an 'awesome challenge'.
"I haven't carved many lizards, so I was very happy."
One of the trickiest parts of the design, Warwick says, was creating a lizard that looked right.
"The shape and the movement, because you can carve a flat lizard and it has no life to it, so I wanted to make it look like it was crawling up the rock."
And making sure it was strong enough to withstand climbers, because he knew "where it was going someone would climb it".
Some say Omokoroa is Maori for 'land of the long lizard', but others say it means 'place of the small white grub' or huhu, considered to be a delicacy.
The project, which took more than two years, was largely sponsored by the Wright Family Foundation.
"We were delighted when Janine Birch and committee approached us for sponsorship of a sculpture that would recognise the original inhabitants of the peninsula and how they viewed the land," said Chloe Wright when interviewed by SunLive in 2016.
Chloe felt strongly about supporting the Omokoroa Lizard and as a result the foundation contributed $6000 to the design and installation, and also met with local kaumatua to arrange the special blessing.
SunLive have tried unsuccessfully to contact the artist Warwick Lilley to see if he knows where the lizard sculpture may be, as he has previously repaired it.
Do you know where the lizard is? If you do please contact SunLive on newsroom@thesun.co.nz or phone 0800 SUNLIVE.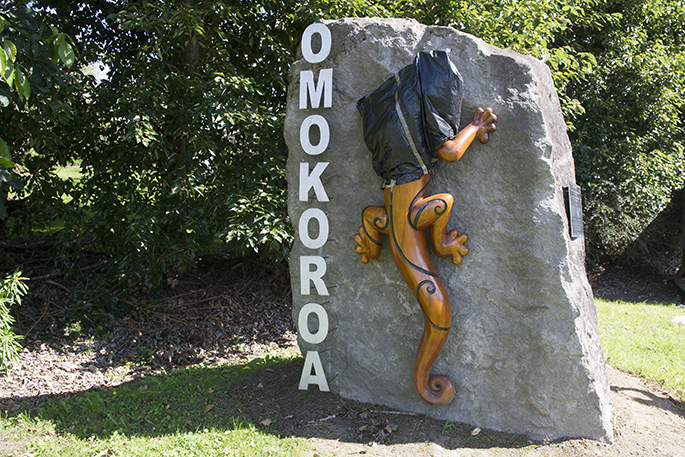 The lizard sculpture undergoing repairs in 2018