A Mount Maunganui pub is cracking codes for charity.
Mount Mellick Irish Bar hosts 'Crack the Code' every Thursday at 7.30pm, where bar goers purchase tickets to have a chance at cracking a numerical code, and 30 per cent of ticket sales go toward local charity Live For More.
Mount Mellick manager Mark Dawson says it's important for the pub to give back to the community.
"The reason we run competitions is to get more people involved, to bring people together, and being a pub, we are all about the community.
"I figured, what better place to do it where everybody is socialising, it's good to take advantage of where people are.
"This will be the fourth week of the competition today."
After researching different charities, Mark says he wanted to choose a local based charity to support.
"I put a post out on the Mount Maunganui noticeboard and I was inundated with reviews and people mentioning charities, and Live for More was one of them, and I also knew somebody they had helped who became back on track.
"It just shows the work they are doing is actually working."
Live for More is a charity that uses surf therapy to transform troubled lives, says founder and youth clinician Krista Davis.
"We work with young men who are caught up in lifestyles of crime, drugs, alcohol, prison, violence and gangs. Our vision is to see these young men free from their pasts and empowered to live up to their true potential.
"Through learning to surf, building positive relationships and receiving clinical support and advocacy, these young men see there is more to life than what they know and what they've been shown.
"They get a taste of true freedom and a glimpse of how good life can be – if they want it – and this motivates them to start making positive changes.
"We also support them practically to get their license, get into work and courses, as well as provide advocacy through court, probation, WINZ, and other meetings. Really, we believe in these young men so they learn to believe in themselves."
Krista says she is incredibly grateful for the Mount Mellick's contribution to their charity.
"It's really humbling having community support and to be chosen by the Mellick was a really pleasant surprise.
"Live for More is funded 100 per cent on donations and grants, so we honestly wouldn't be able to do the work we are doing without generous people and businesses who believe in us.
"It's really awesome to know the Mellick loves what we are doing enough to support us ongoing through this fundraiser. We are so grateful to them and stoked to be chosen!"
Mark says every Thursday, the pub sells up to 100 raffle tickets, which go into the draw.
"We then draw one out, and I'll have ten codes written out on a card, and the winner gets to come up and pick one of the codes.
"It's sort of like a combination padlock and they have to guess the code correctly, and if they get it correct they get a prize, which can be ranged from anything.
"The last prize we gave away was a one night's accommodation at Accent on Taupo, a $50 fuel card and Moa beer, that was put up by people who wanted to get behind it and help out a charity."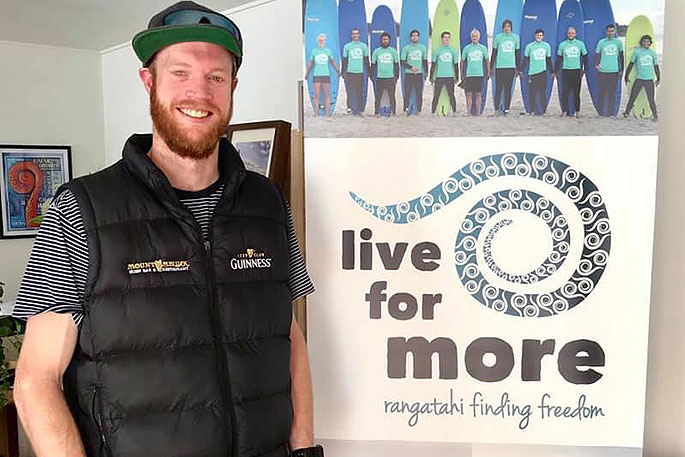 Mark Dawson.
Mark describes the competition as similar to the television show Deal or no Deal, as prize winners can choose to take half of the prize and give the other half to charity, or put it back into the prize pool to make the next prize even bigger.
Alternatively, winners can take a gamble that they are going to get the code right.
"If they get it wrong they get nothing, if they get it right they get the prize."
Crack the Code takes place every Thursday at 7.30pm at the Mount Mellick.