In his haste to evade Police on Saturday, a quad bike owner left his fishing gear behind on Papamoa Beach.
"He tried to give us the slip through the dunes," says Sergeant Tristan Murray. "He wasn't complying with regulations, and in his haste to avoid us, he left all his gear behind. But we caught up with him and issued him with a ticket."
Tristan says Police were leading a joint agency operation to combat illegal vehicle activity on Papamoa Beach.
"It involved enforcing the Tauranga City Council Beaches By-Law Act and Fisheries Act," says Tristan.
"As such representatives from NZ Police, Tauranga City Council, the Ministry of Primary Industries, and the local CPNZ Community Patrol assisted in what was a successful operation."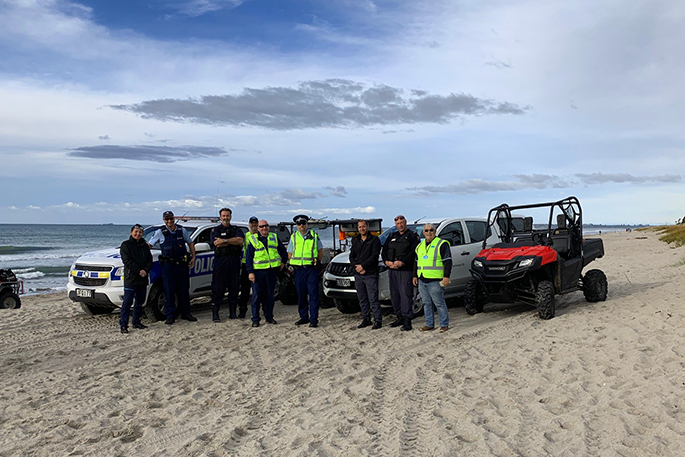 A successful joint operation on Papamoa Beach with NZ Police, TCC, MPI and the local CPNZ Community Patrol
Tauranga City Council has bylaws for beaches around vehicles, horses, and longline and kontiki fishing devices.
Papamoa Beach is included in the definition of a 'road' in the Land Transport Act 1998. Vehicles are generally not permitted to drive on the beach, however there are some exceptions.
All-terrain vehicles or ATVs that display a Council permit may be driven on the beach for recreational fishing purposes only. The beach access point is located between 105 and 107 Karewa Parade, Papamoa. An ATV can only be driven east of the access point towards the Kaituna River. The ATV must be registered and display a current licence label, as well as be in a safe and road worthy condition.
ATVs do not have priority on the beach – they must be driven in a careful manner with consideration to all beach users. They must not be driven on the dunes. The speed limit is 20km per hour.
A police, fire, ambulance, government service, surf life-saving or council vehicle may be driven on the beach. They have priority of use for authorised, justifiable or operational matters.
All other vehicles are not permitted to drive on the beach, including outside of the permitted boat ramp access areas of the beach.
Longline and kontiki fishing devices can be used anywhere along the Papamoa beach, so long as they aren't within 300m of any flagged lifeguard area. Additional restrictions apply over the summer period. If an ATV is used to transport the device onto the beach, the above ATV rules also apply.
Horses can be ridden along the Papamoa beach, but horse manure must be removed and disposed of in a hygienic manner.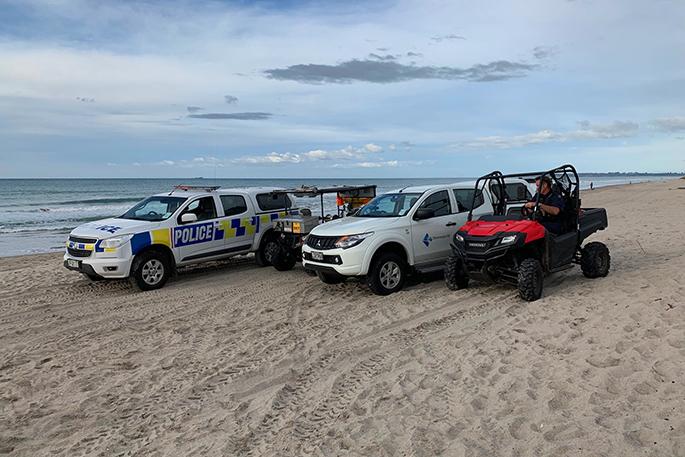 "What was pleasing to see were the amount of people complying with the Beaches By-Law," says Tristan, "which includes the requirement for quads and ATVs to have a Council-issued permit, be registered and for riders and passengers to wear safety helmets and comply with the 20 km hour speed limit on the beach".
"There have been some nasty quad and ATV accidents in the past and a vehicle driving illegally on the beach in 2015 resulted in a fatality.
"Today primarily was about educating people. Most people are toeing the line, which is great to see."
Information about Council permits is available on the Tauranga City Council website
Other useful links:
Conditions of use for ATVs on Papamoa Beach