There's a red warning sticker on the front of Trevor Bentley's latest book.
Prepare to be offended.
Trevor Bentley, who has a PhD in history, is the first NZ historian to have a book red-stickered. His newly published work 'Pakeha Slaves, Maori Masters: The Forgotten Story of New Zealand's White Slaves' has thrown a strong light on the mostly forgotten story of the Europeans who lived and sometimes died as slaves in tribal New Zealand between the 1790s and 1880s.
"I wrote it to be non-biased, pretty balanced and non-judgemental, but it was still red-stickered," says Trevor. "I think that's a result of the current preoccupation we have with hate speech in the wake of the Christchurch massacres.
"I've always been fascinated by that very colourful and turbulent pre-treaty of Waitangi interaction between Maori and Pakeha," says Trevor, who has written three books based in that period of time – 'Pakeha Maori', 'Captured by Maori' and 'Cannibal Jack'."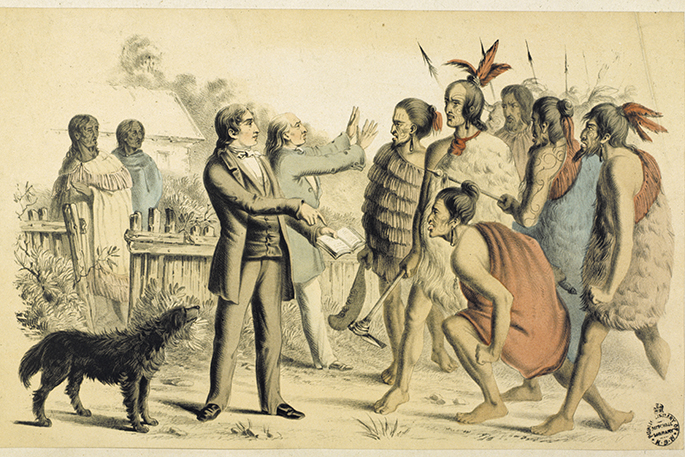 'Missionaries Henry and William Williams and a muru-plundering party'. Vassal Pakeha who failed to comply with tikanga Maori were ritually plundered by their masters and no exceptions were made for the missionary leader Henry Williams and his brother William (shown). Image credit: Artist unknown, 'The Power of God's Word', 1856, PUBL-0151-2-013, Alexander Turnbull Library, Wellington.
Trevor has had a long-standing interest in the interaction of Maori and Pakeha in pre-Treaty New Zealand and the Europeans who entered Maori tribal societies voluntarily and involuntarily. He has done significant research on New Zealand history pre-Treaty of Waitangi, and on "culture crossers".
"Other books have focused on the positive aspects of trading and intermarriage, but this one is a bit more hard-hitting," says Trevor.
"The main people Maori took as slaves were the mariners who were often no better than pirates. There were also hundreds of runaway sailors and escaped convicts from Sydney who were welcomed in to Maori communities. Many of them were very belligerent hard men. Maori regarded then as being uncouth and uncultured. They refused to assimilate, committed crimes and insulted the chiefs, so were enslaved and put to work.
"Community service if you like, for their misdeeds."
"They were given a few rights, but they were still tribal property or property of the Chiefs. There were also missionaries, shore-based whalers, timbermen or sawyers, and flax traders. They were certainly welcomed in to the Maori communities, given access to resources and protection and got on very well with Maori as long as they contributed. As long as they paid trade goods or reciprocated on a regular basis, then all was fine, but if not then they were plundered.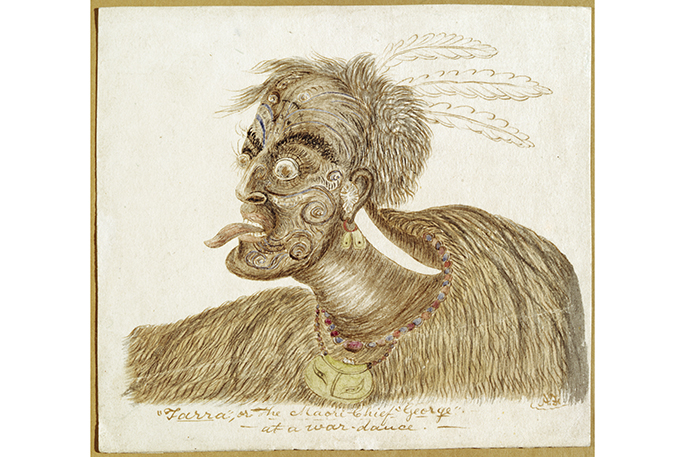 'The Chief Te Aara of Ngati Uru, Whangaroa'. Image credit: H. Augustus Florence, ' "Tarra", or the Maori Chief "George" at a war- dance', A-114-002, Alexander Turnbull Library, Wellington.
"Probably the most famous incident was Caroline Perrett, who, at age eight was kidnapped by Maori in Taranaki in 1874, and discovered living as a Maori in Whakatane fifty years later. She was kidnapped because her father had dug up some Maori graves and because Europeans had kidnapped a local Maori child. There is a book about that kidnapped Maori child called "The Fox Boy.' He was raised by William Fox who later became NZ premier."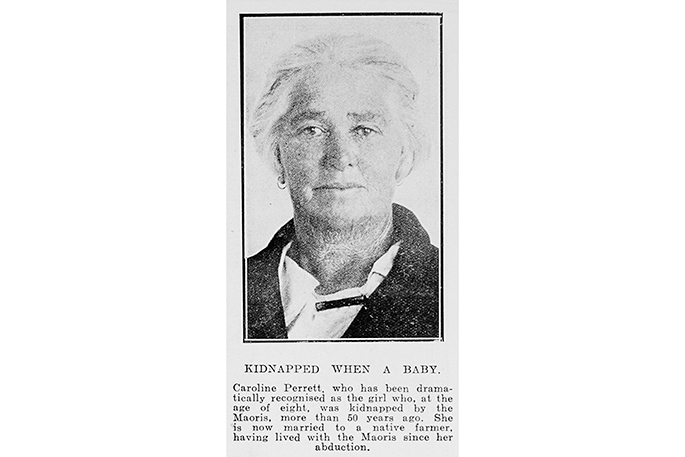 Newspaper clipping of Caroline Perrett's discovery
Trevor's book is fascinating, examining and exploring the diverse backgrounds and roles performed by European slaves, their sale prices and the immediate and long term physical and psychological effect of their servitude.
Trevor has extensively researched published histories by hapu and iwi historians and writings on customary law by Maori scholars, also captivity narratives by returned Pakeha slaves, and contemporary accounts about white slaves in newspapers, journals, letters and logs.