It started with an email from ESPN in John Espin's inbox.
Now, he is set to represent not only New Zealand, but the town of Te Puke where he set up his Stupid Robot Fighting League on the ESPN channel on Wednesday evening EDT time.
John says the email was one of those things where you think to yourself, 'what's that doing there?'.
"Basically they outlined what they were doing and that they wanted a half hour show from us of Stupid Robot Fighting League."
And now if you're curious on Stupid Robot Fighting League, he says all you need to do is type Stupid Robot Fighting League in Google.
"We absolutely dominate the search engines for that term because we're pretty much you know, we're the only people that do what we do."
John refers to Stupid Robot Fighting League as a 'we' but really it's just him. A one man band.
How ESPN found John and the Stupid Robot Fighting League was due to his YouTube channel documenting the sport he invented in his carport right here in the Bay of Plenty. Right in Te Puke in fact.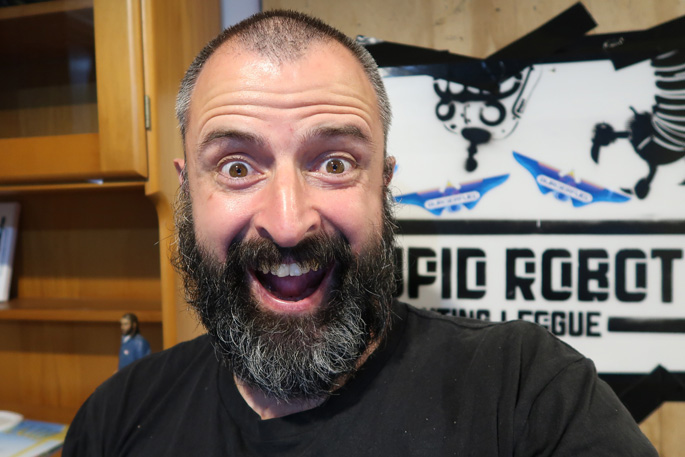 "Basically in its rawest form you are poking rubbish with a stick. Family friendly violence is probably the best way to describe it. We run a family friendly show.
"But basically, you've got a rectangle like a three-dimensional rectangle, and two people sit either side. Inside the rectangle you've got life-sized marionettes made out of rubbish, made out of hard plastic and aluminium. They've got body sections like a person, you know arms, legs, a head, body, and all that kind of stuff.
"They've got poles attached to their hands and their feet which is the interface in which the person sitting behind it controls it, and that's the mechanic of Stupid Robot Fighting League is the polls actually rather than robotics.
"We use the term robot very loosely."
John and his Stupid Robot Fighting League have already had five TV appearances, with ESPN making it number six.
What John did for ESPN was create a half hour video for them to air.
"We had eight Stupid Robots designed by eight different people from eight different countries. What they do is they choose the parts and then I build it. Then the person from overseas can follow its career, so they have a vested interest in it.
"We did four heats down to two, semi-finals and then a final where there was one robot who won the whole thing.
"It's a little bit of a dramatic story but the whole thing is kind of making fun of professional sports because we're borrowing so much from the concept that they use."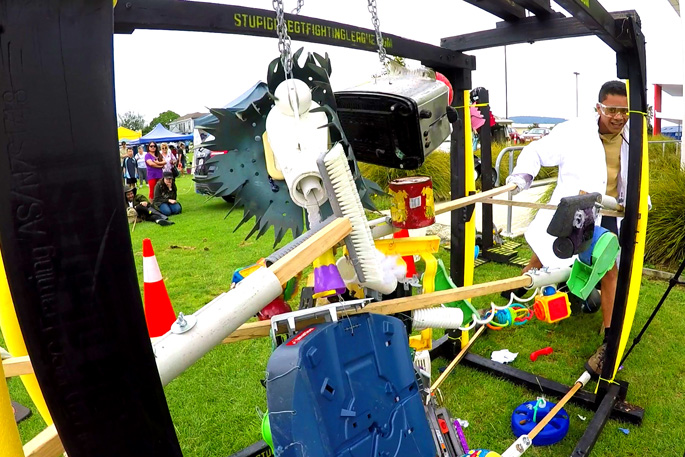 Each year ESPN do a special day in which they call ESPN 8 the Ocho, which according to John is a borrow from the movie Dodgeball.
"What they did on that movie was they set up a fake ESPN channel and they called it the Ocho, and it was like an alternative sports channel and ESPN picked up on that."
John says to be picked up by ESPN is huge.
"The thing for me is that generally I've heard numerous times that a YouTube channel has about five years before it really gets some nice traction going and that's like for some major channels as well. For some big YouTubers it took five years before they started really getting noticed.
"We're about between two and a half to three years and to get an opportunity like this on ESPN, it's huge.
"It's huge for a small YouTube channel. We're at about maybe 415-420 subscribers, which is small. That's tiny for YouTube. It's an absolute drop in the bucket."
Things don't seem to be slowing down anytime soon for John. He is already planning and working on a new league called the Business House League in Te Puke.
"We're pretty alternative in our thinking here, so you know how you have a ladder and that kind of stuff. That's boring.
"What we're doing is we're setting up the Business House League with 10 businesses in Te Puke in the form of a gang turf war.
"If you look down on top of Te Puke you have 10 different businesses at 10 different locations. Then what they do is they go through and they try to get as much territory within Te Puke by combating other businesses and their stupid robots.
"There will be sections of Te Puke that will be contested and the colours will change depending on who wins and who loses."
If you have every played the game Risk, John says it will be a bit like that.
John and is Stupid Robot Fighting League will air on ESPN 8 Wednesday August 7 at 5.30pm EDT.
To find out more about the Stupid Robot Fighting League, click here:
To find out more about ESPN 8 Ocho, click here: