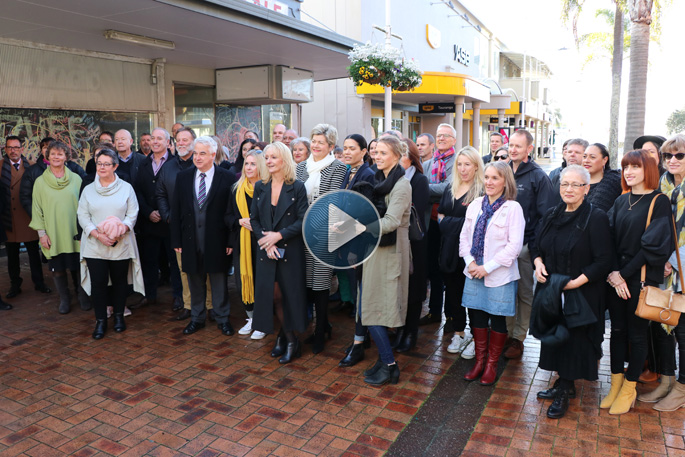 Click the image above to watch the video
Frustrated shop owners and members of the public fed up with the way the CBD is being treated, took to the streets today to voice their opinions.
A group of about 40-50 people gathered in Red Square this morning to express their concerns and frustration about the way Tauranga residents are treating the CBD.
One of the topics that was brought up was the lack of carparks in the city, and that staff are fed up trying to find a park every morning.
"If we lose our businesses, people lose their jobs. There are human faces behind these businesses and we need support from landlords and councillors," says one person during the discussion.
"What can we do to get people into the CBD?" says another.
Owner of the Tauranga Lone Star branch Trevor Donaghy says he isn't originally from Tauranga and moved here around five years ago. During that time he says he's seen a massive amount of growth happen in a very short space of time.
He also says he's pretty frustrated with a few things.
"I just think it's some of the communication around what's happening and some of the planning with everything happening at once, at one time.
"Parking is one of those conversations that comes up at every gathering in relation to the CBD, and I find it incredible that somebody hasn't sat down and come up with a plan that is going to work really well. I'm surprised that somebody isn't doing that now in a year when we've got local body elections as well.
"We all know the CBD is going to be something great, but we have to make it that, and for that to happen people have to get engaged. People attract people.
"As retailers, we all have to work really hard on making our own businesses a destination for people to come in and together it'll work really well.
"But getting through this period is going to be frustrating," says Trevor.
Owner of the Crown and Badger Jessica Rafferty says from her point of view, she thinks the gathering went really well.
"We had a really good turnout. It's just really about letting everybody know that there are people in the city centre and it's not all doom and gloom, and there are good things happening.
"There's lots of businesses down here that are really making a living and making the city a better place which is about celebrating that really.
"Honestly, I think mind-set just needs to change. Can you go and find a park in Wellington? Not really, so there is not really a point in complaining about it.
"We've got a beautiful city with waterfront views as well, and I think it's just worth celebrating and people actually appreciating all the good stuff that's going on down here."