The final nominations are in for the Bay of Plenty Regional Council Toi Moana with some current councillors expecting to be returned to council unopposed and two new faces looking to be elected unopposed.
Current serving councillors Stuart Crosby, David Love, Paula Thompson, Andrew von Dadelszen, Bill Clark and Douglas Leeder have all been nominated unopposed. Newcomers Rose Stacey and Te Taru White have also been nominated unopposed.
Bay of Plenty Regional Council requires 14 councillors to be elected, with 11 of these councillors elected from four general constituencies – Tauranga (five councillors), Rotorua, western Bay of Plenty and eastern Bay of Plenty (two each), while voters on the Maori roll elect one councillor from three Maori constituency areas – Kohi, Mauao and Okurei.
John Cronin has stepped down from the regional council, and was one of the five current serving Tauranga constituency councillors. Stuart Crosby, David Love, Paula Thompson and Andrew von Dadelszen have been nominated unopposed, with newcomer Stacey Rose also nominated.
Both current councillors Bill Clark of Whakatane, and Douglas Leeder of Opotiki have been nominated unopposed for the two vacancies for the eastern Bay of Plenty constituency.
Current Rotorua general constituency councillors Lyall Thurston and Kevin Winters will be facing off a challenge from Katie Priscilla Paul at the elections, as there are only two councillor vacancies, but three nominations.
Te Taru White is the only candidate nominated for the Okurei Maori constituency, and is looking to replace Arapeta Tahana who didn't run for re-election.
Current Kohi Maori constituency councillor Tipene Marr is facing a challenge from Toi Kai Rakau Iti.
Likewise Matemoana McDonald who is again standing for the Mauao Maori constituency will be up against Riki Nelson.
Western Bay has two places available, with current councillor Norm Bruning and council deputy chair Jane Nees facing challenges from Matthew Farrell and Jenny Hobbs.
Final Nominations for Bay of Plenty Regional Council 2019 Triennial Elections (as at 16 August 2019 4.58pm):
Eastern Bay of Plenty Constituency
Clark, Bill
(2 Vacancies)
Leeder, Douglas
Rotorua Constituency
Paul, Katie Priscilla (Living & Working for Rotorua)
(2 Vacancies)
Thurston, Lyall
Winters, Kevin
Tauranga Constituency
Crosby, Stuart (Independent)
(5 Vacancies)
Love, David (LOVE TAURANGA!)
Rose, Stacey (Lets BANG This Out)
Thompson, Paula
von Dadelszen, Andrew (ACTION not WORDS)
Okurei Maori Constituency
White, Te Taru
(1 Vacancy)
Kohi Maori Constituency
Iti, Toi Kai Rakau (Independent)
(1 Vacancy)
Marr, Tiipene (Independent)
Mauao Maori Constituency
McDonald, Matemoana (Independent)
(1 Vacancy)
Nelson, Riki
Western Bay of Plenty Constituency
Bruning, Norm (Independent)
(2 Vacancies)
Farrell, Matthew (Independent)
Hobbs, Jenny (Independent)
Nees, Jane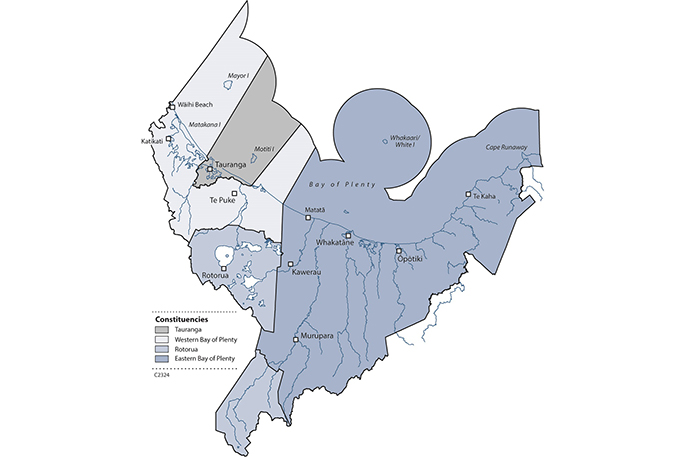 General constituencies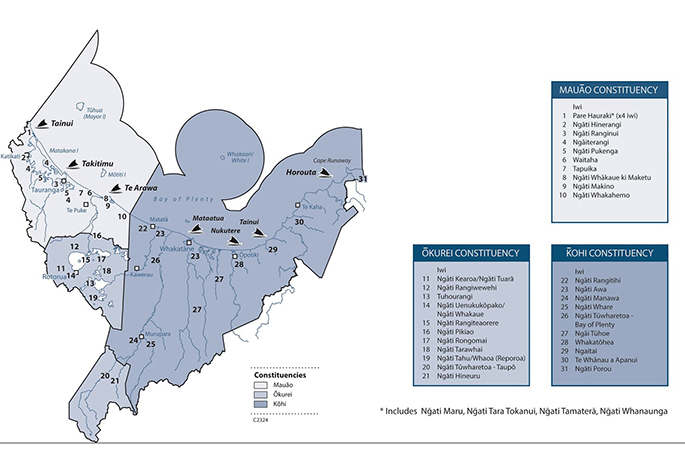 Maori constituencies
Key Dates for 2019 council elections:
August 16 2019 - Nominations closed at 12 noon. Rolls closed. After this date, anyone who is entitled to vote and who is not enrolled as an elector, or whose details are incorrectly recorded on the roll, will have to cast a 'special vote'.
August 21 2019 - Election date and candidates' names publicised by electoral officers.
September 20-25 2019 - Voting documents delivered to households. Electors can post the documents back to electoral officers as soon as they have voted.
October 12 2019 - Polling day - the voting documents must be at the council before voting closes at 12 noon. Preliminary results (i.e. once all 'ordinary' votes are counted) will be available as soon as possible afterwards.
October 17-23 2019 - Official results (including all valid ordinary and special votes) declared.
Elections of members of the Bay of Plenty Regional Council Toi Moana are held once every three years, on the second Saturday in October